Thursday afternoon, the Chicago Blackhawks announced the signings of prospects Kyle Baun and Mike Paliotta, adding more talent to an already deep roster.
The Blackhawks currently have seven first-round picks skating on either the NHL  (4) or AHL roster (3). When you combine that with the loads of  talent on the team, you can see an embarrassment of riches. Chicago currently has 11 players on the roster that they have drafted in the last five years. The team has also stocked up on College Free Agents over the last two years with the signings of Drew LeBlanc and Matt Carey (2013) and Trevor van Riemsdyk (2014).
Kyle Baun
The first prospect announced Thursday was RW Kyle Baun, grandson of former Toronto Maple Leaf defensemen Bobby Baun, who famously scored a goal on a fractured ankle in the 1964 Stanley Cup Finals.
Baun (22, 6'2, 204) starred at the University of Colgate, scoring 39 goals and 40 assists over 113 games. Regarded as one of the top available college free agents, Baun picked Chicago over offers from Detroit, Calgary, Winnipeg, and Edmonton.
Signed to a two-year, entry level contract, Baun will report to Chicago and burn the first year. This is not an uncommon practice, as Chicago has done it before with Drew Leblanc and Matt Carey. While he will play with the Hawks during the final stretch, Baun will not be eligible for the Stanley Cup Playoffs.
Here is what DJ Powers of Hockey's Futures scouting report says about Baun:
"One of Baun's attributes that scouts have taken particular notice of is how he utilizes his size and strength. He's a player that is difficult to move off of the puck, and he uses the aforementioned assets exceedingly well in gaining separation and in battles for loose pucks. Baun is an excellent skater with terrific speed. He has developed into a reliable scorer who can chip in goals at crucial times and can wreak havoc in front of opposing goaltenders. He also does an equally good job of setting up plays."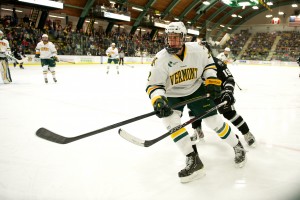 Mike Paliotta
The second prospect signing announced was 2011 3rd-round pick Mike Paliotta.
This signing was considered a big deal for Chicago, as many speculated that Paliotta would go the way of Kevin Hayes and use a loop hole in the CBA to go to another team.
As a senior at the University of Vermont, Paliotta had five goals and 22 assists, ranking second among defensemen in assists and tied for fourth in points. He was named the Hockey East Top Defensive Defensemen.
Like Kyle Baun, Paliotta gets a two-year entry level deal; he will also report to Chicago, burning his first year. Unlike Baun, the Hawks will have Paliotta for the the Stanley Cup Finals if they need him.
Hawks GM Stan Bowman spoke highly about Paliotta in January: "His profile is not maybe as a high-scoring NHL player, but he does have that ability… That's nice to see he's tapping into it. I think he's more along the lines of Stephen Johns. He's a big kid. He's got a physical side to his game. He's not afraid to play a rugged game. But he's worked on his skills, which is something we've talked about. Take advantage of it when you're in college. He plays a lot of the power-play situations, and he's done well with it. He's someone we're definitely looking to as soon as he finishes his year we want to turn pro."