The CHL MasterCard Memorial Cup tournament is scheduled to start Friday in Quebec, in which the best teams from the three CHL leagues across the country will vie for the title of Canada's best junior hockey team.
Aside from the IIHF World Junior Championships, the Memorial Cup is the most entertaining and pressure packed tournament many of these teenagers will experience in their hockey careers.
It's also a chance for prospects to put themselves on a team's radar or improve their draft stock with a good performance.
The four teams competing are the Kelowna Rockets (WHL), Oshawa Generals (OHL), Rimouski Oceanic (QMJHL) and the host Quebec Remparts.
HOST – Quebec Remparts
2014-15 Record: 40-25-1-2, 83 pts
The Remparts were a Game 7 OT goal away from winning the QMJHL title in addition to being the host team in 2015, so they are legitimate contenders in their own right.
They have also also beefed up in the second half of the season getting sniper Anthony Duclair back from the New York Rangers and acquiring big name junior talents in goaltender Zach Fucale and forward Vladimir Tkachev before the deadline.
The Remparts top line of Anthony Duclair–Kurt Etchegary–Adam Erne is one of the best in the nation and can give the best defenders trouble. They also have incredible scoring depth past them in forwards like Tkachev, Guillaume Gauthier, Marco Roy and regular season leading scorer Dmytro Timashov.
The may give up more goals than the other three teams in the tournament, but they also have the best goaltender of the bunch in Fucale.
SPOTLIGHT PLAYERS:
Zach Fucale – Montreal Canadiens (36th in 2013)
Anthony Duclair – New York Rangers (80th in 2013)
Adam Erne – Tampa Bay Lightning (33rd in 2013)
Kurt Etchegary – undrafted
Dmytro Timashov – undrafted
QMJHL – Rimouski Oceanic
2014-15 Record: 47-16-3-2, 99pts
The best team from the Q, the Oceanic feature a veteran, experienced lineup. Their top players are perhaps less heralded than those on other teams, but are no less dangerous.
Offensively they are led by experienced forwards Alexis Loiseau, Anthony DeLuca, Michael Joly and Chris Clapperton. Of the group only Clapperton, a 5th round pick of the Panthers, has been drafted but they are all QMJHL veterans who have enjoyed success and should not be underestimated.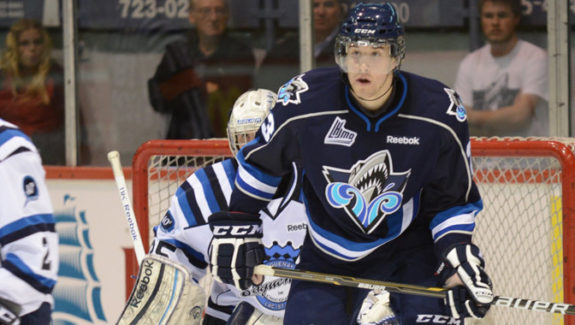 The more high profile names on the team go to Frederick Gauthier and Samuel Morin who are first round draft picks of the Leafs and Flyers respectively. Both players are coming off a gold medal at the World Juniors for Canada and will play pivotal roles for Rimouski in the tournament. Both players are huge, Gauthier (6'4", 215lbs) and Morin (6'7", 225lbs) and play a physical game. Gauthier is also an excellent penalty killer and faceoff man, which are invaluable in a short tournament.
Goaltending has the potential to be a strength or weakness for the Oceanic. They have one of the QMJHL's best in Philippe Desrosiers, however he has struggled in the playoffs and has already lost playing time to backup Louis-Philip Guidon. Rimouski will need him at his best to compete.
SPOTLIGHT PLAYERS:
Alexis Loiseau – undrafted
Frederick Gauthier – Toronto Maple Leafs (21st in 2013)
Samuel Morin – Philadelphia Flyers (11th in 2013)
Jan Kostalek – Winnipeg Jets (114th in 2013)
Philippe Desrosiers – Dallas Stars (54th in 2013)
OHL – Oshawa Generals
2014-15 Record: 51-11-2-4, 108pts
The Generals earned their way to the Memorial Cup by way of defeating Connor McDavid and the Erie Otters in the OHL Championship series. Many fans as well as promoters were no doubt hoping for the Otters and the marketing opportunities it would present with McDavid coming to Quebec. The fact is though, the Generals were a better team and deserve to be in the tournament.
Oshawa has a very big and physically imposing team. They love to play the body and more often than not would rather go through opponents rather than around them.
They have great size and depth up front led by Islanders first rounder Michael Dal Colle. They also have a good mix of skill forwards like Cole Cassels, Matt Mistele or Bradley Latour, to go with punishing power forwards like Michael McCarron, Tobias Lindberg and Hunter Smith.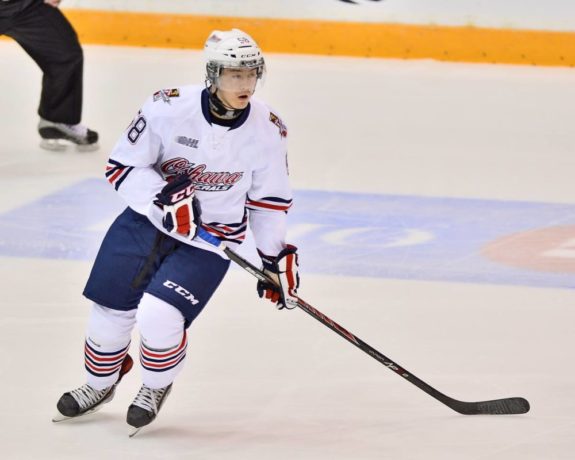 On defense, the overage shutdown pairing of Josh Smith and Dakota Mermis will go up against the other team's top line, while they are led offensively by draft eligible Mitch Vande Sompel who averaged over a point per game in the regular season.
Undrafted Ken Appleby hasn't been a huge story in the playoffs, but maybe he should be, as he has posted very impressive numbers thus far.
While the Generals love to impose their will physically, they will have to temper their emotions and be wary of staying out of penalty trouble to be successful.
SPOTLIGHT PLAYERS:
Michael Dal Colle – New York Islanders (5th in 2014)
Cole Cassels – Vancouver Canucks (85th in 2013)
Matt Mistele – Los Angeles Kings (180th in 2014)
Tobias Lindberg – Ottawa Senators (102nd in 2013)
Mitch Vande Sompel – 2015 draft eligible
WHL – Kelowna Rockets
2014-15 Record: 53-13-5-1, 112pts
The Western Canada representatives, if there was a tournament favourite, it would likely be the Rockets.
A team that scores and defends equally well and has plenty of star power, the Rockets will be a very tough team to beat.
They boast the best tandem on the blueline by a fair margin in gold medal winners Josh Morrissey and captain Madison Bowey who can both defend and lead the rush offensively.
They also have arguably the best individual player in the tournament in Oilers draft pick Leon Draisaitl, although that seems to be debated depending who you talk to.
Leon Draisaitl a 2 point(1G-1A) night.28 point playoff for Kelowna. Named the WHL playoff MVP and moves on to the Mastercard Memorial Cup

— Gene Principe (@GenePrincipe) May 14, 2015
The Rockets loaded up their top line late in the WHL playoffs putting Draisaitl between Rourke Chartier and Nick Merkley and the results have been impressive.
They don't need Jackson Whistle to be spectacular in net, but simply solid and consistent to be a threat.
SPOTLIGHT PLAYERS:
Leon Draisaitl – Edmonton Oilers (3rd in 2014)
Madison Bowey – Washington Capitals (53rd in 2013)
Josh Morrissey – Winnipeg Jets (13th in 2013)
Rourke Chartier – San Jose Sharks (149th in 2014)
Nick Merkley – 2015 draft eligible
Carl covers the Edmonton Oilers for THW as well as providing additional prospect coverage. Follow him on twitter @carlTHW, connect on Facebook or contact at carl.maloney@hotmail.com for questions, comments or if you're interested in him writing for you.