Unrestricted free agent forward Chris Higgins will be attending training camp with the Calgary Flames on a professional tryout (PTO), the team announced on Tuesday.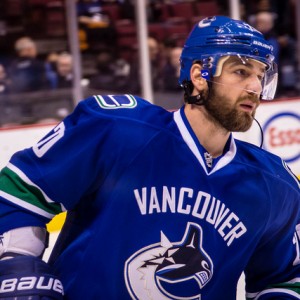 Higgins, 33, started 2015-16 with the Vancouver Canucks, but after breaking his foot in training camp and having a slow start to the regular season (four points in 33 games), the team announced it was actively seeking to trade Higgins in order to get younger. After clearing waivers, Higgins was assigned to the AHL's Utica Comets and tallied nine goals and four assists in 22 games.
While injuries limited his effectiveness last season, Higgins is a three-time 20-goal scorer and has shown his offensive side as recently as 2014-15 when he registered 12 goals and 24 assists in 76 games with the Canucks.
Higgins was originally drafted by the Montreal Canadiens 14th overall at the 2002 NHL Entry Draft. In his 12-year NHL career, he has skated in 711 regular season games and compiled 333 points. Higgins returns for his second stint with the Flames, after playing 12 games for the team in 2009-10.
A native of Smithtown, New York, the left winger played two years of college hockey at Yale University (ECAC) before beginning his professional career in 2003-04 with the Canadiens.
Higgins' PTO gives the Flames a chance to evaluate his recovery from last year's foot injury and to determine if he is a good fit as a veteran presence for the team's core group of younger players.