The Pittsburgh Penguins' Matt Murray will enter training camp with Team North America as its number one goaltender for the World Cup, Stephen Whyno reported on Thursday.
While we're in the middle of World Cup chatter, not that this is a surprise but Peter Chiarelli said Matt Murray goes into NA camp as No. 1G

— Stephen Whyno (@SWhyno) September 1, 2016
Murray, 22, saw action in just 13 games during the 2015-16 regular season, his first in the NHL, but emerged as the Penguins starting goaltender during the team's run to the 2016 Stanley Cup. In 21 playoff games, he posted a 15-6 record along with a 2.08 goals against average and .923 save percentage.
"Just based on his (Murray's) body of work, what he's done, you can't ignore that. He's the lead dog right now," Team North America general manager Peter Chiarelli told Stephen Whyno.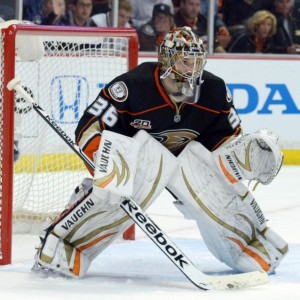 Murray will make his World Cup debut as a member of Team North America, made up of a group of players age 23 and younger as of Oct. 1 from the United States and Canada. Murray will be competing with John Gibson (Anaheim Ducks) and Connor Hellbuyck (Winnipeg Jets) to maintain his status as the team's starter.
Gibson, 23, has represented the United States on three previous occasions and has been successful in the starting role while winning the gold medal at the 2011 Under-18 World Championships and 2013 World Junior Championships, and a bronze medal at the 2013 World Championships.
Hellebuyck, 23, played two seasons of college hockey at UMass-Lowell (Hockey East) before backstopping the Team USA to a bronze medal at the 2015 World Championships.
The Hockey Writers coverage of the World Cup of Hockey 2016 is being brought to you by PrimeSport, the official Fan Travel & Hospitality Package Partner of the World Cup of Hockey 2016.
Steven is a lawyer and writer with a passion for the game of hockey. He's the Lead Writer covering the Tampa Bay Lightning with THW. He's also been press credentialed through the Lightning since 2016. His work has been published at The Fourth Period, LightningInsider.com, Bolt Prospects, The Sports Daily Network, U.S. College Hockey Online and College Hockey News. He's had radio appearances on TSN 690 in Montreal, Lightning Power Play Live and multiple podcasts to give insight and analysis on the team. He can be reached on Twitter @StevenDiOssi and by email at sdiossi@gmail.com.