The Pacific Division playoff series have some striking similarities, but there's one that's impossible to ignore: One team is dominating the series as the Vegas Golden Knights and San Jose Sharks are three games up on their opponents. The only difference between the two is that the Sharks have won two of their games on the road, while the Knights have mostly been at home. Otherwise, the similarities are oddly close. Both teams are dominating shots, shot metrics, high danger chances, and goals. Stellar goaltending has kept their opponents in the series, but it's safe to say the Sharks and Knights are the better teams.
One of the biggest reasons for the Sharks' success is their depth. The Anaheim Ducks are unable to mismatch lines because there is no line that Sharks head coach Peter Deboer has to shelter. It doesn't matter which of their top three lines the Sharks throw out, they feel confident that they can win that matchup. While some would like to give credit to players like Joe Pavelski or Logan Couture, my praise falls on Chris Tierney.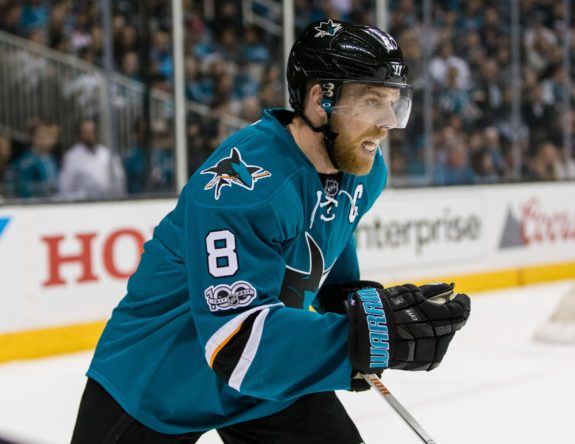 Tierney was drafted in the second round of the 2012 NHL Entry Draft out of the London Knights organization. He wasn't rushed or overly hyped but the Sharks were excited to have him. From London, Tierney developed into a wonderful two-way player that can eat tough matchups as well as find the open man in offensive situations.
He had his best offensive year with 17 goals and 40 points in 82 games this season. That success has spilled into the playoffs with Tierney's line dominating the Ducks in all three zones. Guys like Tierney deserve to be praised when they play well, especially in rough situations. Here's just how good he's been against the Ducks.
Possession Seems to Follow Chris Tierney
Tierney is a force in terms of puck possession. The Sharks have based their game plan on possession as they aren't fast enough to compete with teams like the Tampa Bay Lightning or Nashville Predators. Instead, the Sharks chose to sacrifice most of their transition offense to establish a heavy zone presence that tires out opposing defensemen over the course of the game.
This works incredibly well in the playoffs because instead of one game, it happens over at least four. While Tierney isn't a speedster or a punishing power forward, he maintains possession through precise passing and relentless pressure in the corners.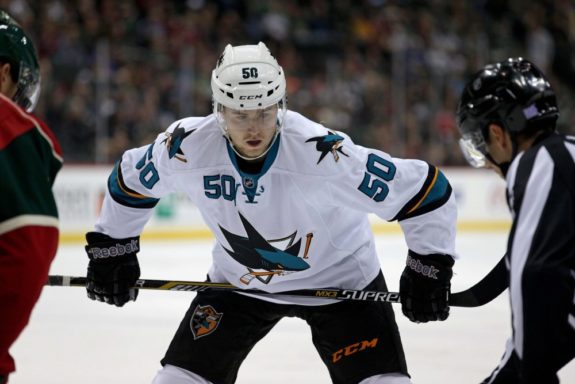 This effort and determination have resulted in great possession metrics. Through three games and almost 38 minutes played at even strength, Tierney has a 52.63% Corsi and a 56.67% Fenwick. Those numbers are good for sixth and fifth overall on the team, respectively.
Linemates Timo Meier and Kevin Labanc have been great as well, and have taken most of the shots that support these numbers, but Tierney is still making them happen. He's assisted on over 50% of the shot attempts taken by those two, while also producing four shots on net himself.
While four shots in three games is good, what's more impressive is that it's come from six shot attempts, all of which were unblocked. As the cliche goes, you have to hit the net to score. The center currently has one point through three games, but it was a great primary assist on the power play. If Tierney can continue to create shots at this rate, it won't be long before he starts scoring in bunches.
Where to Find Chris Tierney
While Tierney has been a dominant possession player, the Sharks are getting beat in terms of Corsi. They're making up for it by winning the Fenwick battle, but the Sharks' biggest victory is coming from high danger areas where they're controlling 53.70% of the high danger chances and 100% of the high danger goals.
Guys like Pavelski and Evander Kane live in these areas, but the third line has been flexing their muscles in close to Ducks goalie John Gibson. Tierney actually has the best high danger chance share on the team with 66.67%, from 12 produced and six given up.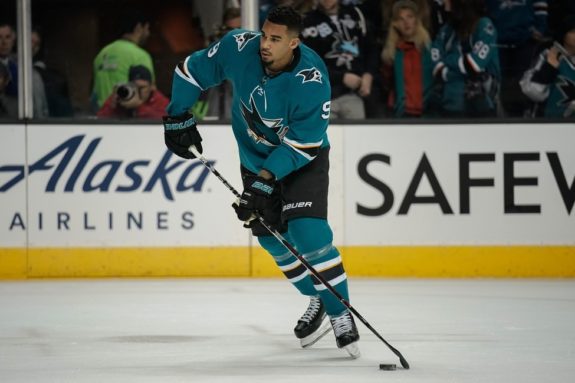 As mentioned, Tierney's linemates have been big factors in this, as Meier is a blossoming power forward who can't be moved from the front of the net. Meanwhile, Labanc provides a good presence in the high slot as he draws defenders away from the net front. This young combination has confounded the Ducks' second and third defensive pairings, while also beating up on a shallower bottom six.
Despite their success, let's not forget Tierney's contributions. Of the nine high danger chances, Tierney has produced five of them. In other areas, Tierney has also produced six regular scoring chances. This willingness to go to the tough areas will prove fruitful when the third line doesn't have to face Vezina quality goaltending. Although, the argument can be made that a lot of the third line's advantage comes from their competition.
 Deployment
Third lines are weird, some teams will throw them to the wolves to shelter a top line while others will shelter the third line to spread scoring. The Sharks are doing a little bit of both, oddly enough. While Tierney is starting in the defensive zone 56% of the time, he's mostly seeing middle six competition.
In Game 1, he spent over four minutes at even strength against the second line of Ondrej Kase, Adam Henrique, and Corey Perry. That's a scoring line if I've ever seen one, but they failed to exploit the Sharks' depth, as the tables were soon turned. Even with Tierney starting in the defensive zone 60% of the time, his line rarely ended their shifts there. Ducks' head coach Randy Carlyle had no answer in Game 1 for the third line, and that continued.
Game 2 featured more of the same for the Sharks, although the Ducks made a late push. Tierney started in the offensive zone 50% of the time, although that was the second highest percentage on the team. He also took on more of the third line, and his offensive numbers reflected that. He was on the ice for nine scoring chances as well as six high danger chances. SIX. Not even the best line in hockey, Patrice Bergeron, David Pastrnak, and Brad Marchand, can produce six in a single night reliably.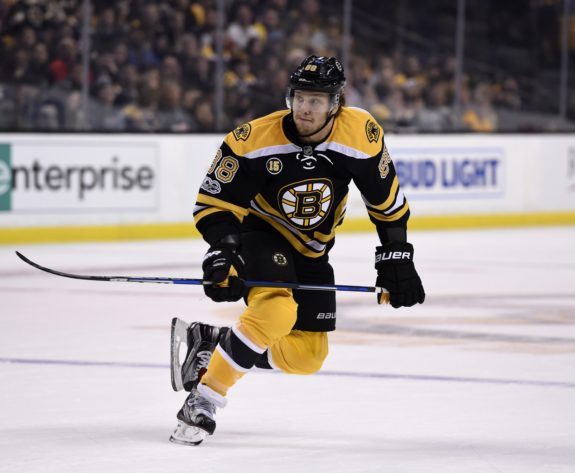 Game 3 was a wild ride. The Sharks won 8-1 but were mostly outplayed. They were dominated in terms of possession and scoring chances but they held strong in one area, high danger chances. Eight to eight ended up being the final total at even strength, but when taking the power play into account, the Sharks won by a score of 17 to 11.
Tierney was consistent with the rest of the Sharks as he was a negative possession player but kept his head above water in terms of high danger chances. He was on the ice for three for and three against, but did produce two on his own. While his offensive input was down, he was deployed in a more defensive role as he mostly saw the Ducks' second line.
Tierney has been a positive player for the Sharks so far but it still feels like he has more to give, especially in terms of points.
Tierney's Success Is Essential
I've always believed there are three factors that go into winning the Cup. Star players have to score, offensive depth players can't be liabilities, and goaltenders must be competent. The Sharks have all three, even if it is in a short span. Stars like Couture and, Pavelski, and Kane are scoring in bunches and are beating the Ducks' shutdown line at every step. Meanwhile, goaltender Martin Jones is playing competently after a shaky season, although he's receiving a lot of help from defensemen Marc-Edouard Vlasic and Justin Braun. Hell, even Brent Burns has been better in his own end than what we've come to expect.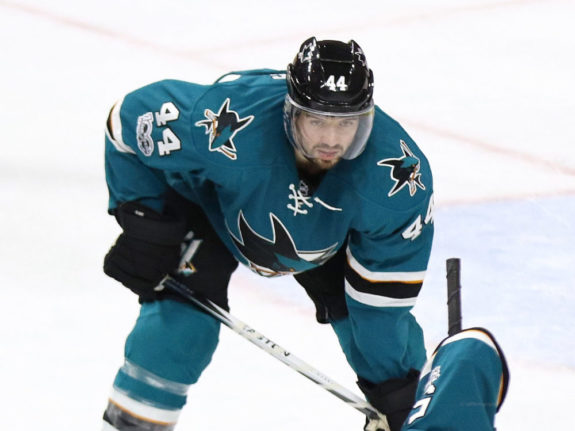 Last, but certainly not least, the Sharks' depth is an asset. Even the fourth line has jumped in on some of the action, but the third line is the one that's really moving the needle. Tierney has been the mastermind behind it all, as he drives possession and scoring in subliminally beautiful ways.
Once Tierney gets his first point at even strength, I think the floodgates will open. He has already been propelling his team to the second round but I believe he has more to give. One thing is for sure, the Sharks are lucky to have him on their squad.