The Cleveland Monsters have a nice mix of rookies and veterans on their roster this year. This combination on top of being hungry for a second Calder Cup will produce many milestones throughout the 2016-17 season.
Nine Monsters earned milestones during the month of October.
October 15, 2016 vs Rockford IceHogs
Aaron Palushaj started the milestones off by scoring his first goal with the Cleveland Monsters 46 seconds into the first period.
During the second period, Frank Hora collected his first professional point on TJ Tynan's short-handed goal. Nine minutes later, Justin Scott and Jordan Maletta would earn their first professional point when Nick Moutrey scored the Monsters third and final goal of the game.
October 25, 2016 vs Iowa Wild
The Monsters vs Iowa Wild game was chock full of milestones for the team.
Blake Siebenaler tallied his first professional point when he and Justin Scott assisted Daniel Zaar's goal at the 7:10 mark of the first period.
Both Jordan Maletta and Dante Salituro notched the first professional goal of their careers. Maletta's first goal came a little under a minute and a half before the end of the first period. During the first few minutes of the second period, Salituro scored his first goal thanks to a beautiful setup by Joe Pendenza and Jaime Sifers.
Markus Hannikainen stood out during the second period as he scored two goals to complete a hat trick.  All three of Hannikainen's goals were at even strength.
#CLEMonsters GOAL! 🚨🎩🚨🚨🎩🎩 HANNIKAINEN WITH THE HAT TRICK! It is 6-1 Monsters!
HOW YA FEELIN', CLEVELAND?

— Cleveland Monsters (@monstershockey) October 26, 2016
October 27th, 2016 vs San Antonio Rampage
Alex Broadhurst scored his 100th career point after saucing the puck to Cody Goloubef who was able to catch goaltender Spencer Martin off guard.
Congrats to @Broady181 who tallied his 100th career @TheAHL point with an assist last night! pic.twitter.com/8GrAkWJKMM

— Cleveland Monsters (@monstershockey) October 28, 2016
October 28th, 2016 vs San Antonio Rampage
Justin Scott scored the first professional goal of his career by netting the equalizer goal in the third period after receiving the puck off of a set of passes from Alex Broadhurst and Cody Goloubef.
I kind of was just backtracking there and Goloubef threw it low to Broadhurst. He made a great play. Found me in the right spot.

Justin Scott – Cleveland Monsters' Forward
October 30th, 2016 vs Chicago Wolves
TJ Tynan scored his 100th AHL point in the form of a goal with a little over two minutes to play in the first period. Hannikainen was able to pass the puck to Tynan who snuck it past Chicago Wolves goalie, Jordan Binnington.
Upcoming Milestones
As the Monsters roll through the 2016-17 season, keep an eye out for even more milestones from the boys:
Palushaj is 11 goals away from 100 AHL goals. Brookbank is four assists away from 100 AHL assists.
Both Bittner and Graves have yet to tally a professional point. Look for at least one milestone in their future.
If Tynan and Broadhurst stay healthy, they will play in their 200th professional game. Tynan will also have the chance to score his 100th professional assist.
Sifers will more than likely see 500 AHL games and 150 professional points.
Daniel Zaar is zeroing in on 100 professional games played and 50 professional points.
Barring injury and callups, Bjorkstrand will see 100 professional games and 50 professional points.
By the end of the season, Yevenko could see milestones reached in games played and professional points. Hora could score his first professional goal.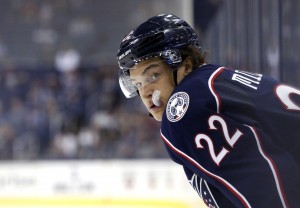 Sonny Milano is closing in on 100 professional games and 50 professional points.
Anton Forsberg is one win shy of 50 AHL wins. He could also see 100 professional games, 5,000 minutes played, and 2,000 saves by the end of the season.
These are just regular season milestones. The list for playoff milestones is a bit more extensive, especially since half of the team have never made it deep in the Calder Cup playoffs.
As you can see, the 2016-17 season is going to be full of milestones and memories to last a lifetime.
Elaine is in her first year writing for The Hockey Writers. She will mostly be covering the Columbus Blue Jackets, Lake Erie Monsters, NWHL, and the charitable works all hockey players partake in.
She just ended a two season internship with the Ohio AAA Blue Jackets.