It would be unfair to say that the Edmonton Oilers are "better off" without Taylor Hall. But with Connor McDavid taking the reigns, and the emergence of Leon Draisaitl, it's safe to say they don't "need" Hall to succeed. (A couple of key injuries may change that narrative but nevertheless). The Oilers are somewhere they'd never been with Hall on the team. In a playoff spot.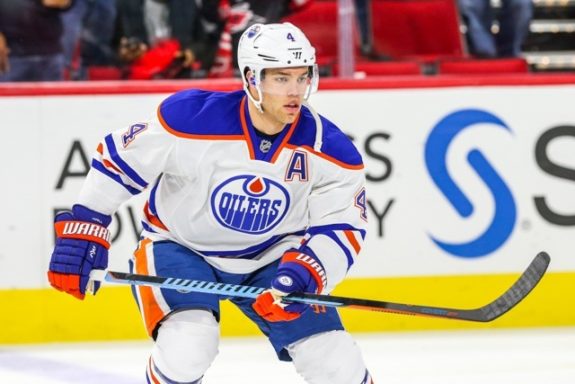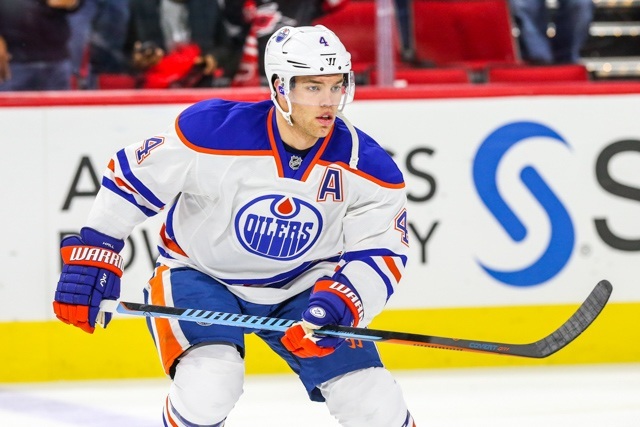 The Oilers Have Moved On
Hall is a good player. He may not be a great player. He's an alpha dog, and having too many of those in one room may affect the chemistry. This isn't to say Hall was a problem, but not every player fits on every team. This is McDavid's team, not Hall and McDavid's team. Losing Hall allowed McDavid to fully grasp the leadership role.
Adam Larsson on beating his former team twice. "It feels really good. I'm not going to lie to you. It feels good."

— Brenden Ullrich (@BrendenUllrich) January 13, 2017
Was the Hall trade addition by subtraction? In a sense. Adam Larsson isn't a superstar, but he's exactly what the Oilers needed. Despite fans believing the price was too high, you can't argue with the present results.
The troubling thing for the Oilers is that, at the moment, they're a one line team. That one line (McDavid, Maroon, Draisaitl) has been fantastic, but they need more from Jordan Eberle, Milan Lucic, Benoit Pouliot and Ryan Nugent-Hopkins. But maybe a guy like Lucic has helped in other aspects. (With that salary you sure hope so). And if Hall was still on the team, they wouldn't have been able to afford Milan's contract. And maybe Draisaitl's larger role has been facilitated by the absence of Hall.
Whether the team's success without Hall is a coincidence or not, Oiler fans should feel at peace about the trade. If the Oilers hang onto their postseason spot, a big body presence on the back-end will come in very handy.
[Former Devil Ken] Daneyko doesn't think Oilers fans will truly understand the value of Larsson until the Oilers make the post-season and are playing the same opponent five, six, seven times in a row in a playoff round. "I think they'll appreciate him more then. You can't win with 15 flash-and-dash guys," said Daneyko. "You guys (media) know that better than anybody with the Oilers having all this talent (before)." [Edmonton Journal]
Has Hall Moved On?
Standing ovation for Taylor Hall. #oilers pic.twitter.com/W2lw7hUjrX

— gordy in 140 (@TheNationChris) January 13, 2017

It's clear that Hall didn't want to leave Edmonton, he was upset about the trade, and he's still fully not over it. Perhaps his return to Edmonton, getting the tribute video, and receiving the standing ovation will be enough for the closure he needs. Having said that, seeing the Oilers thriving while the Devils struggle doesn't help. It's like being dumped by your significant other and trying to make them jealous with someone who isn't as good as them.
'The disappointing thing for me is that I wasn't able to be part of the team there that I had been part of for so long. I played a lot of games and I thought I played hard. That was more the hard part; it's not really coming back to the rink or anything like that. At the moment when I got traded, that's what was disappointing.' – said Hall about his return to Edmonton. [NHL]
Barring a miracle that the Devils somehow make the Stanley Cup Final (and the Oilers do as well), this marks the end of Hall's reunion tour to Edmonton. He left his mark, and perhaps even ignited a rivalry thanks to a dust-up with Zack Kassian.
Hall wanted to be a part of the solution in Edmonton. He tried to be. He wanted to enjoy the fruit of some difficult labour. But it wasn't meant to be. And now in a sense, he's tasked with trying to lift another lowly team from the doldrums to the heights of NHL glory. Maybe that's what makes the transition even more tough to take. He's not playing for a contender. He probably feels the responsibility to carry the team, something that he's not equipped to do.
'Hall was part of a promising group of young players that for numerous reasons weren't able to lift up the Oilers franchise. Most fans realise this, and any bitterness they might otherwise have had about the deal is informed by that realisation. Hall was a brilliant attacker, but not the rare kind of superstar who could raise up a team on his own.' [Cult of Hockey]
In any case, it's time for both sides to officially close this chapter. Hall and Larsson may end up being linked forever, but they shouldn't be. At the moment, the trade is a win for the Oilers. That may not be the case in five years, but right now it is. Especially if the Oilers qualify for the playoffs. A broken relationship isn't always easy to get over. But this one can now officially be buried.