As the Ottawa Senators approach their mid-season mark, we take a look at the two glaring underachievers of the first half of the 2016-17 season. Bobby Ryan, the highest paid player on the team, has struggled to produce relative to his contract. Curtis Lazar, once the Senators' most promising prospect, has regressed substantially during his third season in the big league.
What's With Bobby?
Bobby Ryan was traded to the Ottawa Senators during the 2013 offseason for Jakob Silfverberg, Stefan Noesan and a first round draft pick. Most fans were expecting him to improve on, or at least keep up, his early career production. Drafted by Anaheim second overall in the 2005 NHL Entry Draft, he excelled in his first four seasons with straight 30+ goal campaigns, establishing Ryan as a premier goal scorer in the league.
Salt, meet wound. Silfverberg on pace for 53 pts, a career year, and now has exactly twice as many points as Ryan. https://t.co/DiKUzYQ1lZ

— Steve Warne (@TSNSteve) January 11, 2017
Unfortunately for Ryan and the Senators, he hasn't been able to match his numbers from Anaheim. Now in his fourth season with Ottawa, it looks like a tale of two Ryans. For some reason, Ryan lost his shoot-first mentality when he joined the Sens.
Looking at his career stats, Ryan has consistently collected assists, but his goal production has decreased. This can be explained by his dip in shots since coming to Ottawa. Over his four full seasons with Anaheim, Ryan averaged 2.9 shots per game. In his first three seasons with Ottawa, that number dropped to 2.6 shots per game, and he is averaging only 1.6 shots per game this season.
A Wake-Up Call
A peculiar situation unfolded last week when Ryan was a healthy scratch for a game against the Washington Capitals. The Senators were playing at home and Ryan had taken the morning and pre-game skates before being scratched. Head coach Guy Boucher, who is usually transparent, did not give a reason for his decision, but described it as complex, and Ryan followed up by saying the matter was dealt with in-house and that they've moved on.
Bobby Ryan says he had a personal issue that arose. "We dealt with it in house and we're going to keep it in house," says Ryan. #Sens

— Bruce Garrioch (@SunGarrioch) January 9, 2017
Whatever the reason for his benching, the Senators need Ryan to step it up. Expectations have been lowered, but his 8 goals and 15 points in 34 games are nowhere near his potential. Unless he heats up in the second half of the season, trade and expansion draft rumours will start to swirl.
Curtis Lazar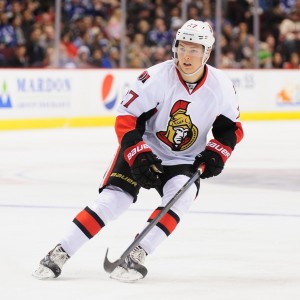 Then we have Curtis Lazar. Ottawa's first round draft pick in 2013 (17th overall), Lazar surprised many when he made the starting lineup in his first season. He then surprised everyone when the Senators kept him around after the nine-game mark, which signifies the beginning of his three-year entry-level contract. Now in the last year of his ELC, Lazar's stock has dropped because of his lack of productivity.
When the Senators drafted Lazar, it was because of his character as much as his production and skills. Just over two years ago, management gave him permission to captain Team Canada at the 2015 World Junior Championship. He led Team Canada to a Gold medal, gaining confidence and experience with leadership.
His finished his rookie season with a 6 goal, 15 point effort in 67 games. Despite those modest numbers, he gained a reputation as a solid two-way forward who could play centre or wing. His sophomore season showed more of the same, with 6 goals and 20 points in 76 games.
Can He Improve?
Entering the 2016-17 season, Lazar was expected to increase his production after learning to play responsibly his first two seasons. The opposite has occurred, as Lazar sits with a big fat zero in the points column with 20 games played.
His season debut was delayed by an illness that kept him out of training camp. Once healthy, general manager Pierre Dorion sent him to the AHL for a conditioning stint. As time went on, Dorion expressed that he wanted Lazar to keep playing more minutes in the AHL to help his development, something many thought should've been done two years ago.
Due to injuries, Lazar was recalled by the Senators on Nov 19 and he has stayed with the big club ever since. Struggling to score kept him on the fourth line while playing on the penalty kill. On Dec 5 in a game against the Pittsburgh Penguins, he suffered a concussion which kept him out for another nine days. He returned on Dec 14, after missing three games.
Guy Boucher says Curtis Lazar is a 4th line player right now. Wants him to embrace that role and improve before he gets chance to move up.

— Ian Mendes (@ian_mendes) January 12, 2017
Illness and injury have played a role in his stalled production, but many blame Ottawa for rushing Lazar's development. Playing fourth line minutes makes it hard for Lazar to produce, but he isn't doing much to merit a promotion in the lineup.
In the last year of his ELC, it doesn't seem that Lazar will become the well-rounded forward the Sens were hoping for. At 21-years-old, time is running out for Lazar to show his offensive upside. For now, he looks destined to play a defensive bottom-six role with the Senators, barring a trade for a fresh start with a new organization.