With any new coach, there's a feeling out process. But almost halfway through the season, Guy Boucher may have made Bobby Ryan a healthy scratch. Without much in the way of an explanation, Ryan watched Saturday's game from the press box. Questions were bound to come. Had Boucher just said it was performance related the matter would likely have gone away.
But that's not what he said.
Boucher simply said, "We had an issue that we dealt with and it's dealt with."
Naturally, he was asked if it was a disciplinary issue. "There's complex issues that don't need to be said out here," Boucher said according to Postmedia's Bruce Garrioch.
Ryan wasn't any more forthcoming than Boucher. "I had a personal issue that arose," he said. "I saw what [Boucher] said and I'm going to follow him on that. What coach said was accurate; we dealt with it in-house, and we're going to keep it in-house. That's it."
He continued: "As far as we're concerned, [it's] already done. It's a non-issue."
If it was disciplinary, it's not the first time Boucher has come down on Ryan. He sat during the preseason for being late to a team meeting.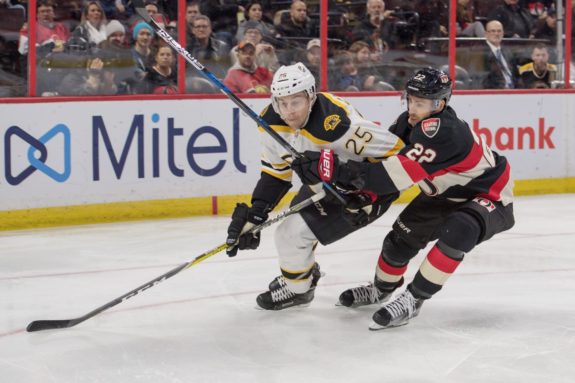 Bruins and Avs Dancing, But Carlo Not on Table
Trade rumors between the Colorado Avalanche and the Boston Bruins have been increasing in frequency.
"[The Bruins'] name is front and center in all of these trade rumors with the Colorado Avalanche," said TSN's Bob McKenzie on TSN 690. Much of the discussion has been surrounding the Bruins being interested in Gabriel Landeskog or, possibly, Matt Duchene.
But on Saturday's "Headlines" segment, Sportsnet's Elliotte Friedman said that Brandon Carlo is not on the table, something that has also been said of Charlie McAvoy, though somewhat less assertively.
"There was talk this week between Colorado and Boston about Landeskog for the second time this year," Friedman said. "Nick [Kypreos] mentioned Trouba earlier in the year. Boston has told teams [asking about Carlo]: 'We're not trading that guy.'"
Fanrag's Chris Nichols points out that Friedman elaborated on the point in an appearance on Sportsnet 590. "It sounds like a lot of teams are trying to get their hands on Brandon Carlo, the young defenseman from Boston, but so far they've resisted Jacob Trouba and Gabriel Landeskog deals for him," he said. "So that tells you that if you want a young player or a young player with term, it's going to cost you and it's going to cost you big."
Blue Jackets Waive McElhinney
The Columbus Blue Jackets have waived goaltender Curtis McElhinney. Sergei Bobrovsky has largely carried the load this year, with McElhinney grabbing just seven games, but he's posted a .924 save percentage in that limited action.
However, the 33-year-old netminder's last start was rough. He played Saturday against the Rangers in what was a rare loss for the Jackets. With an .853 save percentage, McElhinney allowed five goals against.
Should he clears waivers on Tuesday, the Blue Jackets will reassign him to the AHL, according to The Columbus Dispatch's Aaron Portzline.
#CBJ need to know they have a back-up goaltender they can trust heading into playoffs. Pretty clear they didn't feel that way w McElhinney.

— Aaron Portzline (@Aportzline) January 9, 2017
In associated moves, the has reassigned Marcus Hannikainen to the Cleveland Monsters of the AHL and recalled goaltender Anton Forsberg. The 24-year-old netminder is carrying a .940 save percentage through 21 AHL games this year. He also had an outstanding run to the Calder Cup championship last year, playing 10 postseason games with a .949 save percentage.
was really good on their Calder Cup run last year, too. got the net in the second round & never lost a game (.949 in 10GP)

— Rob Mixer (@RobMixer) January 9, 2017
Toronto's Goalie Dance
The goalie dance in Toronto continues. Sunday, they returned Antoine Bibeau to the AHL's Toronto Marlies and recalled Jhonas Enroth.
During his stint in the AHL, Enroth played three games with a .904 save percentage and a 3.03 goals-against average.
Puljuarvi Down, Gustavsson Waived
The Edmonton Oilers have waived goaltender Jonas Gustavsson, who has not been great this year. It may clear space for the team to clear someone who has performed better in relief, like McElhinney.
In seven games, Gustavsson has posted an .878 save percentage.
The #Oilers have assigned Jesse Puljujärvi to the @Condors, recalled Anton Slepyshev & placed Jonas Gustavsson on waivers.

— Edmonton Oilers (@EdmontonOilers) January 9, 2017
The Oilers have also reassigned rookie Jesse Puljujarvi to the AHL and recalled Anton Slepyshev. Puljujarvi, who was drafted fourth overall in the 2016 draft, hasn't yet broken out in the same way Patrik Laine and Auston Matthews have. Some time in the AHL hopefully allows him to rediscover his offensive game.
Nestrasil Too
In the third waiver move of the day, Carolina has waived 6-foot-3 center Andrej Nestrasil.
The 25-year-old has played 18 games this year, recording one goal and five points.
Delayed Hat Trick
The NHL announced an official scoring change more than 24 hours after the end of Saturday's Rangers game against the Blue Jackets. The goal, once credited to Adam Clendening, is now officially credited to Michael Grabner.
OFFICIAL: Clendening's second goal vs. CBJ has been changed to Grabner's, giving @grabs40 the hat trick!! 🚨🎩🚨🎩🚨🎩 pic.twitter.com/fVBXsJ6jF4

— New York Rangers (@NYRangers) January 9, 2017
And that gives Grabner a hat trick. So… where do we throw the hats now that it's been almost 36 hours since the game?
Top Prospects Game
The USHL has announced the full lineup for the USHL Top Prospects Game. The rosters include intriguing 2017 draft prospects Shane Bowers, Brannon McManus, Mikey Anderson, Zach Solow and Nick Swaney, as well as goaltenders Cayden Primeau, Maksim Zhukov and Dayton Rasmussen. The USHL's top prospect for the 2017 draft, Eeli Tolvanen, will not play due to injury.
Additionally, the roster is limited to 2017 draft eligibles, which means Andrei Svechikov will not be playing. Currently with the Muskegon Lumberjacks, Svechnikov may challenge for the number one overall draft spot in the 2018 draft.
Anthony Cirelli Trade
The OHL's Erie Otters are bulking up for another big run. With Dylan Strome back from Arizona, the team has acquired Tampa Bay Lightning prospect Anthony Cirelli from the Oshawa Generals, a team that he captained.
Generals trade Anthony Cirelli to Erie-Read more here: https://t.co/PzPafyl3Gh pic.twitter.com/o2Y3iBIb0R

— Oshawa Generals (@Oshawa_Generals) January 9, 2017
In return, Oshawa acquires 16-year-old Allan McShane, a top prospect for the 2018 draft, as well as six draft picks, three of which are conditional, according to TSN's Darren Dreger.
Rubtsov Coming to North America
Whether or not German Rubtsov would have his KHL contract terminated and come to North America to play for Chicoutimi in the QMJHL has been hot topic of conversation since the end of the World Junior Championship. He is a 2016 Flyers draft pick.
"The only way for him to leave is for him to have his contract terminated," Flyers general manager Ron Hextall said on Jan. 7, "and that has nothing to do with us. I mean we have all heard Chicoutimi, I know and I have heard. But I don't know whether he is going to get terminated or not, we'll see." Hextall was pressed on the issue when Rubtsov stopped to see team doctors after the conclusion of World Juniors.
"It has nothing to do with the Philadelphia Flyers. This is German's agent, Chicoutimi and Russia. So we are really just a bystander here," said Hextall.
Per @Boogaard_2 German Rubtsov terminated contract with 'Vityaz' of the #KHL. Now he's free to play for Chicoutimi #Flyers

— Igor Eronko (@IgorEronko) January 9, 2017
According to Igor Eronko, the termination is complete. Rubtsov's contract has been terminated and the Russian Prospects Twitter account notes that he has been removed from his MHL team's roster, giving weight to Eronko's report.
For those asking, German Rubtsov is now free to go to N. America. Vityaz keeps his KHL rights. #Flyers

— Slava Malamud (@SlavaMalamud) January 9, 2017
Toews Lost World Junior Bet
Jonathan Toews and Patrick Kane had a bet on the World Junior gold medal game. Now, you can see what Toews would look like in Bizzaro World where he's from the other side of the U.S.'s northern border.
@TeamCanada I feel your pain but I would still make this bet any day… get em next year. #WJC pic.twitter.com/EOROf2xBF1

— Jonathan Toews (@JonathanToews) January 9, 2017
Big win tonight. Big win by USA world juniors too. Now we all get to see @JonathanToews pay up pic.twitter.com/Aq5XlyWtfa

— Patrick Kane (@88PKane) January 9, 2017
Odds & Ends
– The Capitals have recalled Paul Carey from the Hersey Bears of the AHL.
– The Panthers have returned goaltender Sam Brittain to the ECHL. That may indicate that Roberto Luongo is feeling better after a minor upper-body injury.
– The Jets have recalled Brandon Tanev to the NHL.
– Klim Kostin is yet another top 2017 draft prospect dealing with a longer term injury. He was snubbed for the Russian World Junior Championship roster after coach Valeri Bragin said he's not "explosive," but had a very good showing at the World Junior A Challenge.
Kostin joins top prospects Nolan Patrick and Timothy Liljegren, who have been on the shelf long term.
Klim Kostin will miss a month due to an injury. #2017NHLDraft

— Russian Prospects (@RUSProspects) January 9, 2017