Many miles apart are the Los Angeles Kings and New Jersey Devils, 2,783 to be exact, but there are many more similarities which make these teams closer than one may think.  Starting for instance with the fact that regardless of which team ultimately prevails with the Stanley Cup, they will be the lowest seed to ever hoist Lord Stanley.  Speaking of seeds, they each knocked off the top seed of their respective conference, to reach this point.
No matter which team wins, an American born Captain will lift the Cup, be it Dustin Brown or Zach Parise.  Or the first to do so since Derian Hatcher with the Dallas Stars in 1998-99.  Trade rumors also followed each captain throughout the 2011-12 campaign.  Oh and Brown and Parise also have seven goals apiece in the playoffs.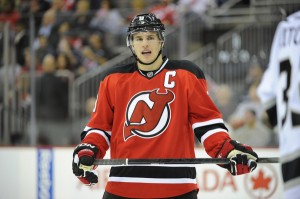 Looking on the bench there's Kings Head Coach Darryl Sutter, whose brother Brent, coached the Devils for two years.  Conversely, Devils assistant coach Larry Robinson, once played for the Kings and was Head Coach for both teams across parts of eight seasons.  Meanwhile, Devils Head Coach Peter DeBoer, coached Mike Richards on the 2004 Memorial Cup winning Kitchener Rangers.  Each top bench boss is in his first season with his respective club.   Additionally, a couple of years back, both front offices went hard after Ilya Kovalchuk in free agency.  Hence the Devils will likely be forfeiting their first round draft choice this summer, by virtue of reaching the final against the Kings.
Back on the ice, where both teams also employ a stout penalty kill and their fair share of shorty scorers.
Parise and Matt Greene were room mates at North Dakota.  New Jersey also has a defenceman named Greene, (Andy) though no relation.  Speaking of the defence, Willie Mitchell used to play for the Devils, while Peter Harrold used to suit up for the Kings.  So too did Devils forward Alexi Ponikarovsky.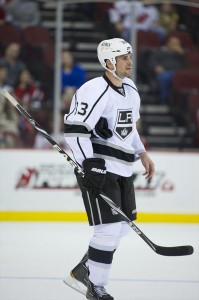 Each team acquired a Carter during the regular season.  In these playoffs, Jeff has four goals for Los Angeles.  Ryan also has four markers for New Jersey.
These teams can also roll four lines with speed, grit and without abandon.  Excellent fore checking as well.  Plus if you love rookies who step it up and emerge as post-season heroes, look no further than Adam Henrique, Dwight King, Stephen Gionta and Jordan Nolan.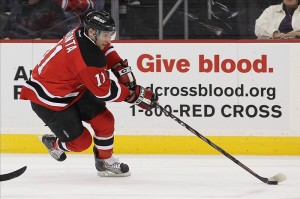 Of course in net, each squad has an all world goalie with Jonathan Quick and Martin Brodeur between the pipes.
In the stands, Alyssa Milano roots for the Kings but hails from New Jersey.  Likewise Patrick Warburton is from New Jersey and roots for L.A. but portrayed David Puddy on Seinfeld.
One could also make the argument that geographically speaking, both the Kings and Devils are in the same spot.  There's the Anaheim Ducks and New York Islanders, who both wore questionable jerseys in the late 90's and then there's the attention grabbing San Jose Sharks and New York Rangers.
Through it all though, the Kings and Devils are in the spotlight and on the NHL's big stage.  If that's unfamiliar to you, don't worry because when these two drop the puck, they'll get that all too familiar feeling.
Michael Gwizdala covers the New York Islanders for The Hockey Writers. Michael is also an Associate Producer at WNYT NewsChannel 13. Additionally, Michael was once a Media Relations intern for the AHL Albany River Rats. Michael is a graduate of The College of Saint Rose in Albany, NY.