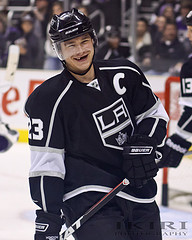 The 27 year old Los Angeles Kings captain has frustrated his opponents, and has now lead his Kings to the Stanley Cup Finals.  Dustin Brown has always been thought of a quality NHL player, but his performance this playoff season has elevated his status to a NHL star.  This guy is a game changer, that can literally take control of a game, and a playoff series.  If he is not scoring a clutch goal, controlling the puck along the boards, he is delivering a punishing hit to the opponent.  Lets face it this guy is very frustrating to play against.  His in your face, gritty, and physical style drives his opponents crazy.
The  playoffs have been amazing for the Los Angeles Kings.  With the outstanding goaltending of Jonathan Quick, and offensive success of Anze Kopitar the Kings have basically cruised through the playoffs.  The real surprise is that they have knocked off the #1 Vancouver Canucks.  Followed that up with a quick defeat over the #2 St. Louis Blues, and earned a trip to the finals by taking out the #3 Phoenix Coyotes in five games.  This is an amazing task, and if you ask many Kings players who lead the way, most would answer with Dustin Brown.
The year did not start off all that easy for Dustin Brown.  Early on in the season Brown was struggling to score and the Kings were struggling to win games.  Trade rumors started to swirl that Brown was on his way out.  The Kings were very active on the trade market, but luckily none of them included Brown.   Brown finished the regular season with 22 goals, 32 assists, and 54 points in 82 games played.  This is about his season average, if not slightly below.  He did have a great regular season plus/minus of +18.  Since the playoffs have started this guy has been amazing.  He currently has 7 goals, 9 assists, for a total of 16 points in 14 games.  He has a league leading plus/minus of +13.  This guy has dominated on the points end, but his real asset has been his team leadership.  His timely goals and physical presence have helped the #8 seeded Kings cruise  through the first three rounds.
It is tough to determine his most outstanding moment this playoffs.  Many remember the punishing (legal) hit on Henrik Sedin of the Vancouver Canucks.  The round one, game two goal outburst is at the top of most lists.  Brown netted two short-handed goals, and lead the Kings over the heavily favored Canucks.  The game five overtime hit on Phoenix forward Michal Rozsival is also a moment that many think of when Brown's name comes up.  Many fans thought this hit was dirty.  I am not sure it was dirty, it was thigh on thigh and I really question if he intended to do this.  It would have been very difficult to avoid this hit, and he did not stick out his knee.  Either way it was controversial, and Brown has taken some heat for this.  The moments of success for Brown in the playoffs have been numerous.
Brown has matured into a team leader and true NHL captain.  He leads by example, not words, and has now put his team four games from winning the Stanley Cup.  This is what makes him a legitimate Conn Smythe favorite.  Dustin Brown is a game changer.  Brown and the Kings will have to continue their gritty style of play to defeat the New Jersey Devils in the Stanley Cup Finals.    Starting Wednesday night the Kings will look to win their first ever Stanley Cup Championship.