On Halloween Day, the Colorado Avalanche made another splash in the trade market by sending pesky forward Steve Downie to the Philadelphia Flyers in exchange for Maxime Talbot. Based on Colorado's 10-1-0 record, the move came as a bit of a surprise with all the early success. Still, knowing Patrick Roy and his desire to constantly improve, it isn't too much of a shock that some type of a move was made, but what does it mean for the team?
Why Make the Deal?
Something that I've been hearing a lot since the trade happened is "Why make this move? The team is 10-1, and you want to mess with the chemistry like this?" The response is simple, if you find an opportunity to improve your team and address a need, then you make it. This trade improves an area of concern for the Avalanche and does so without giving up a ton of value.
Don't get me wrong, Downie is a valuable player, and the Avalanche will miss the crazy factor that he can bring to the team, but the Avalanche shouldn't skip a beat in the meantime. Steve Downie was the expendable guy on the roster. He was out of place on the line with Matt Duchene and Ryan O'Reilly. Watching those three play together, Downie could make some solid passes and get some good scoring chances but, as a whole, Downie was a few steps behind Duchene and O'Reilly in the way they see the game. Duchene and O'Reilly are both much better at anticipating the play than Downie is and it was obvious on the ice. The question then becomes do you try to fit him in the lineup somewhere else or see what you can get from him? The Avalanche are obviously happy with their offensive production without Downie's presence, so they found what they could get for him.
What Does Talbot Bring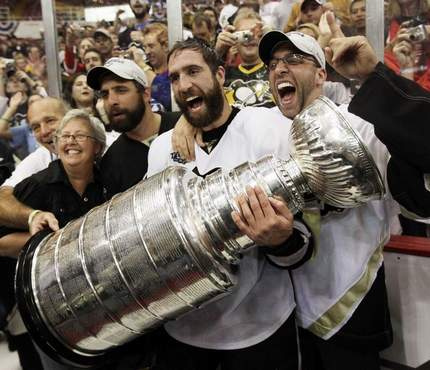 Talbot helps to address Colorado's defense. Yes, Talbot is a forward, but he is a very solid defensive forward that can play against solid opposition, kills penalties very effectively, plays in all situations and has a wealth of playoff experience. The Avalanche penalty kill will benefit from this not only by having a player the caliber of Talbot, but now it will also be able to keep some of their star players off the ice during penalty kills. Currently the Avalanche have Matt Duchene, Ryan O'Reilly and Gabriel Landeskog as part of the penalty kill. They are all effective on the penalty kill, but hopefully having Talbot will make them spend less time on the PK, and give them more time to play offense.
The underrated part of this trades it this, once again, brings the Avalanche a player that has post season experience. What better way to encourage that Stanley Cup attitude Patrick Roy wants then to bring in another player with a Stanley Cup ring? The Avalanche are learning how to win, and Talbot's big game experience will help, big time.
Where Will Talbot Play
Talbot will play on the third line with Nathan MacKinnon and Jamie McGinn, when he gets healthy again. Talbot should be a calming influence on MacKinnon as he continues his NHL journey. Also expect Talbot to see a lot of time on the penalty kill for the Avalanche as that is one of his biggest strengths. I love what Talbot can bring to this team and think the Avalanche got better as a result.
I'm a Denver native who has been a fan of the Avalanche since they came to town and a fan of the game before that. I started writing my own blog a couple years ago before moving to Bleacher Report and becoming a Featured Columnist there. You can also find me the Burgundy Brigade Podcast