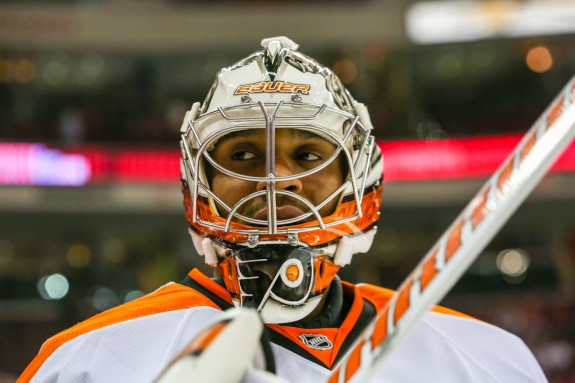 Ray Emery is a good goaltender, but that being said, he's a thug. Plain and simple. Last night's embarrassing display against the Washington Capitals pretty much solidified my beliefs.
After being down 7-0 to the Washington Capitals, Emery did what any punk would have done, go after the opposing goalie. Wayne Simmonds and Tom Wilson had already been engaged in a fight when, I haven't a clue why, Emery raced down the length of the ice to fight Holtby.

It appeared as if Holtby never wanted to fight, something Emery confirmed after the game saying,
"He didn't want to fight but I said basically protect yourself. He didn't really have much of a choice."
"He didn't really have much of a choice"? Excuse me, but if a player doesn't want to fight, you don't fight them. Emery is just a goon in goaltender's clothing. Analysts and fans around the league are in agree that Emery should be ashamed after last night.
Ray Emery is as tough as any player. No question. What we saw last night is not toughness.

— Darren Dreger (@DarrenDreger) November 2, 2013
I'd like to know what reason #RayEmery had for starting the fight and then for continuing to hit a man when he's down.

— Stan Fischler (@StanFischler) November 2, 2013
Ray Emery's intent to injure > John Scott's intent to injure

— Yahoo Sports NHL (@YahooSportsNHL) November 2, 2013
This isn't the first time that he has exploded in rage and probably wouldn't be the last Back in his KHL playing days, Emery exploded in a fit of rage attacking his team's trainer after being pulled in the first period. His agent claims that he was being "pestered" by the trainer to wear a hat of the team's sponsor. While I agree with Emery's stance on not wanting to wear the hat, you should never have to take it to that extremes.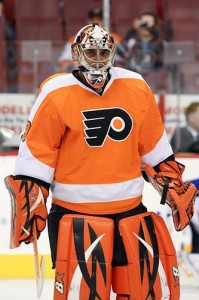 It's clear that he is a fiery player out on the ice and that's okay, but you need to harness some of the passion and intensity and turn it into better play on the ice. I compare Emery to Patrick Roy, not in terms of play, but rather in terms of intensity. Roy was and still is the most intense goaltender to ever play the game, but his play backed up his tendencies to go out and fight someone. Emery needs to take a look at how Patrick Roy handles himself, just because Emery is a huge boxing fan it doesn't mean he needs to go out there and act like Mike Tyson. Emery is a good goaltender and he has a chance to turn around the Philadelphia Flyers, but he needs to calm down his thuggish antics and start focusing on how to be an ever better goaltender.
Not only did he embarrass himself and the team, but his actions led to a line brawl that eventually injured his teammate Vincent Lacavalier. I hope getting into an unnecessary fight was worth your teammate getting injured. What was a fight supposed to do when you are down seven goals in the third period? There was no need for Emery to fight Holtby and  now he's looking at a suspension.
The team should be ashamed of itself, but given the fact that they gave Emery the third star of the game despite allowing four goals and pummeling an unwilling Braden Holtby. Hopefully Shanahan will throw the book at Emery, but given Shanahan's inconsistency when doling out suspensions, it wouldn't surprise me in the least if he gets a light punishment.
What do you think of Ray Emery? Comment below or send me a Tweet, @MarkWGraham
Mark Wallace Graham has been a writer for TheHockeyWriters.com since March 2013. Growing up in New England, Boston Bruins hockey was in my blood. Follow me on Twitter, @MarkWGraham