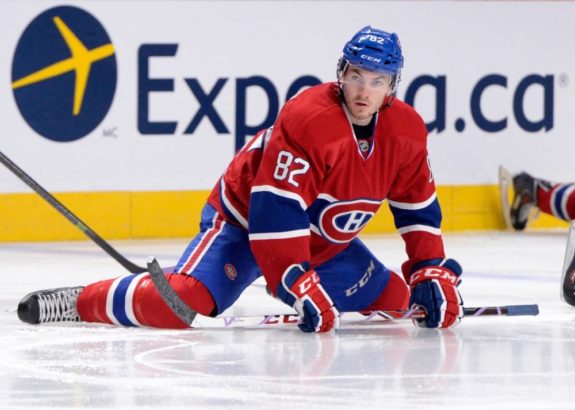 When injuries wreaked havoc on the Montreal Canadiens, Patrick Holland received a call from GM Marc Bergevin to join the team. While his minutes were limited, the 21-year-old showcased his skills at the NHL level through with the Habs.
Prior to his promotion, Holland had posted a goal and an assist through four games with the AHL's Hamilton Bulldogs. The Lethbridge, Alberta native was promoted, much to many's surprise, before Louis Leblanc. To Holland's credit, he had been playing first line minutes in Hamilton while Leblanc toiled on the team's second and fourth lines.
Acquired in the trade that sent Michael Cammalleri to the Calgary Flames, Patrick Holland's final season in the WHL was successful. Holland posted numbers unexpected of a seventh round draft pick (193rd overall), with 25 goals, 84 assists, and 109 points in 72 games with the Tri-City Americans during the 2011-2012 season.
Patrick Holland's first season in the AHL was modest with 28 points through 69 games in a season where the Hamilton Bulldogs missed the playoffs and finished last place in their division.
He has shown signs of progress this year with stronger defensive play and should find himself playing a much larger role with the Bulldogs as he continues his development toward full-time NHL employment.
Habs Grooming Patrick Holland for Penalty-Kill Duty
Michel Therrien, who doesn't even use P.K. Subban on the penalty kill, employed the rookie in shorthanded situations during his five-game stint with the Habs. When Patrick Holland impressed in his first tour, Therrien used him to kill penalties again in subsequent games.
The rookie averaged 56 seconds of penalty-kill minutes, which is impressive if you consider his total time on ice average was under eight minutes a game.
With George Parros and Max Pacioretty set to make their return to the lineup, Patrick Holland finds himself back down with the Hamilton Bulldogs. He'll have an opportunity to work on his game and address any feedback Montreal's coaching staff gave him during his time in the NHL.
NHL Projections for Patrick Holland?
Patrick Holland is expected to play top six minutes in Hamilton where he'll have an opportunity to contribute offensively. In addition, he's a key member to the team's penalty-kill unit, which is key to his development toward a career in the NHL.
Hockey's Future, which also projects Holland as a top-9 forward at the NHL level, presented this talent analysis: "Holland is one of those players who can sometimes go unnoticed but he can do it all. He has such a high hockey IQ that it allows him to think the game at a quick pace and help him set-up his linemates. The skilled playmaker is also versatile enough to play all the forward positions."
If Patrick Holland can be as sound as that, there will be some offence from him when he gets comfortable at this level. Could be good pro.

— Brian Wilde (@BWildeMTL) October 29, 2013
As it's unlikely Patrick Holland will develop into a high-scoring forward in the NHL, the ability to play a sound defensive game is his ticket to the show. He's well on his way.
Sense of Humour one of Patrick Holland's Strengths
A guy who can lighten the mood is a welcomed addition to any dressing room. Holland's comedic style is both goofy and intelligent. Upon his arrival, Holland was asked if playing his first NHL game was a dream come true. He responded with the following:
Dream come true? " In fact my dream was to become Jerry Seinfeld " Patrick Holland #habs 1st NHL game.

— JP Bertrand (@jp_tvasports) October 21, 2013
Not bad, right? Holland is also an active tweeter and you can give the kid a follow on Twitter @PattyShwayz – in honor of Patrick Swayze, with whom he shared a resemblance.
Young players in today's game have embraced social media. While some have gotten themselves into trouble with it, Holland has a pretty good grasp on it thus far without crossing the line.
Pat Hickey of the Montreal Gazette put together a comprehensive look at Patrick Holland's humour. I'll leave you with a couple samples:
I'm really glad all of my facebook friends are there to let me know I was the TSN worst play of the day in case I'm not already aware.

— Patrick Holland (@PattyShwayz) December 13, 2012
Bouncers are like babysitters for adults.

— Patrick Holland (@PattyShwayz) February 3, 2013
https://twitter.com/PattyShwayz/status/350626389260640257
Matthew is a recent Creative Writing graduate at Concordia Univeristy in Montreal. He is a retired video game tester, part-time poet, and aspiring sports journalist.