Since their win over the Los Angeles Kings at Staples Center on October 21, the Calgary Flames have amassed a disappointing 1-4-0 record. In a possibly-related development, the Calgary Flames have not scored a power-play goal since that game, where they scored three times – including a game-winning goal on the power-play by T.J. Brodie.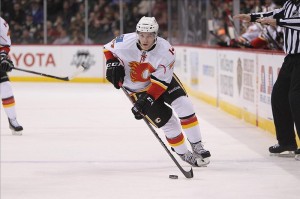 In the five games since their win in Los Angeles, the Flames have had 18 power-play opportunities. In those opportunities, they've had 23 shots, given up 3 shots and 2 short-handed goals (granted, one of those was into an empty-net). For reference, during the other eight games this season, the Flames scored 8 times on 22 shots. That equates to a 36% shooting percentage. If the power-play produced at that rate during the latest dry spell, the Flames would have scored another 8 power-play goals. Even if the team's production was bound to slow down based on regression to the mean – the NHL's best PP last year was Washington's, which had a 20% shooting percentage – the Flames probably should have scored at least a bit during the past five games.
One notable difference between the Flames power-play when it was successful and the more recent struggles was the presence of team captain Mark Giordano. Hardly an offensive juggernaut generally, Giordano has been a huge contributor to his team's on-ice success. He was injured blocking a shot in Los Angeles and hasn't played since. He's gotten points on 5 of Calgary's 8 power-play goals to date – only Jiri Hudler and Dennis Wideman have been on the ice for more power-play markers.
Giordano's absence removes just under four minutes of extra-man ice-time per game, as well as a tremendous steadying influence on the back end. Several different combinations of players have been trotted out of late – including Sven Baertschi at Giordano's spot at the point – but the unit hasn't been able to connect. The addition of Baertschi has cemented the power-play's strong perimeter puck movement, but hasn't translated into goals.
One thing that has been going well for the Flames on the power-play, though, is face-offs. Although the team has only won about 45 or 46% of draws on the power-play on the whole this season, they have won about half of them (17 wins in 35 draws) over the last five games. Two players deserving credit for their face-off success are Joe Colborne, who's been strong on the dot in recent games, and Curtis Glencross, who usually takes power-play draws and has won just over half.
Regardless of the reasons behind its struggles, in several recent games – all of them close contests – Calgary's inability to score power-play goals has cost them wins and key points in the ultra-competitive Western Conference. While its bound to find its stride again, team management undoubtedly hopes the group can capitalize again soon, before too many points slip away.
Ryan Pike has covered the Calgary Flames and the NHL Draft extensively since 2010 as a Senior Writer for The Hockey Writers and Senior Contributing Editor of FlamesNation.ca. A member of the Professional Hockey Writers Association, he lives in Calgary.