The Colorado Avalanche is a team that has several up-and-coming young players with a great amount of skill. The offensive side of this team is really beginning to come together and find their stride. The biggest problem with this team at the moment is that the defense a is the most inconsistent and messy portion of the team.
There have been several instances where the Avalanche have come out very strong in games, pushed the play and dominated early. Everything seems to be going great and then the defense makes a bad pass or blows their coverage and the puck immediately goes in the back of the net.
Defensively, the Avalanche just look uncomfortable and slightly lost; and in the NHL, all teams need in order to make you look bad is for you to just look slightly lost.
Personnel Issues
The Avalanche have precisely one top-level defenseman on their team, Erik Johnson. Johnson is relied upon by his team to not only be stout in his defensive zone, taking on the opposition's best players, but they expect him to chip in offensively as well. One of the biggest issues that this team has is that their personnel goes directly from Erik Johnson to several bottom-tier defenders.
The Avalanche don't really have anybody that they can play with Johnson consistently. The best option that they have seems to be Jan Hejda, but this pairing struggled mightily a season ago and coach Joe Sacco seems a little bit reticent to put this pairing back together, despite the fact that Hejda's play has greatly improved since those struggles a season ago. Johnson has seen most of his ice time opposite Matt Hunwick for the past two seasons, which is definitely not what you want on your top pairing.
The Avalanche, at this time, simply don't have another player on their roster that compliments Johnson enough. Ryan O'Byrne and Shane O'Brien both aren't consistent enough in their own ends to be top-pairing guys Matt Hunwick is a poor compliment because he doesn't really allow Johnson to show his offensive side. Tyson Barrie is far too young and inconsistent and new guy, Greg Zanon, blocks shots well but lacks crispness in his passing, especially coming out of his own end. Ryan Wilson currently has been the best other option, but he is now out indefinitely with a leg injury.
Consistent Inconsistency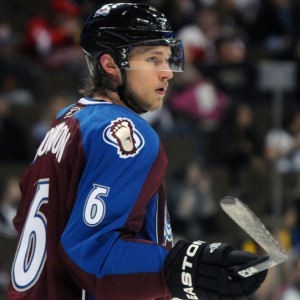 As I mentioned early on, the defense tends to hurt their team's momentum with some bad passing and poor decision making, but that isn't the only kind of inconsistency bothering this team. The Avalanche kept eight defensemen on their final roster, and each of them has seen plenty of ice-time and the pairings continue to change.
At this point, there has been no consistency at all with any of the pairings with the revolving door of players coming in and out of the lineup. Erik Johnson and Greg Zanon are the only Avalanche defenders to play all 10 games of the season to this point. What kind of chemistry can anybody expect out of their defensive pairings when they're playing with a new partner every single night?
What Can Colorado Do to Help Out?
There are a couple of things that the Avalanche should look at doing in order to help solidify their back end. First of all, they need to stop with the constant revolving door. Set a line up and let the team build familiarity and consistency with one another.
After this it begins to depend a bit on how bold the Avalanche are looking to be. If they want to keep things within their own system, then Colorado needs to send Tyson Barrie back to Lake Erie. He's not been getting enough ice-time up in Denver to warrant keeping him on the roster. He's a young player that needs ice time and he will get that time down in Lake Erie. After that, since they will still need another body, bring up Cameron Gaunce. Gaunce has played for the Avalanche before and was effective in his time up. He's been absolutely ignored by the team since Tyson Barrie and Stefan Elliott came out of junior. Yes, both those players have a solid upside, but the Avalanche need their defenders to be solid defensively right now. After that, they can worry about finding an offensive spark from the blue line.
If the Avalanche are looking to be bold and aren't afraid to let go of some young players, the Avalanche could consider trading for another top-four defender. There are plenty young players that could be packaged in a trade for an NHL defenseman ready to play right away, the Avalanche would simply have to be willing to do it. Who knows, if this contract standoff continues the Avalanche might think about adding Ryan O'Reilly into a trade package. This might be their best option, and the trades the Avalanche made during the past season have shown that they can identify and acquire players that can make an impact immediately. Just exactly who the Avalanche would target I can't say, but make the right offer and I'm sure the Avalanche could swing something.
Whatever option the Avalanche go with, they've got to do something to help fill the current gaping hole that is their defense.
I'm a Denver native who has been a fan of the Avalanche since they came to town and a fan of the game before that. I started writing my own blog a couple years ago before moving to Bleacher Report and becoming a Featured Columnist there. You can also find me the Burgundy Brigade Podcast