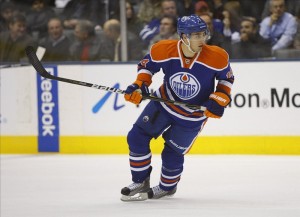 With the Olympic games in Sochi now under a year away, hockey analysts have been projecting their rosters for various countries, even though there's no guarantee that NHLers will be going. But, being under the assumption that the NHL will participate, the debate of who belongs on Team Canada is raging. There have been a number of rosters being floated around and most of the rosters are void of a name that is synonymous with Canadian hockey, and that is none other than Edmonton Oilers forward Jordan Eberle.
Now granted, Canada has an embarrassment of riches available to them up front, but Eberle is certainly deserving a very long look by Team Canada management. Obviously, not everyone can make the team, and with so many young Canadian players exploding onto the scene, the competition will be fierce. Everyone has an opinion on who belongs on the squad, and it's irrelevant because only Steve Yzerman and the Team Canada brass will be making the decisions. But the case has to be made for Jordan Eberle to be on that roster.
Eberle's rookie season with the Oilers saw him score 18 goals and 43 points, but he was slightly overshadowed by fellow rookie Taylor Hall, who was the first overall pick of the Oilers that summer. The following season, Eberle improved dramatically, leading the team in scoring with 34 goals and 76 points in 78 games. He spent the first half of this season in Oklahoma City, scoring 25 goals and 51 points. He still leads the AHL in scoring despite not having been there for over a month.
There's a lot that goes into putting together an Olympic team. But it's more than just getting points that makes a player a worthy candidate. Eberle is the quint-essential Team Canada player, coming in clutch on numerous occasions for his country in international play. At age 22, Eberle is becoming a strong leader on his team. He's probably one of the more underrated players on the Oilers due to all the star power around him. But make no mistake, Jordan Eberle is the whole package when it comes to a hockey player. His skill, speed and smarts makes him a dangerous guy on the ice.
Eberle will be in tough with all of the forwards available for Canada. But with a glut of centerman, Eberle has an advantage being a natural winger. He has experience on the International stage, and he shows up when it counts. He'll be another year older, and have another season of NHL experience under his belt when the Olympics role around. He's not a lock, but he really should give Team Canada management something to think about.
Team Canada (My projected roster in no particular order)
Forwards:
Jonathan Toews- Sidney Crosby- Steven Stamkos
Jordan Eberle- Claude Giroux- Rick Nash
Jamie Benn- Eric Staal- Tyler Seguin
Patrick Marleau- Patrice Bergeron- Corey Perry
Milan Lucic- Martin St.Louis
Defense:
Shea Weber- Alex Pietrangelo
Kris Letang- Drew Doughty
Duncan Keith-P.K Subban
Justin Schultz/Marc Staal
Goalies
Carey Price
Roberto Luongo
Mike Smith