Follow Marc Lapierre on Twitter: @MarcLapi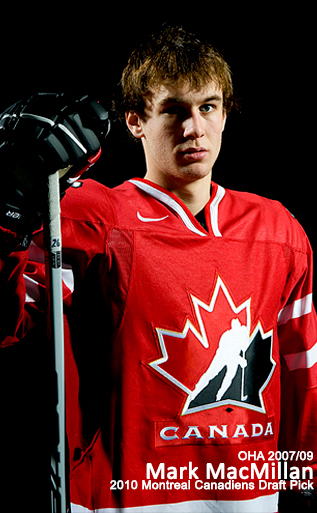 Mark MacMillan was selected by the Montreal Canadiens in the fourth round of the 2010 NHL Entry Draft. Unlike Brendan Gallagher, Jarred Tinordi and Morgan Ellis who were also selected in that same draft class, MacMillan is still playing college hockey in the NCAA.
Before joining the University of North Dakota in 2011-12, the Penticton, BC native was a dominant player in the British Columbia Hockey League (BCHL), which is probably the highest ranked Tier II Junior A league in Canada along with the Alberta Junior Hockey League (AJHL).
A Complete Player
MacMillan plays in every situation for the Sioux including time on the special teams. In fact, he's already a great penalty killer. The North Dakota sophomore has always been a centerman growing up but now plays left wing, which has obviously taken a little adjustment on his part.
The 133th overall pick in the 2010 NHL Entry Draft is an excellent skater who also has a great vision on the ice. He's first and foremost a playmaker, but can also put the puck in the net. The Penticton Minor Hockey product currently has nine goals and 18 points in 29 games with the University of Dakota, playing quite often on a line with another Habs prospect, Danny Kristo.
Long Term Project for the Canadiens
MacMillan is clearly a long term project for the Habs. He's highly skilled but still very much on the thin side. Currently listed at 6'0" and 170 lbs, many hockey observers believed that he would have been selected much higher in the 2010 draft had he been a little bigger. His lack of size has always been an issue even if he is the kind of player that works hard on every shift.
Projection
MacMillan is very talented but he'll need to add weight in the next couple of years which should not be a problem. When he does add the needed strength and quickness in his final years with the Sioux, he will be able to develop other facets of his game that are less visible at the moment. Adding another 20-25 lbs in the next few seasons isn't out of the question.
MacMillan has the potential to develop into a solid two-way player down the road. He will most likely spend four years in the college ranks before joining the Hamilton Bulldogs in 2015.
Follow Mark MacMillan on Twitter: @EasyMac_16
.