While their divisional rivals in Vancouver wrestle with an envious goaltending controversy, the Calgary Flames find themselves mired in a terrible start that they will have to now dig out of without goaltending stalwart Miikka Kiprusoff.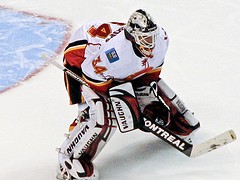 Kiprusoff felt some discomfort in the second period of Calgary's 4-1 win over Detroit this week (just their second win of the season) and was replaced by Leland Irving.  Irving stopped all six shots he faced in the third period of that game and managed to squeak out an ugly 4-3 overtime win in Columbus last night, stopping 26 of 29 shots.  Kiprusoff, meanwhile, was diagnosed as day-to-day with a grade-1 MCL sprain.
With Calgary already scrambling in the lockout shortened season at 3-3-2, any amount of time missed by Kiprusoff is a huge blow to any optimistic chances at a playoff appearance this spring.  Irving's win in Columbus marks just the 23rd win by a Flames goalie not named Miikka Kiprusoff since the 2005-2006 season, demonstrating the importance of the franchise goaltender.
Remarkably, that Columbus game also marked the first time Kiprusoff was unable to dress due to injury since February 2004, as noted by radio play-by-play man Peter Maher during the second intermission of last night's local broadcast on the FAN 960.
While Kiprusoff's importance to the team is undeniable, he hasn't exactly been a bright spot in Calgary's poor start.  While he did get credit for the win in Detroit, his record stands at 2-3-2 and his save percentage and goals against average sit at a very uncharacteristic .870 and 3.23 respectively.  These lacrosse-esque numbers are a prime culprit in the Flames meagre opening, and an injury to Kiprusoff could actually lead to Calgary seeing what they actually have in Leland Irving.
Irving has played in just 9 career games since the Flames drafted him in the first round of the 2006 draft, posting a 2-3-3 record paired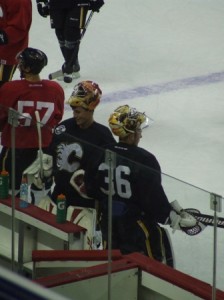 with a .912 save percentage and 3.03 goals against average.  The Flames have been infamous for shielding their developing prospects from significant NHL ice-time, but the Kiprusoff injury has forced their hand with Irving.  While Kiprusoff is eligible to return as early as February 13th for a matchup against the Dallas Stars, Irving will likely face the Vancouver Canucks on the west coast in the late matchup on Hockey Night in Canada tomorrow and the Minnesota Wild back in Calgary on Monday.  These matchups will surely be the most intense action Irving has ever faced, as rivalry games with Vancouver are perennially heated and the new-look Wild are fresh off a players-only meeting, hungry to improve on a 4-5-1 record.
Despite the outcome of these games, they can be nothing but beneficial to the franchise if they scrutinize Irving's performance. He doesn't have to necessarily steal a game to validate his performance or NHL eligibility, but he certainly has to be every bit as good as Cory Schneider/Roberto Luongo and Niklas Backstrom.  For better or worse for Irving, his barometers during this injury relief are considered bona-fide #1 goaltenders and his performance against them may sway management's opinion of him for good.
If Irving expects to continue his NHL career, he simply cannot be the reason the Flames lose during this stint of injury relief.  The Flames need the points far too badly, and Irving's time is running out.