The Colorado Avalanche remain an interesting story to examine. Patrick Roy came to the helm just before the 2013-2014 season with only one real promise about the team, a "Stanley Cup attitude." A promise that, night in and night out, regardless of where they were in the standings the team would come in and compete. The 112 point, storybook season that followed seemed like a dream. Suddenly there was more than just an expectation of a Stanley Cup attitude, now there were legitimate expectations of a run at a Stanley Cup.
Since that magical season, the Colorado Avalanche have struggled to find the same type of success. The stumbles out of the gate of the last two seasons have brought many to wonder if what we all saw in that first season was little more than "fools gold." Questions have come up about whether or not Patrick Roy is the right guy to be coaching the Colorado Avalanche, some have even started to wonder if Joe Sakic is cut out to be an NHL General Manager. Amongst all the chaos and turmoil, one thing must remain clear to the Colorado Avalanche and their fans: keep your focus on the long term.
Avoid Panic
This might be the hardest, but most important thing for the Avalanche and fans to do. It's really hard not to feed that voice that says, "This team should be so much farther ahead of where they are right now." Former Colorado Avalanche beat writer for the Denver Post and current Bleacher Report columnist, Adrian Dater, suggested that the Avalanche might be ready to dive into "Rebuild 2.0" if their seven-game road trip had gone poorly.
I know this: ownership won't buy in to any more "young, developing" meme if this continues. Rebuild 2.0 will happen https://t.co/Va6QzOWnMa

— Adrian Dater (@adater) November 10, 2015
The concept of "blowing up this team" and starting all over again seems premature. One has to keep in mind the massive amount of turnover that this team has gone through since Patrick Roy and Joe Sakic took the helm. Just from the end of the 2014-2015 season to today, 1/3 of the roster is new either due to trades, free agency or making the team on a professional tryout. Going back to the start of the Roy/Sakic regime, the only players that have been on the Avalanche roster the whole time are: Matt Duchene, Nathan MacKinnon, Gabriel Landeskog, John Mitchell, Cody McLeod, Erik Johnson, Alex Tanguay, Tyson Barrie, Nate Guenin, Nick Holden and Semyon Varlamov. That type of turnover, especially when it includes major pieces like Paul Stastny and Ryan O'Reilly leaving, will have an impact on the team's success.
In other words, to "blow up" a team that has already seen so much turnover in such a short amount of time would really be little more than a gigantic panic-move by the people in charge. I know the NHL, and professional sports in general, is entirely a "what have you done for me lately?" business, but to make so many moves, then make a bunch more, and then give up on them and make a whole ton more because they don't pay immediate dividends is the very definition of panicking. Time must be given to this lineup to grow together.
Build The System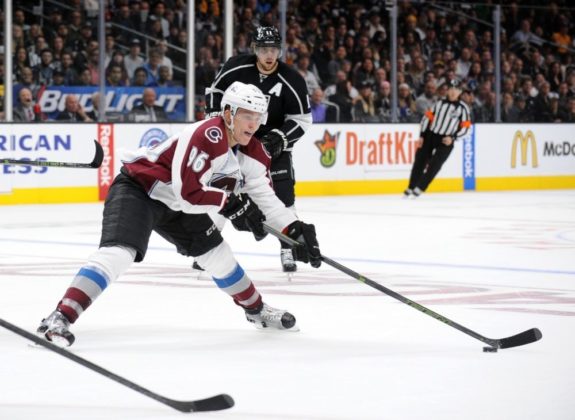 To most people, the concept of a rebuild starts and stops with the big team. You get those high draft picks and you select people around whom you can build a winning roster. Guys like Matt Duchene and Nathan MacKinnon get the most attention when attempting to build a new roster that is capable of making a run at a championship. The truth of the matter is that finding those guys is generally the easiest part of the process. You're at the top of the draft with the opportunity to pick the absolute best of the best and it's really hard to miss on those types of players. The real challenge lies in finding the complimentary pieces beyond the first round that will be able to make meaningful impacts in the future.
This was one of the primary failings of the Avalanche from 2009 to 2013, beyond the first round they really haven't produced much to speak of. Yes, Matt Duchene, Gabriel Landeskog, Ryan O'Reilly, Tyson Barrie, Stefan Elliott and Calvin Pickard were good picks from this time period, but the number of players that haven't made any real impact on the team is depressingly high from this time. The players I listed are the only ones from that time period to play more than 15 games in an Avalanche sweater since. Elliott has been traded to Arizona, O'Reilly to Buffalo and Pickard remains in the Avalanche system. So three of these players in this window have come into the roster and two of them were top-3 picks. That simply isn't good enough, from a drafting standpoint, which led to the Avalanche dismissing Rick Pracey, their top scout, last season.
Since Patrick Roy and Joe Sakic have taken over, only Nathan MacKinnon and Mikko Rantanen have played any NHL games, but there is actually some promise in looking at the players they have drafted. Players like Chris Bigras and Mason Geertsen are now playing their first professional years in the AHL. Julien Nanten and J.C. Beaudin are both incredibly promising, late-round prospects that are having outstanding seasons in the QMJHL. Conner Bleackley has shown excellent progress since being drafted, with many, including myself, expecting the Avalanche to sign him to an entry level contract once The Memorial Cup is finished this season. It's the first time in quite a while the Avalanche system has looked this promising. Additionally, Sakic and company have made several signings from Europe to help bolster their system. Players like Dennis Everberg and, most recently, Andreas Martinsen are finding their way and both show promise as players who could have important roles on the Avalanche moving forward.
The key point with these signings, as well as the draft picks, is that they will take time for them to grow within the system and having that type of depth in your system is vital to being a successful team in the NHL. Just look at the Detroit Red Wings; they have gone 24 straight years without missing the playoffs, at least partially because of their ability to draft and develop their players from within. Having the ability to insert younger players of comparable skill level that already know your system and philosophies because they've been brought up to do so is what makes successful teams in a salary cap era. The Avalanche used to be pretty good at this, too.
Patience
It's the nature of the beast, we all want our teams to succeed and we want it to happen right now. The Colorado Avalanche looked as though they might be a team that could jump past much of the necessary steps of rebuilding when they stunned the hockey world and won the Central Division in 2014. Since then, it has become clear that the Avalanche still have some steps to take in this process; steps that have become even more necessary with the large amount of turnover of the roster and losing two of their key players (Stastny and O'Reilly). It would be easy for the front office to say that it is time to start new, to scorch the ground and rebuild again, but more time is necessary before they do that. Joe Sakic and Patrick Roy are still building the system, are still waiting for a team that has seen massive turnover to finally gel, and the worst thing that they could do for their team and organization as whole is panic. In order for the Colorado Avalanche to succeed, and get back to their winning ways again, is to do the most difficult thing in this particular situation and focus on the long term.
I'm a Denver native who has been a fan of the Avalanche since they came to town and a fan of the game before that. I started writing my own blog a couple years ago before moving to Bleacher Report and becoming a Featured Columnist there. You can also find me the Burgundy Brigade Podcast