The Colorado Avalanche are off to a great start, and are giving the NHL quite a shock. Nobody expected Patrick Roy and crew to have this kind of an impact on the team so quickly. This unexpected success has people wondering a lot of things about the Avalanche, and leads us to the October edition of the Avalanche mailbag.
What has changed that has led to the success of Semyon Varlamov and J.S. Giguere?
There are a few things that you can look at for the success of the Avalanche goaltenders. First off, the team as a whole has a new confidence that it hasn't had in years. The confidence they have in the new system has bled over into their play. Matt Duchene talked about it with Avalanche beat writer, Adrian Dater, in a recent podcast. Duchene spoke about the difference in confidence level in the team and how it related to past periods of success of past Avalanche teams. Before this season, Duchene stated that everybody in the locker room knew that their success wasn't going to last and couldn't do much more than expect to start losing. Now, the team feels that they have the right system, the right coach, the right attitude and finally have the confidence to continue it. This helps the goalies because they haven't just quit in front of them this season. They're working hard and they are seeing the results.
The other answer is the inclusion of Francois Allaire. Before this season, the Avalanche did not have a goaltending coach, they had a "part time goaltending consultant" in Kirk McLean. McLean was rarely with the team and didn't do much of anything to work with the goalies on improving anything. Giguere was essentially expected to fill that roll for Varlamov, which isn't fair to either player. Allaire finally give Varlamov the support he needed and Giguere worked with Allaire during some of his most successful years. It's unbelievable the difference that has come about simply by having a proper goaltending coach with the team.
How do you feel about Roy's line combinations? Do you have any ideas that would improve offensive output?
Line combinations for the Avalanche currently stand like so:
Ryan O'Reilly – Matt Duchene – Steve Downie
Gabriel Landeskog – Paul Stastny – Alex Tanguay
Jamie McGinn – Nathan MacKinnon – P.A. Parenteau
Cody McLeod – John Mitchell – Patrick Bordeleau.
The one thing I'd change with this lineup is I would take Steve Downie off the Duchene line. He adds some fantastic grit to that line, but there are several instances that shows his skill level is just not on par with that of O'Reilly and Duchene. No knock on Downie, O'Reilly and Duchene are just on a different level and he occasionally loses scoring chances because he doesn't see things develop the way his line-mates do. I'd switch Downie with Landeskog that way both lines keep a more physical presence, but both play on a more similar skill level. Either that, or I'd put Parenteau back on a line with Duchene as the two showed fantastic chemistry a season ago.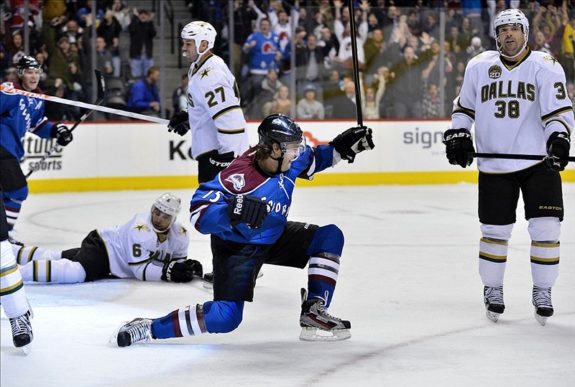 If the Avs' success is, according to some, "unsustainable", how can one account for the notion of "will" from the players/coach?
There is no doubt that the Avalanche will go through struggles through this season. It's hard to think that any team will win eight out of nine games for the whole of the season, and every single team goes through some kind of adversity throughout the year. So yes, the Avalanche will come down to earth a bit at some point here, but I do not believe the Avalanche are destined to fall back to the basement.
As I mentioned earlier, there's a new belief in the locker room and a much better attitude. The practices that I have attended have more intensity in them than many of the games that were played last season. The team's fundamentals are far more sound, the goaltending is solid and the offense is scoring. I don't think "will" has much of anything to do with it. I understand people being skeptical of Colorado's early success, but if you look at their resume or teams they have beaten and how they've done it, it should become less and less of a surprise that they are finding success..
Which Avs do you project making an Olympic roster?
Paul Stastny has been a mainstay on Team USA for several years, but I'm not terribly certain that he's really set to make this roster this season. He's had great success in international play, but he has a lot to prove this season. He's off to an okay start, five points in the first nine games, but he'll have to do more if he wants to make Team USA. Erik Johnson is another that could make the US roster, but will really have to impress in order to make the team.
Gabriel Landeskog and Semyon Varlamov are probably the top choices to make their teams, and if Matt Duchene keeps playing the way he's been playing, then he could very well find his way onto Team Canada.
Which player getting less than 20 minutes of ice time do you think deserves more playing time?
Interestingly enough, there are currently only four players on the team that are averaging more than 20 minutes of ice time per game. Those players are Ryan O'Reilly, Erik Johnson, Andre Benoit and Jan Hejda. Which is actually pretty nice, everybody is contributing to the team right now and nobody is getting overused, but to the question at hand!
I'd like to see Jamie McGinn get a little bit more ice time. He's averaging a touch under 14 minutes at the moment but has been a force when he is on the ice. If somebody starts to struggle on the power play, he'd be a perfect replacement to create havoc in front of the net.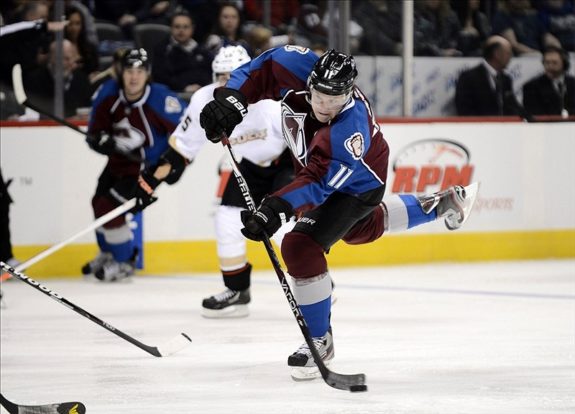 Stastny has to go, but for who?
I don't think we've gotten to the point yet where Stastny absolutely has to go. What he does need to do is earn his keep. He's off to an okay start at the moment with five points in the first nine games, but he does need to pick things up. With Landeskog starting to heat up, three goals in his last three games, things should start to get better for Stastny too. One of the biggest things he can do to help himself is to shoot more. He has Alex Tanguay on his line who simply refuses to shoot a lot of the time, he can't do that as well.
As to who Stastny would get in a trade, right now, not much. His value is still pretty low and wouldn't really do much more than relieve a large salary number off of the books. Trading him right now wouldn't be a good idea for the Avalanche.
How far do you think the Avs eventually regress?
As I said earlier, it's hard for any team to keep up an eight wins in nine games pace. It almost never happens on a consistent basis because there is so much parity in the NHL. The Avalanche will face adversity and a lot of it will have to do with how they respond to this adversity. In all honestly, I like their chances to respond well. Patrick Roy, as a player, might have been the best "bounce back game" goalie that has ever played the game. Plus, the attitude on this team has improved. A season ago the Avalanche were a team that would get scored against and immediately deflate. This season, the Avalanche are a team that just put their heads down and go back to work.
The Avs are in a competitive division that will have a ton of competition, and I don't expect them to win this division at all. That being said, with everything happening, I do expect this team to make the playoffs. It'll probably be a mid-to-low seed because they do need to figure out how to win and how to deal with the adversity the right way. This season will be a huge start to that.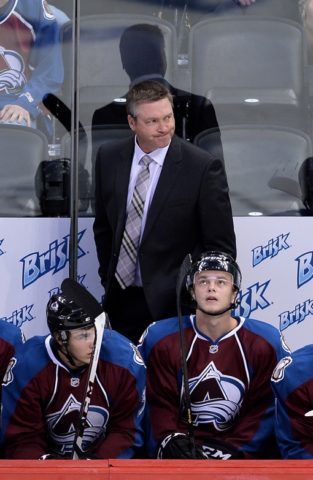 Just curious as to what you think the Avs will do about defense? Trade Stastny, trade Ryan O'Reilly? Or build through the draft and free agency?
The Avalanche did a great job this past draft at reloading their defensive prospect pool. Guys like Duncan Siemens, Chris Bigras and Mason Geertsen make the future on the blue line look pretty good. I guess the way the front office will proceed with defense has a lot to do with where the Avalanche stay in the standings. I don't see much happening right now as the team is still seeing how people fit into the mix. We're not sure where Tyson Barrie fits and where Nick Holden fits right now. Don't forget that Stefan Elliott, either.
I'm a Denver native who has been a fan of the Avalanche since they came to town and a fan of the game before that. I started writing my own blog a couple years ago before moving to Bleacher Report and becoming a Featured Columnist there. You can also find me the Burgundy Brigade Podcast