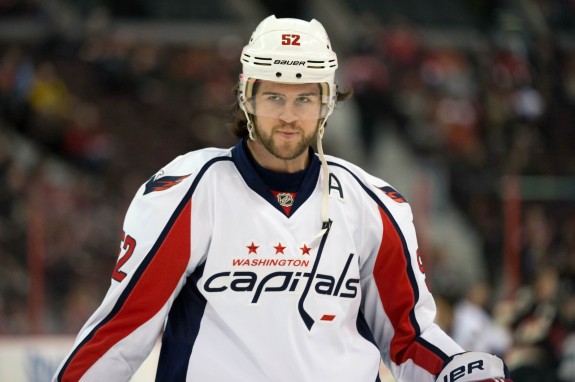 Sports equipment for your team can be found at Lasoo, where they compare prices from the major retailers. 
It also lists each individual retailers catalogue online, making it easy to find all the sporting equipment in the one place.
Tell me if you've seen this before:
Mike Green collects the puck behind the net as the opposing forwards head off for a line change. He casually ambles up the middle of the ice, scanning the neutral zone for an open teammate. Perhaps he sees one (maybe even two!), but he doesn't make the pass. Instead, he holds on to the puck a little bit longer, waiting for an even better option to materialize—he even considers carrying the puck himself for a while. By this time, however, the line change is complete, and a rested forechecker is making a bee line straight for him. Green sees the forechecker, but by now it's too late. In his last second panic, he makes a feeble attempt at an outlet pass, but the lane is no longer there. The pass gets tipped, the play falls apart, and just like that, what should have been an easy clear—and perhaps even an offensive possession—becomes a scramble to regain control.
Through the first ten games of this season, Green's play has steadily deteriorated. From a two assist performance on opening night, to a third period benching during Tuesday night's game in Winnipeg, Green has become the biggest liability on the Caps' back end (and yes, I am including John Erskine in this assessment). His -9 is the worst among all Caps' defenseman, and his 10 giveaways has him securely leading the team in that category as well.
So, what's the problem? There have not been any reports of a nagging injury slowing him down. There have been no indications that he's out of shape. And at age 28, he's hardly over the hill. In contrast to past seasons, this year's struggles cannot be attributed to any physical limitations.
No, Mike Green just needs to start making some decisions.
Not big, gut-wrenching, life-changing decisions, but fairly simple ones: Should he pass the puck, or should he shoot? Should he dump the puck in, or should he carry it into the offensive zone himself? Should he pinch, or shouldn't he pinch?
During the second period of Washington's game in Winnipeg, for instance, Green received a pass in the slot, with nobody between him and the goal. The options were plentiful. Would he A) One-time it, B) settle the puck, and fire that beautiful wrist shot to the high-glove side, or C) attempt to deke out the goalie, and slide the puck into an empty net?
The answer? None of the above. Paralyzed by the literal bounty of possibilities, Green awkwardly seemed to try all three. The puck hit him right on the tape, and, in his bizarre attempt to both shoot, and receive the puck all at the same time, Green sent the puck dribbling harmlessly into the corner.
Thus far, the most pronounced characteristic of Green's performance has been his complete inability to make definitive choices. Whether for lack of confidence, or for simply trying to do too much, this failure to make decisions, and execute plays with conviction has led to extended shifts in the defensive zone, botched scoring opportunities, and, of course, multiple goals against.
When he is at the top of his game, Green's impact cannot be overstated. He scores, he makes crisp passes, and, contrary to popular belief, he's pretty solid in his own end too. If the Caps are to have any chance at a postseason run, Green will need to make a drastic turnaround.
Disclaimer: This was written prior to/during last night's game in Edmonton. Green, doing his best to discredit everything I've written, looked pretty good.