The Stanley Cup Final has come to an end, the NHL Entry Draft is right on our doorstep with free agency to follow just one week later. Who says the lockout didn't yield anything positive?
With free agency already so close, it must have come as a pleasant omen when it was announced on Wednesday that Andrew Ference and the Bruins were going to cut ties. With the Avalanche in desperate need of improvement on the defensive side of things, it seems like an absolute no-brainer for Joe Sakic and crew to make a run at the former Bruin.
Experience
It's no secret that the Avalanche are a very young team, and youth can be a great thing for a team. Youth can bring energy and a certain fearlessness that can surprise opponents. It can also bring a certain amount of sloppiness and inconsistency that brings less than stellar results. Avalanche fans have had to deal with several let downs based off of their young and inconsistent defensive core.
Ference doesn't just bring a wealth of playoff experience and a Stanley Cup ring, which should be motivating in and of itself, he brings a certain professionalism and work effort to the ice every single night that sets the right example for this young team. There really wasn't anybody on the defense last season that you knew would give you their best effort every single night and somebody has to be there to set that example. Ference would be perfect.
Immediate Improvement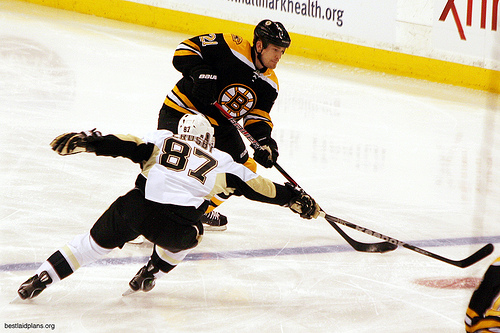 To call the defensive personnel on the Colorado Avalanche average would be an understatement. Erik Johnson represents the only player on the Avalanche that could be a regular on a first pairing. Jan Hejda and Ryan Wilson could both make decent second-pairing defensemen, but the rest of the roster is third-pairing at best. Ference would immediately improve the defense and would fit right on the second pairing.
This wouldn't be a big change for Ference, especially as far as ice time is concerned. Ference averaged just over 19 minutes of ice time with the Bruins and would likely see around the same amount of time with Colorado. Plus, Ference's addition would also mean the likely subtraction of one Greg Zanon. Zanon getting less ice time for the Avalanche would be just as much of a positive as anything else.
The Right Attitude
During Patrick Roy's press conference, he made the comment that while the Avalanche might not win the Stanley Cup right away, but he could promise the team would have a Stanley Cup attitude. What better way is there to instill that Stanley Cup attitude than to include a recent Stanley Cup champion on the team?
Better still is the team where Ference gained his attitude. The Boston Bruins have been famous for their hard-nosed play and, most importantly, the way that they bring a strong effort every single night. The right attitude and the strong work ethic are things that have been missing from this team and Ference's presence would help bring that edge back to the Avalanche blue line.  Adding Ference to the Colorado blue line would be a brilliant addition.