The Joe Sakic and Patrick Roy era is now officially under way, and they have gotten things off to a fantastic start. With their first trade as co-Vice Presidents of Hockey Operations, the Colorado Avalanche have just pulled off a trade with the Calgary Flames. That's right, the team that signed Ryan O'Reilly to an offer sheet at the end of February.
The Deal
The Avalanche have acquired Alex Tanguay (LW) and Cory Sarich (D) from the Flames in exchange for David Jones and Shane O'Brien. Alex Tanguay will return to his old stomping grounds in the Pepsi Center where he won the Stanley Cup with the Avalanche back in 2001.
Cory Sarich will add size (6'4″ and 207 pounds) and experience to the Avalanche blue line. Sarich was a member of the Tampa Bay Lightning when they won the Stanley Cup in 2004. His ice time isn't exactly impressive but he will add some reliability to the second or third pairing for the Avalanche defense.
As I mentioned, both of these players have a Stanley Cup right to their credit, which goes to what Patrick Roy discussed in his introductory press conference. He wanted to make sure this team had a Stanley Cup attitude whether or not they were actually in contention to win the cup. What better way to bring this attitude back to the team than by adding players who have a championship on their resume?
What Did the Avalanche Give Up?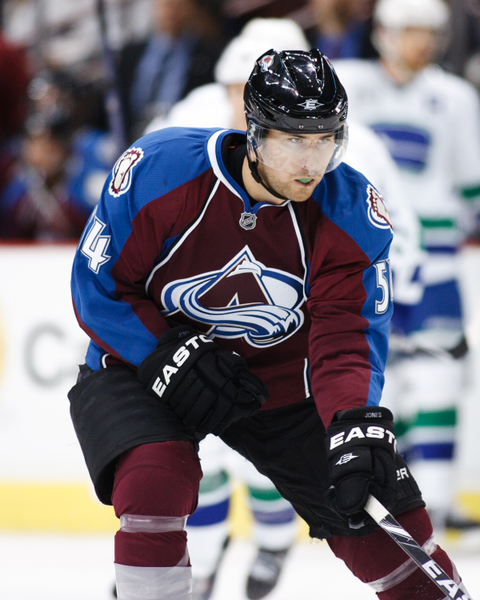 Sending David Jones away, the Avalanche are losing a guy that they invested a lot of time and patience with. Early in Jones' career, it was clear that there was potential with him but he was never able to stay healthy. It seemed that he might finally be living up to this potential when Jones put together back to back 20 goal seasons, one year when he tied for the team lead in goals with 27. Unfortunately, this season Jones regressed in a bad way. Jones has always been a bit of a streaky player, but he never managed to have any kind of positive streak during the lockout-shortened season. Losing this type of inconsistency, not to mention a bad contract, will be positive for the Avalanche.
In Shane O'Brien, the Avalanche are sending away a physical defender that plays with an edge, is solid in his own zone and good on the penalty kill. That being said, he gave the Avalanche two completely different seasons. One where he was used frequently and that the team got a lot of value out of him, and another where it seemed that Joe Sacco had decided he was no longer of any use to the team. O'Brien was a healthy scratch most of the lockout-shortened year while players like Ryan O'Byrne and Greg Zanon continued to amass ice time and hurt their team with their bad play. If nothing else, this trade will benefit Shane O'Brien the most because he can get a fresh start with a change of scenery.
Who Won This Trade?
The Avalanche totally dominated this trade. David Jones is younger than Tanguay, but Tanguay has always been a more consistent player than Jones is and he still has fantastic hands. He'll slide in perfectly on the top line with Matt Duchene and P.A. Parenteau. Shane O'Brien needed a change of scenery and might have stayed a healthy scratch, so the addition of Sarich is fantastic. Not only does he replace one consistent healthy scratch, he is likely to replace Greg Zanon on the ice as well, something that will benefit the Avs in every way.
This also brings two players that have Stanley Cup rings onto a squad of young players that need the right type of motivation to continue to move forward. What is more motivating than a desire to hoist the cup like some of the other guys in the locker room? This trade is a big win for the Avalanche.
I'm a Denver native who has been a fan of the Avalanche since they came to town and a fan of the game before that. I started writing my own blog a couple years ago before moving to Bleacher Report and becoming a Featured Columnist there. You can also find me the Burgundy Brigade Podcast