Alex Tanguay has come full circle. After 5 seasons with the Calgary Flames (from 2005-2007 and 2010-2013), the 33-year old winger from Sainte-Justine, Quebec is returning to the very first NHL team he played for.
On Thursday, June 27th, the Calgary Flames announced that they had traded Tanguay and defenseman Cory Sarich to the Colorado Avalanche for David Jones and Shane O'Brien.
As necessary as change is for the team that hasn't made the playoffs since 2009 and finished 25th in the league in the 2013 season, it's bittersweet to say goodbye to Tanguay, whose career with the Flames has been mostly positive.
Tanguay came to the Flames as part of a draft-day deal in 2006 and in his first season with the team notched 22 goals and 59 assists. He hit a career high 81 points in 81 games. The following year saw similar stats from Tanguay, and it seemed he was on his way to becoming a constant and productive player for the team.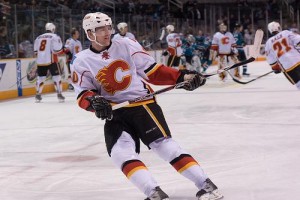 The 2007-2008 season was riddled with conflicts for Tanguay, however, as he had been pushed into a defensive role that he was uncomfortable with by then-coach Mike Keenan. A request to be traded to the Montreal Canadiens was granted the following draft day.
Tanguay played only one season with the Habs, and spent a brief stint with the Tampa Bay Lightning, but his performance left much to be desired and certainly did not reflect his former self as a Calgary Flame. A coaching change for the organization (Brent Sutter joined the Flames as head coach in 2010) prompted Tanguay to return to his former team when his one-year contract ran out with the Lightning. Tanguay told the media he chose to continue on with the Flames because he felt he had some "unfinished business" with the team.
The Flames organization and its fans welcomed Tanguay back with open arms. Although his production in the following three seasons with the Flames went through many ups and downs, there was one thing to be said for Alex Tanguay: when he was hot, he was hot.
Here are some of the particularly sizzling moments Tanguay enjoyed with the Calgary Flames in recent years.
From the devoted fans of the Calgary Flames, thanks for the memories, Alex, and good luck in Colorado.
Graduate of Mount Royal University's Journalism program and a freelance sports writer from Calgary, Alberta.