The great thing about the preseason is every NHL team and fan base can find reasons for optimism. Some must look harder than others, and as a franchise that has made just two trips to the Stanley Cup Playoffs in its history, the Columbus Blue Jackets have had to look in several different places for their positive vibes. From "we made the playoffs last year, now we can go further," to "we finished the season strong and can carry over that momentum," to "now we have Jeff Carter and James Wisniewski," nothing seems to pan out.
This Season is Different
At least, it can be. More to the point, the next several seasons can be, because the greatest source of optimism may not pay off this season or next. But that's okay because in a way it's more encouraging than those previous positive outlooks.
It's a trio of defensemen, none of whom were even eight years old when the Blue Jackets first hit the ice in 2000. Ryan Murray, 23, Seth Jones, 22, and Zach Werenski, 19, are poised to form a core of defensemen that could log heavy minutes on the Blue Jacket blue line for years to come.
Related – Columbus Blue Jackets 2016-17 Season Preview
Young, Yet Experienced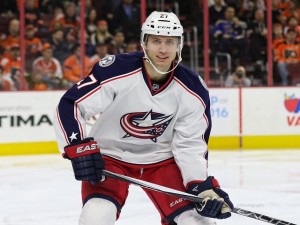 Murray and Jones, the "veterans" of the threesome, are already established NHL players. Murray has faced injuries after being drafted second overall in 2012, but played in all 82 games for Columbus last season, averaging 22:50 of ice time per contest. Another top-five draft pick (fourth in 2013), Jones came to Columbus from Nashville in January in the trade that sent Ryan Johansen to the Predators. Coming from arguably the best defensive corps in the NHL gave him some credibility, but Jones was sheltered in Nashville, playing behind the likes of Roman Josi and Shea Weber. Upon his arrival in Columbus, he shouldered more responsibility, seeing his ice time jump from 19:38 per game with Nashville to 24:27 with the Blue Jackets.
The offseason brought further validation of that pair's potential as Jones and Murray played for Team North America at the World Cup of Hockey. Assuming the team's management made the "correct" decisions, that means the Blue Jackets have two of the best seven defensemen from the United States and Canada who are 23-and-under. More important than their selection to the team was their play in the tournament. Neither appeared out of place facing some of the best players in the world. Just as important, they also fit in with their teammates, keeping up with the breakneck pace at which Team North America played that made it the World Cup's most exciting squad. It's no secret that today's NHL defensemen need to be mobile puck movers, and showing the ability to keep up with Connor McDavid, Johnny Gaudreau and Auston Matthews, among others, proves that's what Columbus has in Jones and Murray. The tournament was a small sample size, but it's still promising to see the pair fit in on a big stage.
Werenski's Path to the Pros
While Jones and Murray have proven themselves to a certain extent, the even younger Werenski has yet to play an NHL game but has made a rapid ascent through the hockey ranks. Columbus drafted Werenski eighth overall in 2015, following his freshman season at the University of Michigan that saw him make the All-Big Ten first team. He was named Big Ten Defensive Player of the Year as a sophomore last season, then moved on to join the American Hockey League's Lake Erie Monsters. Werenski finished third on the team in playoff scoring with 14 points in 17 games as the Monsters won the Calder Cup. Of course, you can expect him to experience growing pains in the NHL, but he's shown the ability to be a quick study, and the hope is that will continue.
Related – 2016-17 Columbus Blue Jackets Social Media Guide
A New Type of Potential
A promising young defenseman is a reason for optimism and not a foreign concept for the Blue Jackets. What makes this situation new is that it's more than one draft pick, free agent signing or trade acquisition. This is a group of defensemen that all have high potential, and now also have the prospect of growing up as NHL players together. It's a foundation that the Blue Jackets have built. We've heard similar sentiments from this team in the past, but this is a foundation you can now see on the ice (and we haven't even mentioned 22-year-old Markus Nutivaara or 25-year-old David Savard).
The presence of Murray, Jones and Werenski does not guarantee success. They all have plenty of room for growth, and the Blue Jackets as a team are certainly no different. Still, the ability to send three defensemen onto the ice who were top-eight draft picks is rare, and it's one the Blue Jackets could have for the foreseeable future. That's a reason for excitement this team has not seen before.
Just remember that it may take time for the results to match the potential.