Last season for the Columbus Blue Jackets ended before it began. After blowing a late lead in the first game of the season, the Blue Jackets lost their next seven in a row. They then lost their coach. Any hopes of a successful season faded to black quicker than a winter sunset.
The team spent the rest of the 2015-16 season trying to adjust to a new coach. Playoffs were an afterthought by Thanksgiving. Goals came in bunches against the Blue Jackets. All this led to an in-season blockbuster trade that saw the Blue Jackets trade their number-one center. Any hope of a Saad-Johansen-Foligno line disappeared with it.
Although the big club stumbled to 27th place, the AHL Monsters gave fans a glimmer of hope. They steamrolled through the AHL playoffs and won the Calder Cup going 15-2 against the league's best teams, including sweeps against Ontario and Hershey.
So now what can we expect to see in 2016-17? Let's take a look.
Team 2015-16 Record: 34-40-8 (8th in the Metropolitan Division)
Offseason Moves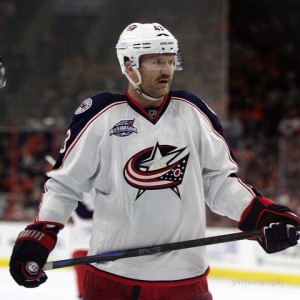 Key Roster Additions:
Sam Gagner
Scott Harrington
Pierre-Luc Dubois
Seth Jones
Key Roster Losses:
Rene Bourque
Kerby Rychel
Jared Boll
Fedor Tyutin
Ryan Johansen
Forwards:
Projected Lines:
Boone Jenner – Brandon Dubinsky – Cam Atkinson
Scott Hartnell – Alexander Wennberg – Brandon Saad
Nick Foligno – Sam Gagner – Oliver Bjorkstrand
Matt Calvert – William Karlsson – Josh Anderson
Brandon Dubinsky
Dubinsky will start the season as the team's number-one center, an area of scrutiny for the Blue Jackets. Ryan Johansen now resides in Nashville. The team expects Dubinsky to take his game to another level this season.
He enters his fourth full season with the Blue Jackets, coming off a season that saw him take on much more responsibility. Dubinsky tallied 17 goals and 48 points while winning 52.5% of his faceoffs. If it was an important situation, Dubinsky was usually out there.
Expect this to continue this season as the team's top center. He will play against the opponent's best players. If the Blue Jackets hope to enjoy success this season, Dubinsky must lead the way at both ends of the ice.
Recently, Blue Jackets broadcaster Jody Shelley tried keeping up with Dubinsky during an on-ice workout. How did he do?
Boone Jenner
Fresh off a 30-goal season, Jenner will look to show that last season is his norm. He saw a lot of power-play time and converted it into nine goals and 14 points with the man advantage.
Even more encouraging was his improvement in faceoffs. Jenner finished the season winning just over 53% of faceoffs. With all the questions surrounding the state of the Blue Jackets centers, seeing this could give the team incentive to keep him at center.
However, Tortorella loves his presence on the wall. As a result, they could choose to keep Jenner on the wing. His versatility allows the Jackets flexibility on how they deploy their lines. If the Jackets want to make a serious run at a playoff spot, Jenner must continue to produce at similar levels to last season.
Oliver Bjorkstrand
Although Bjorkstrand is still fighting for a permanent spot on the Blue Jackets, his name is worth mentioning here given his overall chances of making the team. He could immediately make an impact given his offensive prowess.
Bjorkstrand had a memorable 2015-16. After recovering from an early shoulder injury, he joined the Lake Erie (now Cleveland) Monsters and helped lead them to a Calder Cup. He became the first player in AHL history to score three game-winning goals in overtime during the playoffs.
Before the playoffs started, Bjorkstrand played 12 games for the Blue Jackets. He scored four goals and eight points. That's a 27-goal pace over 82 games. He needs to win his spot at camp, but if he does, Bjorkstrand could make a serious run at another Calder, the one for rookie of the year.
Defense:
Projected Pairings:
Ryan Murray – Seth Jones
Jack Johnson – David Savard
Zach Werenski – Dalton Prout
Seth Jones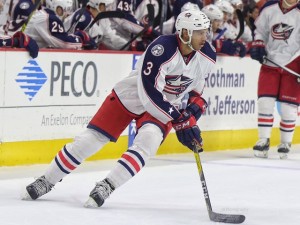 Jones enters his first full season in Columbus and second overall after being acquired from the Nashville Predators in the Johansen deal. The Blue Jackets desperately needed to improve their defense, especially on the right side.
After an expected slow start thanks to transitioning from third pair in Nashville to top pair in Columbus, Jones started showing signs of a breakthrough. He quickly found himself out in all important situations for the Blue Jackets. Although his Corsi-for percentage was under 50, it was still among the best on the team. Where you saw Jones' biggest impact was on Ryan Murray's play.
Jones' stability allowed Murray to settle in and play a more comfortable game. If the Blue Jackets get a better version of Murray this season, that would go a long way in helping improve their goals against, which finished 29th last season.
Jones has a new contract now. He's ready to show the Blue Jackets and league that he is a true, number-one defenseman.
Zach Werenski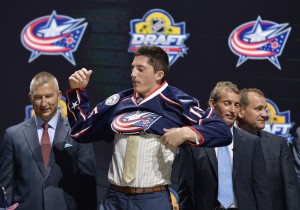 Before Jones came to Columbus, the state of defense was in shambles. They used their first pick in the 2015 draft to address this need. They may have landed the best defenseman in the draft when they landed Werenski.
The team knew Werenski was a season or two away from making an impact. He didn't wait very long after leaving Michigan to make an impact.
He joined the Monsters on an ATO and became one of their best players immediately. You couldn't help but marvel at just how easy Werenski makes the game look. He possesses a rare combination of smooth skating, good decision-making, and offensive prowess. He won't hesitate to shoot the puck when the opportunity presents itself. He'll eventually quarterback the Blue Jackets power play.
The team will ease Werenski into the lineup. Early talk is that he might play with an established veteran, such as David Savard. He could also play with a Dalton Prout or Cody Goloubef on the third pair. Don't be surprised if he's in the top four by season's end.
Breakout Player: Alexander Wennberg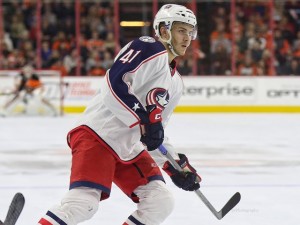 I had Wennberg in this spot last season. I think he's primed to do bigger things this season. After a slow start to last season, Wennberg ended the season playing at a 60-point pace. The Blue Jackets need this kind of production from him this season and beyond.
Wennberg is a pass-first player. It got to the point where teams knew this, and would always play the pass. As the season wore on, he adjusted his game some, mostly because Tortorella urged him to shoot at every possible chance.
Wennberg finished last season with 8 goals and 40 points. Multiple reports say he's now bigger and stronger coming into this season. I think given right circumstances, he can threaten the 70-point plateau. His play could help quiet some of the center talk. I expect a breakout season for Wennberg.
Player with Most to Prove: Sergei Bobrovsky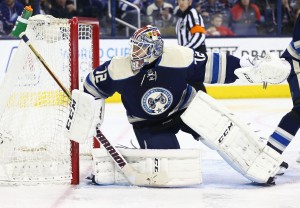 This race isn't even close. If the Columbus Blue Jackets hope to make this season one in which they are in the playoff hunt, Sergei Bobrovsky must be their best player. He needs to show us he can stay healthy over a full season.
We got our first opportunity to see him this season in the World Cup of Hockey. He started every game for Russia during the round-robin part of the tournament. If there's anything Blue Jackets fans can hang their hat on, it's that Bobrovsky was Russia's best player.
Two things really stood out. First, Bobrovsky was confident. On many of his saves, he held the glove out so that his opponents could see that he stopped the shot. This was the complete opposite of last season, where it seemed every puck found the back of the net.
Second, at least for now, Bobrovsky showed us his groin held up through numerous leg motions. He had to stretch out to make several saves, putting obvious pressure on the leg muscles. He was not hampered in any way.
Now he has to show that he can hold up over 82 games. The team has taken steps to modify his routine so that he can endure. We'll see how the team handles the start of the season. Will they limit Bobrovsky early? There are several back-to-backs on the Blue Jackets schedule. We'll see if the team allows him to play in those situations early.
If the Blue Jackets get the World Cup version of Bobrovsky, they go from "no chance of the playoffs" to "in the hunt for a playoff spot."
First Player in the 'Call-Up' Line: Sonny Milano
Although I think he falls just short of making the roster out of camp, it's just a matter of time before Sonny Milano stays on the Blue Jackets.
Milano was the Blue Jackets first-round pick in 2014. After playing in OHL Plymouth, Milano found himself playing a major role on the Monsters. His speed and skill are very noticeable when you see him play. Remember this beauty of a goal he scored? I'm not sure even Milano believes this went in.
This was one of the best goals in the AHL last season. This goal also happened in the playoffs. His skill alone ensures Milano will have a place on the Blue Jackets soon. He needs to prove he can handle the long season, as well as handle added responsibility. We expect him to start in Cleveland on the top line playing important minutes. But if injury strikes, Milano's name will be among the first ones called to Columbus.
Season Outlook: Veterans Must Step Up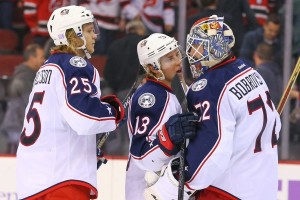 President of Hockey Operations John Davidson was recently asked what needs to happen for this season to be a successful one. He stated an obvious answer, but a very important one. "The veterans on this team must play better."
He's right. There's no other way to look at this. Whether it's your $7 million goalie needing to play better, or your captain rebounding from a down year, the veterans on this team must improve.
The team cannot afford another slow start. Last season, they were 0-8 before they knew what hit them. The previous three October's and November's have been very unkind to the Blue Jackets. The veterans must avoid another terrible start.
The pieces are in place. Bobrovsky appears ready. The defense is stronger to start with Murray and Jones. Now they have to go out and prove last season was not the real Blue Jackets. It will be curious to see what happens if the team goes through another rough start.
Blue Jackets 2016-17 Record Prediction: 40-36-6 (6th in the Metro)
Make sure to comment below with your opinions on how the 2016-17 season will play out for the Blue Jackets or head over to the THW Twitter feed or Facebook page and sound off about all our NHL coverage.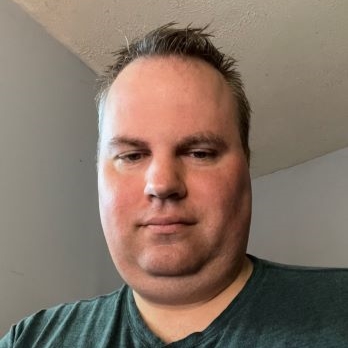 I am a fully credentialed writer who covers the Columbus Blue Jackets, Cleveland Monsters and Erie Otters as well as the Ontario Hockey League and NHL Draft. The 2022-23 season will mark nine seasons with the Hockey Writers. I am also the site's Credentials Manager. Please take note of the updated Twitter handle: @mark_scheig.