Never A Dull Moment
Boredom does not exist.
When it comes to the Columbus Blue Jackets on social media, there is no boredom. Whether you closely follow the team for updates or contests, or read the latest news about the team, or talk with other fans, there is always something to do.
Are you new to the social media thing? Do you get lost trying to find everyone to follow? If that's you, today is your lucky day. We've done all the work and put this social media guide together for you, the fan. We want to make sure that you get all the Columbus Blue Jackets you can handle and then some.
This comprehensive guide will give you everything you need to know about the Blue Jackets presence on social media. We highly recommend following these people, as they are the best of the best. We'll start with the team, and then focus on those who cover the team. After that, we'll highlight other areas of interest.
IT IS OCTOBER pic.twitter.com/5J5eEg5x3D

— Columbus Blue Jackets (@BlueJacketsNHL) October 1, 2016
Meet The Columbus Blue Jackets
Several Blue Jackets players have an active Twitter account. Here is a list of those who have an account at this time. This list includes prospects.
In addition to these players, Blue Jackets GM Jarmo Kekalainen also has a Twitter account. A lot of his tweets are in his native Finnish, but will interact in English as well.
Blue Jackets Communications
Several key members of the Blue Jackets staff also interact on Twitter. They are must follows because of the information they share with fans about the team. Let's meet them.
Todd Sharrock: Blue Jackets VP of Communications and Team Services. Sharrock is your go-to for team-related information. When are the Blue Jackets practicing? What's the latest injury news? Who's been called up? He provides us all with answers to those questions and much more. He also will travel with the team on the road. That's only the beginning.
Glenn Odebralski: Manager of Communications. Odebralski is a great follow for several reasons. You know those excellent media guides the Blue Jackets make? Odebralski is the one who updates that for us. He also assists in player interview requests and game notes. He will also travel with the team on the road. And probably my favorite thing he does is tweet milestones and stats for the team.
Karen Davis: Director of Communications. Wanna know what goes on behind the scenes with the Blue Jackets? Whether it is player appearances or community updates, Davis keeps us all informed.
#CBJ finish prospect tournament w/ four players among leaders in scoring, led by Moutrey (1st-T) & Scott (3rd). pic.twitter.com/iJOaOIXEWf

— Glenn Odebralski (@GlennOdebralski) September 21, 2016
Blue Jackets Social Media
The Blue Jackets social media team is one of the best teams in the NHL. Not only do they interact with fans on a regular basis, they are witty with their commentary. This is why they have the respect of fans league-wide. I mean, who else puts on their Twitter page that they are the official home of the Blue Jackets, but not the GM, coaches or players?
Rob Mixer is your go-to for this. Whether you have Blue Jackets questions or want opinions on good food, he's got you covered. Just make sure you put pineapple on your pizza.
All kidding aside, remember this gem of a tweet?
.@espn Who is this?

— Columbus Blue Jackets (@BlueJacketsNHL) November 11, 2014
Just be careful what you tweet at them. If you're not ready, they will make you the joke (in a fun, good way of course).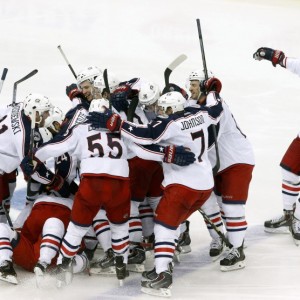 Media Covering The Blue Jackets
I believe this is one of the best parts of the overall Blue Jackets experience. There are many wonderful outlets to get Blue Jackets news, views, commentary, and so much more. We HIGHLY urge you to check out everyone's work throughout the web. Our goal is to make sure you get connected with what you are looking for.
The Columbus Dispatch
Led by one of the best beat writers in North America, the Dispatch is your go-to for all things Blue Jackets. Their three-man writing team of Aaron Portzline, Tom Reed, and Michael Arace give you everything from practice reports, to interviews, to game recaps and so much more.
Combined, the Dispatch covers all 82 Blue Jackets regular-season games. They write a blog called "Puck-Rakers", which gives you news and commentary as it happens. You have to subscribe to get the full content after so many views, but the low price and great content makes it worth it.
#CBJ assistant coach Brad Shaw is on the ice w new club for first time this morning. He was asst coach with Team Europe in World Cup.

— Aaron Portzline (@Aportzline) October 1, 2016
Fox Sports Ohio
They are back this season bringing you 81 of the 82 Blue Jackets games. The team remains the same from last season, as Dave Maetzold, Brian Giesenschlag, and Bill Davidge will offer news, commentary, insights and interviews both before and after the game and during intermissions.
Once again, the team of Jeff Rimer and Jody Shelley will call games on Fox Sports Ohio.
This season is particularly exciting as for the first time, fans in the local market can stream games on the Fox Sports Go app. It's just another way of bringing the Blue Jackets directly to you.
In case you're wondering whether @RyanJohansen19 is in the Preds lineup for tonight's exhibition game v. #CBJ pic.twitter.com/rQAWGbjIHO

— Dave Maetzold (@DMaetzMedia) September 29, 2016
Blue Jackets Radio
Bob McElligott is back for another season of radio play-by-play on Sports Radio 97.1 the Fan. There is a new host for the season, as Ryan Mitchell takes over the pre- and postgame shows.
Every Blue Jackets game can be heard on radio. If there is a conflict on 97.1, you can find the game on CD 102.5 or ESPN 1460. You can also stream all broadcasts through nhl.com or bluejackets.com.
Speaking of 97.1 the Fan, make sure you follow Lori Schmidt. She brings us news and views from the game and the locker room. She also asks really good questions.
Blue Jackets coach John Tortorella: "I'm really happy about the camp. I don't give a [darn] about the results today."

— Lori Schmidt (@LoriSchmidt) September 26, 2016
BlueJackets.com
They too are at almost every game, but you knew that already. Whether it is lineup changes, or injury news, or game previews/recaps, the Blue Jackets website is constantly updated to keep us all informed.
Mixer and his team handle the writing duties. Alison Lukan also contributes to bluejackets.com. She is a must follow for many things, including Blue Jackets features, stories, advanced stats, and most importantly, puns. You'll not only be informed, you'll get some laughs too. She also writes for Buckeye State Hockey. Speaking of them…
When it came to on ice encouragement during drills today, you didn't just hear Torts. David Savard pretty vocal in support of teammates.

— Alison (@AlisonL) October 1, 2016
Buckeye State Hockey
This is one of the better follows in all of Blue Jackets social media. The reason is simple. They offer you a lot of stuff. Want news and insight? Check. Want a more in-depth look at player performance and advanced statistics? Check. Want to know how the Blue Jackets prospects are doing? Check. Want to know which OHL players are worth monitoring in future seasons? Check.
This team dedicates itself to bringing you everything you could want to know. Lukan is at the games, while the rest of the team brings you the other good stuff. Click here to view their website, and here to see their Twitter.
London is jam packed, Flint isn't ideal, but he could get top-six minutes. Big opportunity for growth. https://t.co/iJDaWSsDMk

— Buckeye State Hockey (@BuckeyeStHockey) September 29, 2016
NHL.com
They are at every home game bringing you news and views. Once again, Craig Merz brings his unique insight to us. He's very familiar with Columbus and its history. He's the co-author of the book "Chill Factor." It's a must read for the die-hard hockey fan. It tells the story of how a minor league hockey team changed a city forever.
Torts has no issue with showing who will man Team USA's power play. Notebook: https://t.co/nmwu1G020d #WCH2016 pic.twitter.com/hDA6FAeFVk

— NHL (@NHL) September 7, 2016
The Cannon
Here's another excellent follow for news and insight. They are a part of SB Nation and bring us their unique perspective of the Blue Jackets.
Whether you want interesting stories or commentary, the Cannon has you covered. Their latest is very interesting. It's a make your own roster. What would the team look like if you were the GM? Give this a shot.
The Cannon also brings us news from the AHL Cleveland Monsters, as well as a game thread for every Blue Jackets game.
Game Preview / GameThread 4(X): Predators at Blue Jackets https://t.co/h6D4QwHOcY pic.twitter.com/V51pncQTtf

— The Cannon (@cbjcannon) September 29, 2016
Today's Slapshot
They are well represented at Blue Jackets games, as Kristyn Repke is on site bringing you her valuable insight of the Blue Jackets. She's at almost every home game, and will attend some road games too.
She writes a piece after every game called "Three Takeaways". She shares what things we need to take from the game that the final score might not show.
Today's Slapshot covers the NHL as well as all things hockey.
ICYMI: yes, it's only preseason, but #CBJ defenseman Zach Werenski is already impressing his coach & teammates: https://t.co/xKS7GvzSQP

— Kristyn Repke👩🏼‍💻 (@kristynrepke) October 1, 2016
Sports Xchange
It's great seeing Rick Gethin back on the scene at Blue Jackets games. He's been around the Blue Jackets for several years, and will be at all home games bringing you his perspective on the team. [Editor's note – Rick was instrumental in growing this very site and we will always be very appreciative of the solid work he did.]
The Sports Xchange is a wire service that provides year-round content of all sports. Their stories will sometimes appear in USA Today.
#CBJ's Boone Jenner, Captain Nick Foligno & David Savard address the media… https://t.co/tcgZduSciQ

— Rick Gethin (@rickgethin) September 21, 2016
The Hockey Writers
Our team at the Hockey Writers is dedicated to bringing you news and views of the Blue Jackets all-year round. We have a dedicated news department that will have news about the team as it breaks.
I will be at 15-20 Blue Jackets games both home and road throughout the season. My goal is to take the news of the team, and try to make sense of what it means long-term. We will ask hard questions and will interact with you, the fan. You'll see both features and commentary throughout the season.
We also have a dedicated writer that will be at all Cleveland Monsters games. Our Elaine Shircliff will bring us all the happenings with the Monsters. I will occasionally join her throughout the season, as we will bring you a monthly Monsters report.
If #CBJ gets this version of Bobrovsky, it changes the whole complexion of their season outlook.

— Mark Scheig (@markscheig) September 25, 2016
Other Outlets
There are other great outlets for Blue Jackets news and views. Check out these sites for good content.
A little #preseason action tonight between the #cbj and the #preds 🏒 pic.twitter.com/EXUa6dNmuy

— Kayla Anderson (@KaylaAndersonTV) September 29, 2016
Other Must Follows
Now if interacting with other fans is more your thing, don't worry, there is plenty of that to go around. Whether you want to follow the CBJ Artillery, or listen to the fun antics of DKM Hockey, or you want to go to games with the Jacket Backers, or take part in the March of the Union Blue Soldiers on opening night, or help a great cause with Foligno's Flock, or have fun overall with Boone's Goons, there's a place for you somewhere.
JACKETS WIN! JACKETS WIN! JACKETS WIN! #CBJ

— The CBJ Artillery (@TheCBJArtillery) September 30, 2016
Hopefully I didn't forget anyone. But if I did, please feel free to reach out to me so we can include them in our social media guide. Feel free also to reach out to me if you have any questions about the Blue Jackets or anything in social media. We'll make sure we get you the answer you're looking for.
Welcome to October. Enjoy the season everyone.