Now that the 2016 World Cup of Hockey is over, the participating Detroit Red Wings players are set to join their teammates for the remainder of the preseason. Team Europe forwards Tomas Tatar, Frans Nielsen, and Thomas Vanek were the last to be eliminated, having lost to tournament host Canada and Mike Babcock.
Even with captain Henrik Zetterberg and alternate captain Niklas Kronwall sitting the tournament out, the Red Wings still had a great showing in Toronto—seven players represented their home countries/regions/age brackets during the World Cup. Let's take a look at how those players—plus a recently "retired" fan-favorite—fared during the tournament.
Red Wings World Cup Stats
Below are the tournament statistics for the participating Red Wings players:
| | | | | | |
| --- | --- | --- | --- | --- | --- |
| Player | Team | GP | G | A | PTS |
| Tomas Tatar | Europe | 6 | 3 | 0 | 3 |
| Pavel Datsyuk | Russia | 2 | 0 | 2 | 2 |
| Frans Nielsen | Europe | 6 | 0 | 2 | 2 |
| Justin Abdelkader | USA | 3 | 1 | 0 | 1 |
| Dylan Larkin | North America | 2 | 0 | 1 | 1 |
| Thomas Vanek | Europe | 6 | 0 | 1 | 1 |
| Alexey Marchenko | Russia | 4 | 0 | 0 | 0 |
| | | | | | |
| --- | --- | --- | --- | --- | --- |
| Player | Team | GP | W | L | OTL |
| Petr Mrazek | Czech Republic | 2 | 1 | 0 | 1 |
Red Wings Standouts
Of the participating Red Wings players, a couple stood out for their great showing at the World Cup, and fans are hoping they sustain their solid performances once the NHL season kicks off.
Tomas Tatar
If there was one player who announced himself to the world, it was Tomas Tatar. Heading into the tournament, Tatar was projected to be a bottom-six forward for Team Europe. However, he made his presence felt in the preliminary round and eventually earned a spot on the top line alongside Anze Kopitar and Marian Hossa. His three tournament goals led Team Europe and garnered praise from the hockey community.
NHL's most underrated winger Tomas Tatar

— Andrew Berkshire (@AndrewBerkshire) September 25, 2016
Team Europe captain @AnzeKopitar, SF hero @Trto90 talk ahead of World Cup final vs. Canada. What'll be the score? https://t.co/5E1MmY6CwH pic.twitter.com/IIObwQnz4r

— IIHF (@IIHFHockey) September 27, 2016
Petr Mrazek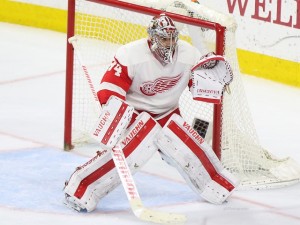 Though stuck behind a weak Czech defense, Petr Mrazek had a spectacular tournament for his native Czech Republic. He helped the Czechs defeat Team USA and almost stole a win against tournament runner-up, Team Europe, losing in overtime on a Leon Draisaitl breakaway.
If anything, the World Cup was great training for Mrazek as he enters the year entrenched as the starting goaltender in Hockeytown. Playing behind a weak defense against the world's top talent certainly helped prepare Mrazek for a season with Detroit's sub-par blueline corps.
Alexey Marchenko
Playing on a Russian squad without a lot of defensive depth, Alexey Marchenko accumulated some great experience playing against the world's best. And even though Marchenko is still a little green, he did not look out of place at all when he was on the ice.
In Russia's last game against Canada, Marchenko led his team's defenders in ice time, playing 18:35 in a 5-3 loss. He was also Russia's go-to defenseman for the penalty kill, leading the team with 3:16 of shorthanded ice time.
While they did not have standout performances, the other participating Red Wings had solid tournaments as well. Though he was scratched for a game, Dylan Larkin had a strong, solid tournament for Team North America. Justin Abdelkader fit in well with Team USA, despite all the criticism he received for being a part of the squad.
Pavel Datsyuk played well in limited time before getting injured. For Team Europe, Frans Nielsen played a fantastic two-way game, but could not find the back of the net. And teammate Thomas Vanek had some opportunities, but was also misused on the power play (playing the net-front role).
2020 World Cup of Hockey?
During Game 2 of the World Cup championship round, NHL commissioner Gary Bettman stated that he'd like to continue the tournament, but was unsure when the next World Cup of Hockey would be played. If the World Cup returns to a four-year schedule, the next tournament could feature a few Red Wings as well.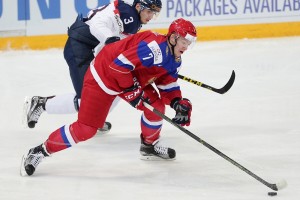 After being snubbed this year, Gustav Nyquist could join Team Sweden for the next international showcase. Additionally, Teemu Pulkkinen and Vili Saarijarvi have a chance to make Finland's roster. Petr Mrazek, Tomas Jurco, and possibly Filip Hronek could be a part of Czech Republic's nucleus.
Though Justin Abdelkader may not be included, Dylan Larkin could star up front for Team USA. Evgeny Svechnikov and Alexey Marchenko could skate for the 2020 Russian team as well. And depending on the tournament format, forwards Tomas Tatar and Frans Nielsen could return to represent their home countries/region.
Which Detroit Red Wings player had the best World Cup of Hockey performance? Comment below to share your thoughts.