If there's one consistent message the new regime in Edmonton is continuing to highlight, it's that they will expect nothing less than consistent competitive effort from all their players.
Both in the first year at their respective positions, GM Craig MacTavish and head coach Dallas Eakins have preached a better work ethic and and a team that will not be outworked.
Both MacTavish and Eakins  have stated that they expect a better effort and as a team be more competitive every night.
"The No. 1 thing we're going to be committed to is competition. If you're going to play for the Edmonton Oilers, you're going to compete," Eakins said when he was introduced as coach June 10. "That's how you win games in the NHL and that's how you make your organization better."
Far too often last season the Oilers were not hard enough to play against and were pushed around in their own zone. Their effort in general was extremely inconsistent from game to game. There was certainly signs shown that this can be a team to fear and that they can dominate offensively, however, there were just as many instances where they were far from intimidating.
MacTavish, known as a player for his grit and compete level, felt Eakins was the right man to be behind the bench going forward for the young Oilers.
"I coached against him two years ago when I was the head coach of the [AHL] Chicago Wolves," MacTavish said at Eakins' introduction. "I was impressed by his team and how well the team competed. They were ready to go right at the opening faceoff. I haven't seen a team that well-prepared in a long time.
Eakins has made his mark in the coaching ranks by being a good communicator and getting the most out of his players. He is also known for placing a high emphasis on fitness and conditioning. He has been clear with his expectation of players and the shape he requires they be in. Something that will be a change for some Oiler players, and that's not a bad thing.
Evident in his additions this summer, MacTavish has attempted to add some components to make the Oilers tougher and harder to play against each night. Not just physical toughness but players who can play a prominent role and understand the defensive side of the puck.
Headlining the free agents brought in by McTavish are defenceman Andrew Ference and centre Boyd Gordon. Ference is a solid, no nonsense defenceman who brings plenty of experience and veteran leadership. He's responsible defensively, makes a good first pass and plays with the edge and grit the Oilers blueline has been sorely lacking.
Gordon is one of the most reliable defensive centres that were available in the offseason. He is also one of the league's best faceoff men and penalty killers. He will take a lot of the defensive zone pressure off of Sam Gagner and Ryan Nugent-Hopkins and play against the other team's top line.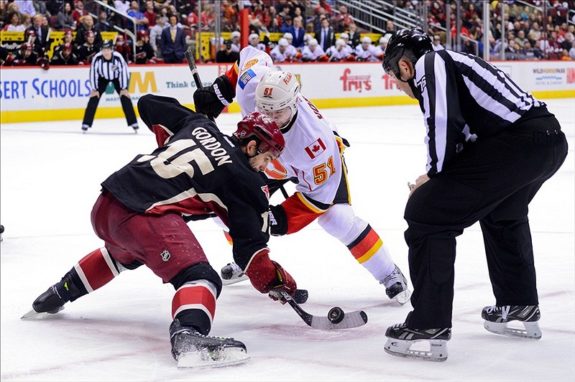 He also re-signed forward Ryan Jones and signed a plethora of depth forwards and defencemen to create competition in training camp and compete for spots.
The biggest difference with the Oilers, at least through the offseason, is the message. Having a new head coach and GM are a big enough change in itself, but the message that both Eakins and MacTavish are continuing to preach are music to the ears of Oiler fans.
Never has there been a concern with the skill level or potential of the team. There has been no concerns around offence and the ability to play exciting hockey. What the overwhelming outcry has been over the last few years is the fact that the team is wildly inconsistent and they don't compete hard every night, especially in the defensive end.
The proof will be on the ice and we won't know whether the message has reached the right ears until puck drop, but so far with the hiring of Eakins and MacTavish and their mission statement this summer, everyone is saying the right things.
Oiler fans have certainly gotten their hopes up before and are reluctant to do so this year, but one thing appears to be different in 2013-14. The team will be pushed harder this year and by all reports be held more accountable. With an improved work ethic and a more consistent effort they can't help but improve on last season.
 _______________________________________________________________________________
 Follow Carl on twitter @maloney3383 and Google+ for more articles.