The Providence Bruins played their second scrimmage of the weekend Sunday morning at the frigid Rhode Island Sports Center. While the previous contest was notable for frequent tallies – today's action saw the net hit just twice in Team White's 2-0 victory.
But that two-goal margin became the subject of some debate amongst the audience. The first goal for White – scored by P-Bruins' captain, Trent Whitfield on a rebound stuffed-past Niklas Svedberg – appeared to be waived-off by the refs due to the dislodged net. The other tally was a long-distance empty-netter with twenty seconds to go off the stick of Jared Knight.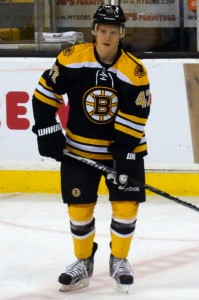 So, really, the game was the equivalent of a scoreless tie. All four goaltenders made good saves. Adam Morrison deserves the most acclaim for his 'preservation' of Team White's 'lead' through the 28-minute second 'period'. Morrison was besieged by Team Black's attack, which put considerable pressure on the White defense – particularly for the final ten minutes. He made several clutch, scrambly saves to deny key chances and secure the win.
The game's pace was far slower than Saturday's as White's forwards negated the opposition's point-play. Consequently, Zach Trotman was held to just a few shots a day after a four-point performance. Trotman still looked solid in his own zone and in-transition, but limiting his opportunities was a win for Team White.
Perhaps one of Sunday's best performances was put-forth by rookie defenseman, Torey Krug. He possesses an elite puck-moving game and outstanding mobility. Krug jumps into the attack frequently and intelligently – and with his speed he recovers his positioning almost as an afterthought.
Defensively, he reads the attack well and makes smart decisions. Krug's quick hands are perfect tools for stick-checking. He gets good leverage and is a willing participant in the physical game. Krug doesn't blow up anyone in open-ice, but his low center of gravity permits him to dispossess opponents with solid hits – like he did to Lane MacDermid during the second period.
On the subject of the checking-game Krug told me: "It's something that I bring to the table, and it's one of the reasons I came to the Bruins – because that's what they like, that's their style of play."
Colby Cohen, Krug's defensive partner in the first couple of games, has helped the rookie make the adjustment to the pro game in training camp. "He's done a great job talking to me and communicating a lot… one of the things, when you're trying to gain chemistry with someone – it's always about dialogue."
Krug has a hammer of a shot, but the same could be said for many of the other blueliners expected to contend for roster-spots. Still, he's more than willing (and able) to play the role of distributor: "One of the things I always pride myself on is doing whatever's best for the team; if there's somebody who can shoot the puck better than me, I'll pass it to them… I'll do whatever it takes."
A rookie with two games of NHL experience, Krug recorded his first pro point before he turned 21. This season he was expected to challenge for an NHL job, but the lockout has put those plans on-hold. Still, he believes that brief experience helped him acclimate quicker to a pro training-camp:
"It gave me a huge edge. I was able to go into the offseason understanding what I needed to do to be able to compete at the level I want to compete at – the NHL… I was able to gauge how strong guys are and it gave me a great opportunity to learn."
The Livonia, Mich. Native has had eventful six-months: In March, he led the Spartans to the NCAA tournament, where they were ousted by Union College. Just a few days later he was signed to his ELC with Boston and just a little over a week later he suited-up for the Black and Gold. Over the summer, he participated in B's Development Camp, leading to this week's training camp action. "I'm just taking it as it comes," he said, "it's been a ton of fun and I'm excited to be where I am."
Notes on the game and camp to-date:
Bobby Robins – The thirty year-old journeyman threw his weight around like it was game seven, connecting with Justin Courtnall and Matt Pistilli (neither of whom is anything close to a lightweight) and leveling them both. Robins' feet are always moving.
Max Sauve & Ryan Spooner – The duo were matched-up throughout the scrimmage (much like Bourque and Spooner were on Saturday) and responsible for much of the pressure their side had throughout the game. There's so much speed and skill in the combo.
Matt Pistilli – The forward (who played for the Charlotte Checkers in '11-'12), grabbed two points yesterday, so the staff put him on Spooner's wing to see if he could step up. He didn't score, but he had some decent exchanges with Sauve and Spoons, and didn't look out-of-place.
Carter Camper – Smart, smart player. Camper always has his stick in the passing lanes on defense (and he seems to backcheck at max effort even during these scrimmages). He shows patience and discipline on zone-entries and distributes well thanks to his vision. Much of the White team's offensive chances were created on his watch.
Jared Knight – The rookie engaged physically throughout the game (including one scary check-from-behind on Trotman that had the blueliner get up slowly and head to the bench before returning), but his offensive presence wasn't as noticeable on this day. He skated with Camper (and Alden Hirschfeld) much of the morning.
Kevan Miller – The former undrafted defenseman was a revelation back last season, earning more and more defensive responsibility (and an NHL contract). After missing the first day of camp thanks to a failed physical (a heart murmur), Miller's looked solid. Today, paired with Tommy Cross, he took some hits to make plays and moved the puck well while under-pressure. Not flashy – but sound hockey.