The 2012-2013 NHL season is in limbo and the AHL season has yet to begin, but a new controversy is already brewing for the Toronto Maple Leafs.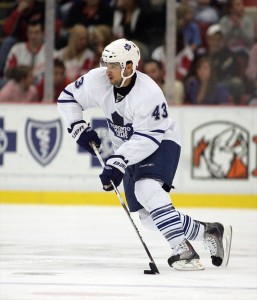 On Friday afternoon Dallas Eakins, the head coach of the Toronto Marlies, the Leafs' AHL affiliate, went on the record with some very unflattering comments about prospect and former first round draft choice Nazem Kadri. From TSN's Jonas Siegel:
"His body fat today is probably in the bottom three to five guys in our whole camp and that's unacceptable," said Marlies head coach Dallas Eakins. "That's the easiest part of coming into camp is eating correctly and training correctly.

"There's just no coming off if you're an athlete," Eakins continued. "It's no different than the normal person. You make your choice. You can either go sit on the couch, put your feet up and have a bag of potato chips or you can go on the couch and put your feet up and grab some carrots and some apples."
Kadri, taken 7th overall by the Leafs in the 2009 draft, has an abundance of hockey talent and scored 19 points in 51 NHL games over the course of three seasons split between the NHL, AHL and OHL, but has battled inconsistency and a lackluster work ethic since being drafted. Fans, management and local sports media alike have been left wanting more so far from the London, Ontario native.
All sides will probably be waiting much longer, however, due to the comments from Eakins, which are just as unacceptable as Kadri's unhealthy diet.
There is no hockey hotbed in the world bigger than Toronto, and the wolves that the 21 year-old Kadri are being thrown to by his own coach are some of the most rabid and hungry. The list of players, coaches and hockey personnel devoured in Toronto is not a short one.
Yes, Kadri's fitness levels are incredibly disappointing, especially considering he spent this summer training with renowned fitness guru and former Leaf Gary Roberts, but publicly deriding him under the scrutiny of the Toronto media spotlight is only going to make the situation a lot worse instead of better.
The Leafs have missed the playoffs every year since the lockout, and still face a significant uphill challenge before they will be able to find postseason success. Kadri, given his draft status, is an important part of that equation, so he should be supported by his organization, not left with a bullseye on his back. If Kadri's body fat results were that bad, Eakins should have taken him behind closed doors and explained to him the severity of the situation, or provided him with more information about diet and exercise. What could he possibly hope to accomplish by making the comments he did in front of a scrum of reporters?
Criticisms and mockery about weight are tough to get rid of; just ask forwards Dustin Penner and former Leaf Kyle Wellwood, two players who are still the brunt end of fat jokes and whose careers have yet to return to the same prominence they were at before their diets became the topic of ridicule. Even if Kadri somehow radically improves his fitness levels and performs to the best of his ability with the Leafs he can still expect to carry the baggage of Eakins' comments for years to come.
Kadri, despite his immense talents, has not done a good job so far in his career of handling the pressures of being a highly-scrutinized Leafs player, although the blame is only partially his. But now Eakins' comments will add far more weight for Kadri to carry around than any junk food ever could.