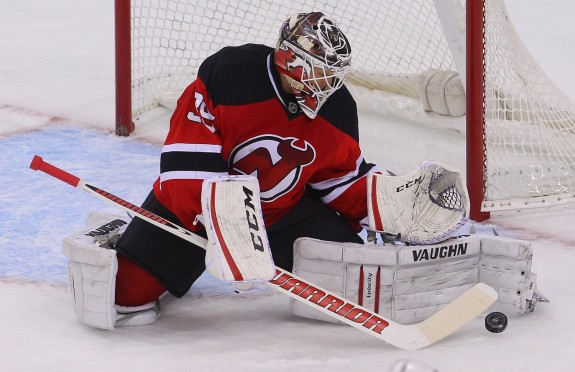 Getting off the schneid, usually means a team is finally breaking out of a bad streak or slump. But for the New Jersey Devils, riding the Schneid, may be their ticket to the final Wild Card spot in the Eastern Conference. With all of the New York metro area accolades seemingly going to Henrik Lundqvist and Jaroslav Halak, Cory Schneider is carving out a fantastic campaign.
Beginning with a baptism by fire, Schneider established a franchise record for most consecutive starts to a season, at 20. Now in the second half of the year, Schneider is getting his second wind and boosting the Devils' sails toward a potential Playoff run. Mind you a sail boat can be a tricky metaphor for treading through the choppy standings but a sturdy netminder can go a long way in changing the equation.
Of course now with an injury to Keith Kinkaid, it may mean navigating all the way to the finish line. Yet, that possibility doesn't seem to phase Schneider, as evidenced by his comments following a 3-0 blanking of the Arizona Coyotes.
It's that time of the year; the time of the year when you may as well [play it out]. If I'm feeling good then keep putting me out there. I'm fine with that. I like where my game is at and my body feels pretty good so if we're going to make a push here then I'm up for the challenge and will be ready for whenever they need me.
Whether or not the Devils ultimately reach the postseason, they have to feel validated in making Schneider their franchise goaltender. While there were some whispers about Schneider not being able to carry a full load of games, he's already proving the doubters and critics wrong.
With two months of the season left to play, Schneider has already eclipsed career highs in games played (52), wins (22), saves (1,493) and minutes (2,972). That's a lot of ice time and more rubber than a Michelin plant.
Scott Gomez on Cory Schneider: "If he's not considered top three in the League, there's something wrong." #NJDevils pic.twitter.com/OwWZi3trWp

— New Jersey Devils (@NJDevils) February 24, 2015
It doesn't end there though.
Those games played and saves rank first in the NHL and the minutes place him second. Schneider's .926 save percentage ranks fourth among netminders around the league and his 2.22 goals against average is sixth best. On the Devils' current four-game winning streak, Schneider has stopped 97 of 101 shots, including the aforementioned 38-of-38 effort against the Coyotes.
VIDEO: Hear from Cory Schneider on tonight's 38-save shutout: http://t.co/Sqig99qhhq pic.twitter.com/lWIVuLwrE8

— New Jersey Devils (@NJDevils) February 24, 2015
Down the stretch, New Jersey has 22 contests to go, half at home and half on the road. They also have four sets of back-to-back contests. Six of the 22 tilts come against teams with losing records.
It is a daunting task to be sure but the Devils can at least rest assured that they have a backstop with the confidence to move them in the right direction.
Michael Gwizdala covers the New York Islanders for The Hockey Writers. Michael is also an Associate Producer at WNYT NewsChannel 13. Additionally, Michael was once a Media Relations intern for the AHL Albany River Rats. Michael is a graduate of The College of Saint Rose in Albany, NY.