Just a few days ago, the Colorado Avalanche made news when a report came out that they would supposedly NOT be taking consensus top prospect Seth Jones with the 1st overall pick.
The report, originally leaked by the Denver Post's Adrian Dater on Twitter, mentions that the Avalanche seem to be leaning toward "one of the three forwards" at the top of the draft – Finnish center Aleksander Barkov as well as Halifax forwards Nathan MacKinnon and Jonathan Drouin.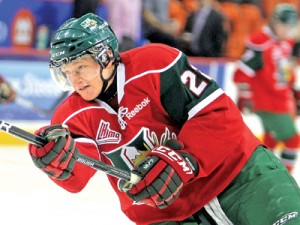 The general feeling is that the Avs will select McKinnon with the top pick; his stock having risen significantly since Halifax's Memorial Cup run. MacKinnon is believed to be the top forward in the draft and a franchise center.
So what does all of this mean for the Buffalo Sabres?
Well, it could mean there is some truth to the idea that the Avalanche would be willing to trade the 1st overall pick. It doesn't seem like they're crazy about anyone, though MacKinnon is certainly as close as it gets in that regard.
Not only that, but this news could affect the fate of the 2nd pick as well. When it was widely believed Jones would be the 1st pick, word around the schoolyard was that the Panthers would have been thrilled to take MacKinnon right after.  With that in doubt, would the Panthers consider moving out of the 2nd spot should they not feel as strongly about Drouin or Barkov?
General Manager Darcy Regier and the Sabres have reportedly been interested in moving up in the draft – whether that's moving up from the 16th pick or the 8th pick is up for speculation but one would assume the Sabres have their eye on a player or two and would like to jump somewhere into the top five to get him.
So what would it potentially cost to move into the top two?
It's no secret that Ryan Miller, Buffalo's franchise goaltender, is going to be available come draft day and that the Sabres will be looking to move him for assets to aide in their rebuild.
Could Colorado, who has Semyon Varlamov but certainly wouldn't mind an upgrade in net, be interested in a package centering around Miller? It would be a good jumping off point but would still likely cost the Sabres at least the 16th overall pick and could involve the 8th pick or a high-end prospect.
1st Overall Picks
On initial reaction, that sounds like quite a bit to give up for an unproven prospect, no? But in reality, it may end up being a great deal for the Sabres. Stating the obvious: when you pick 1st overall, you are theoretically getting an elite level talent that will have a huge impact on your franchise for better or worse.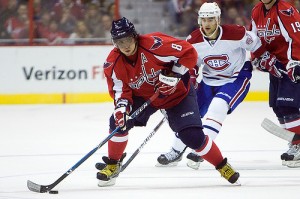 Let's take into consideration that of the last 20 1st overall selections, only three have truly flamed out – Alexandre Daigle in 1993, Patrik Stefan in 1999, and Rick DiPietro in 2000.
A fair chunk of them turned out to be somewhere ranging from "pretty good" to "franchise player" – Joe Thornton, Vincent Lecavalier, Ilya Kovalchuk, Rick Nash, Marc-Andre Fleury, Alexander Ovechkin, Sidney Crosby, Patrick Kane, Steven Stamkos, John Tavares, and Taylor Hall.  That's a pretty good group and that's not even including Ryan Nugent-Hopkins or Nail Yakupov simply because it's too early to judge them.
That's excluding solid, long-time NHLers Roman Hamrlik, Ed Jovanovski, Bryan Berard, and Chris Phillips, too. Bottle line is that, for the most part, you're at worst going to end up with a solid player for a long time.  The upside is you end up with a guy you can build your team around and find a face to market.
2nd Overall Picks
Like the 1st overall pick, you know you're usually getting a great player with the next pick. Since 1992, the following players have gone 2nd overall: Alexei Yashin (hey, he had a good run before Long Island), Chris Pronger, Wade Redden (who was the anchor of Ottawa's blueline for a long time), Patrick Marleau, Daniel Sedin, Dany Heatley, Jason Spezza, Eric Staal, Evgeni Malkin, Bobby Ryan, Jordan Staal, Drew Doughty, Tyler Seguin, and Gabriel Landeskog.  Not quite the list provided by top overall picks but a good one no less.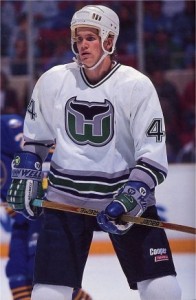 The failure rate is also pretty similar – Kari Lehtonen isn't a failure but he's not quite the franchise netminder Atlanta envisioned, David Legwand has been a solid piece for the Predators but not the kind of player who carries a franchise on his back, Andrei Zyuzin who was an unequivocal failure, and Oleg Tverdovsky who spent his career as a solid offensive defenseman that bounced from team to team.
Getting into the top two is ideal for the Sabres – they are more than likely getting a franchise anchor and someone who could potentially carry them for years to come. It could also come at slightly less of a cost than #1.
8th Overall Picks
Things turn into a total crapshoot by the time you get to 8th. Some of the more successful players to be taken in this spot include Mikkel Boedker, Devin Setoguchi, Braydon Coburn, and Sergei Samsonov.  After that, you get a few decent NHLers like Pierre-Marc Bouchard and Taylor Pyatt.  It only gets uglier from there.
On paper, trading the 8th and 16th picks sounds like a lot. Especially in a stacked draft. But for the ability to get a near sure-fire player in the top two, it's absolutely worth it and a risk Regier should strongly consider taking.
16th Overall Picks
Compare that to 16th overall picks from the last 20 years and it gets a bit ugly.  You get names like Eric Fichaud, Ty Jones, Marcel Hossa, Steve Bernier, and Colton Gillies. Excluding the last two 16th overall picks (Tom Wilson last year and Joel Armia the year prior), Nick Leddy, Vladimir Tarasenko, and R.J. Umberger are the guys who have panned out the most. That's three notable examples in 20 years.
Obviously, the further into the draft you go, the bigger the risk you're taking. There's a reason guys fall this far down and you're getting anything but a sure thing.  And, as history has shown, once you get to 16th, there's a slim chance that you're going to find a useful cog let alone a difference-maker.
Standing pat, even in a deep draft – the 2003 draft is widely considered one of the deepest in history yet the San Jose Sharks still ended up with Steve Bernier at 16 – is a big risk this late into the 1st round and the Sabres probably won't end up with as good an asset as the pick itself.
What's Miller Worth?
This is where people tend to disagree.
As it is when handing out a contract, you're basically paying for what Miller's done, not what he'll do. He's 33 years old, yes, but he's also consistently been one of the better goalies in the game and has shown an ability to flat-out carry his team for big stretches at a time.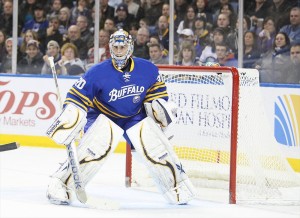 The caveat to that is the fact that there is little market for goaltenders these days. Part of that has to do with contracts – Vancouver's Roberto Luongo could have probably been moved by now if it weren't for his albatross of a deal – and part of this has to do with so few teams needing a veteran goaltender like Miller.
He likely won't net the return former teammate Jason Pominville got – a high-end prospect plus 1st and 2nd round picks – but he could net the equivalent of a late 1st rounder.  This in theory would make the deal 16th, late 1st, and a prospect for the 1st overall pick. That's a deal you would do each and every time.
Potentially helping this deal along is the fact that Miller isn't a long-term obligation unless the team dealing for him wants him to be. So trading for Miller isn't going to tie you down forever – either sign him or let him play out the year and see if he's worth the investment.
So What's The Deal?
Speaking from a realistic standpoint, the Sabres are probably more likely to land the first pick than the second. They'll need Miller to be a focal point of the deal and Florida isn't likely to want him considering the value they put into Jacob Markstrom. Any deal with the Panthers will likely start with the 8th overall pick, include the 16th, as well as one of the Sabres best prospects. At least in a deal with Colorado, they can potentially move the aging Miller.
If you're offering up the two picks and someone like Joel Armia, Zegmus Girgensons, or Mikhail Grigorenko, there's a chance at grabbing one of the top two picks.
Should the Sabres luck out and get interest in Ryan Miller from the Avalanche, they could find themselves holding the top pick and staring down options and multiple potential franchise players.
The more likely scenario? None of the above.  If trading up is what Regier wants to do, he is more than likely going to end up trading into the fourth spot to grab Barkov or fifth to grab a high-end player like Valeri Nichushkin, Elias Lindholm, or Sean Monahan.
As a Sabres fan, here's hoping Darcy swings for the fences.
Follow me on Twitter: @RWTFC
A long-time (and long-suffering) Buffalo sports fan. Sometimes optimistic, always weary. I write other stuff for a lot of other people.