The Core Five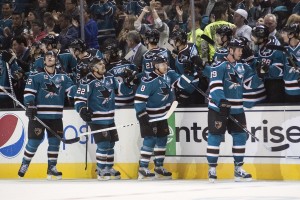 Let me start off by saying that the San Jose Sharks are not likely at all to trade star center Logan Couture. However, if GM Doug Wilson is looking to make a change to his core, Couture is the likeliest of San Jose's current top five players to be moved.
The Sharks' No. 1 power-play unit was deadly this past season, finishing sixth overall at 21.6% just .1% back of fifth best Columbus and a whole 1.6% better than Arizona in seventh. Couture and teammates Joe Thornton, Patrick Marleau, Joe Pavelski, and Brent Burns all played on the Sharks' No. 1 unit that was never broken up outside of a four game injury stint for Thornton.
Out of this five man unit, Couture makes the most sense to be moved for a number of reasons. First and foremost is that Thornton and Marleau are not going anywhere, period. With their full NMC's it is essentially a zero percent chance either one is moved. Neither player wants to leave and while Wilson may want to move both of them, the Sharks' GM is steadfast in saying he will never ask a player to waive. He may make their lives miserable to try and get them to ask out, but he won't do the asking. Pavelski on the other hand basically took on the role as the most vocal leader this past season on a team without a captain. He was the club's best forward and has become the fan base's favorite player the last couple of seasons. While Pavelski is older than Couture, and the Sharks are in what they claim to be a rebuild, No. 8 would appear to be a lock to remain in San Jose because of his stature as a leader and fan favorite. And finally, while many of us have pointed out his numerous deficiencies as a defenseman, Brent Burns is unlikely to be moved. Why would Wilson make all that hoopla about moving him back to the blue-line to be a "franchise defenseman" just to trade him one year later? If it wasn't a long term plan to acclimatize him back to defense, then they might as well have kept him as a forward where he was dominating the competition. Putting him on the blue-line again for one year just to trade him doesn't make a whole lot of sense at all.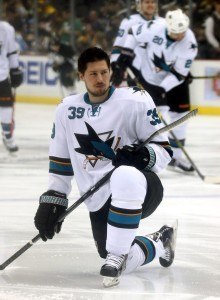 Simply put, by process of elimination, Couture has the highest chance of being moved out of San Jose's top five offensive threats. While trading the 26-year-old is far from likely, I would say the odds are significantly higher than either of the other four being moved. Thornton and Marleau around 0-0.5% chance, Pavelski around 1%, and Burns 2%, but I would go as high as saying there is a 5% chance that Couture could be part of a blockbuster deal to shake up the Sharks core.
Wilson Wasn't Happy With Core
Wilson clearly wasn't happy with his core group of players after the collapse to Los Angeles in 2013-14, and Couture, like everyone else struggled late in that series. Furthermore Couture was a staunch defender of Todd McLellan, a coach whom Wilson reportedly wasn't seeing eye-to-eye with this past season. During his exit interview at the end of this season Couture praised McLellan but called the dressing room culture "not great". The latter remark could be perceived as a slight at Wilson. The GM is the top dog who has the biggest control over culture. Couture is also a big time supporter of Thornton (another Shark employee at odds with Wilson). The two share the same agent who happens to be Joe's brother, John Thornton. Trading away Couture, could in theory get Thornton to ask for a trade out of town. Thornton said last offseason he wouldn't leave San Jose as long as the fans wanted him. However, asking to be moved because a good friend and top tier caliber teammate was traded is as good an excuse as any. Hard to imagine Sharks fans being mad at Thornton for wanting to leave if he cites Couture's being traded as the reason. Not to mention everything else Thornton had to deal with the past 12 months.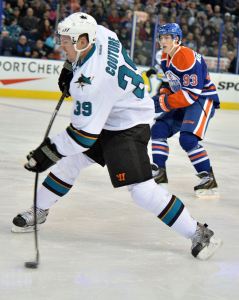 At just 26-years-old Couture is still on the younger side and is under contract for a few more seasons at a relatively cap friendly $6 million. An annual 30 goal scorer even without top tier wingers setting him up, Couture brings dynamite offensive abilities and plays a strong two-way game as well. For a team looking for a reboot and to nab a star player, Couture makes a lot of sense. From the Sharks perspective, Couture would fetch quite a handsome return either on his own or as part of a package. San Jose has a number of holes on the blue-line and between the pipes that need to be filled.
The return in a potential Couture trade could bring multiple pieces back that can play right away in those spots. Plus the Sharks do have center depth with Chris Tierney coming on strong late this past season, Thornton still holding down the No. 1 job, and Wilson wants Tomas Hertl to eventually develop into a center (his natural position). Moving Couture opens up lanes for both Tierney and Hertl to play big minutes in the middle this season and for as gaudy as Couture's scoring stats are, he doesn't translate to ever being that pure dominant No. 1 center type. He isn't the possession monster that Thornton is and he isn't the elite passer that makes his linemates better. Being one of the best second line centers is pretty much what you will get with Couture. Again, Couture being traded is extremely unlikely, but if Wilson decides he wants to shake up his core and add pieces in other areas, Couture is the most likely star Shark to be traded. He is the easiest to move and would fetch the best return.
Andrew has been credentialed to cover the Sharks since 2010 and the 49ers since 2012. He graduated with his BA in Broadcast Electronic Communication Arts in 2013 from San Francisco State University.