In 2010, the Dallas Stars drafted USA U-18 goaltender Jack Campbell with their first round pick (11th overall). Campbell was fresh off a pair of gold medal-winning performances at the U-18 and World Junior Championships. In fact, in both cases, Campbell came off the bench to lead the Americans to victory.
The Hockey News Draft Preview 2010 featured the following quotes about Campbell"
"I wouldn't be surprised if someone saw him like a Carey Price and took him at five, six or seven if they needed a goalie."
Another scout went on to say "He went into a pressure-packed situation and won the gold medal, he's a franchise goaltender. Physically, he's as solid as anybody out there, but mentally is where this kid makes a different."
Jack Campbell's Roller-Coaster 2014-15 Season
Fast-forward five years and the turning point of a miserable 2014-15 season would end up being a seven-game stint with the Idaho Steelheads of the ECHL. Campbell, 23, had a poor start with the Texas Stars, some of which was due to injury and illness. His record with Texas was 3-10-4 with a 3.36 GAA and .890 save percentage. In February, the Stars decided to send him down to the ECHL.
The transition to Idaho seemed to spark Campbell's game. The Port Huron, MI native went 5-2 with a 1.73 GAA and an astounding .945 save percentage.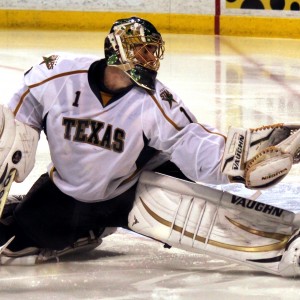 "I think it was just knowing I was the guy down there," Campbell recently shared with Stars reporter Mark Stepneski. "I played seven in a row, which was nice. The boys had a lot of confidence in me and the coaches. I relaxed down there and came back with the same attitude and everything kind of took care of itself."
The  6-foot-3, 195 pound goaltender would continue to build on the positive trend when the Texas Stars brought him back up to the AHL. He finished the season on an 11-4-1 run with a 2.45 GAA and a .924 save percentage.
Entering the 2015-16 season, Campbell will be given every opportunity to lock down the No. 1 job for the Texas Stars. It will be his fifth season with Texas and he really needs to make the most of it.
Stars GM Jim Nill just said he wants to see Jack Campbell play 60 games this season for the @TexasStars.

— Owen Newkirk (@OwenNewkirk) June 29, 2015
This summer, Dallas signed Campbell to a one-year, two-way contract. He will earn $650,000 for any NHL games and $90,000 for keeping the net clean in Austin.
So were those scouts from 2010 way off? Carey Price …. really now? Well, maybe not Carey Price, but give it a little more time at least. Of the 92 goaltenders who played in the NHL last season, only two (Anaheim's John Gibson and Tampa Bay's Andrey Vasilevskiy) played at least 800 minutes and were younger than Campbell.
Everyone is in a rush to bury Jack Campbell because he was the 11th overall pick in 2010, but when you step back and realize how young he still is, you realize, he's still right on schedule.
I have a Bachelor of Arts Degree is Sociology from Bridgewater State College. I have covered amateur hockey prospects with Texas roots for the scoutingreport.org, and I am a Dallas Stars writer for The Hockey Writers. I can be reached via Twitter @EdTexmass09.