As the Montreal Canadiens' opening night roster starts to take form with the latest addition of Alexander Semin, there are a couple of Habs prospects who will push hard to make the team.
Among them is Swiss born winger Sven Andrighetto, who had a first taste of NHL hockey last season when he played in 12 games with the big boys. He was drafted by Montreal in the third round back in 2013 and spent the majority of the two last seasons with the Hamilton Bulldogs of the AHL, where he was twice one of their better scorers. His North American adventure started in 2011 when he left his home country of Switzerland to join the Rouyn-Noranda Huskies, the team which drafted him at 11th overall in the CHL Import Draft.
First Shot, First Goal
That Andrighetto has the skills to play in the NHL is a known fact to Habs fans, especially after his first stint with the club in December, when he had points in his first three NHL games. He got the call up because of injuries and in his first NHL game the Habs were down 3-0 at the American Airlines Center in Dallas, when Andrighetto scored his first NHL goal, on his very first shot. It was a nice give and go with Plekanec before he pulled of a nice forehand-backhand move to beat Kari Lehtonen. Some days later, he played in his first game at the Bell Centre and managed to get an assist followed by another goal in the next game against the Kings. That made him have a point in each of his first three games and the name Andrighetto was starting to get known by Habs fans since then.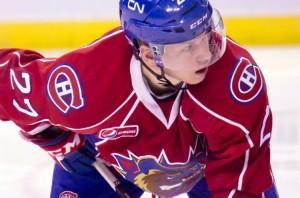 His point production stopped after this furious start as he saw himself limited to less than 10 minutes of ice-time in most of the games and after 12 games he was sent down again as players returned from injuries. However, the stint with the Habs showed both, the club and the player, that there is a realistic chance that Andrighetto can make the team in the upcoming season.
Where Would Andrighetto Fit?
Based on his numbers in the AHL and his first stint with the Habs last December, it is safe to say that the time for Andrighetto is now to make the NHL. His skating abilities are outstanding, he shows great vision and is a dangerous goal scorer as well. Although he is a smallish player, listed at only 5'10", he isn't afraid that his size keeps him away from playing in the NHL: "I'm heavy enough to play against guys in the NHL, but my goal isn't to hit a six-foot-five guy into the boards — my goal is to be fast," said Andrighetto.
"Great vision, but his skating is extraordinary," says D. Carr on AHL linemate Sven Andrighetto. Feature coming on 'Ghetto @Sportsnet #habs

— Eric Engels (@EricEngels) July 7, 2015
The Canadiens were lacking forwards as they bought out P.A. Parenteau and didn't manage to sign any wingers via free agency. Therefore it looked like Parenteau's spot would be in reach for Andrighetto, but then the Habs announced the signing of Alexander Semin. This could mean that the door is closed for Andrighetto at the moment as the third line winger spots seem to be taken already by Devante Smith-Pelly and Jacob De la Rose and fourth liners Dale Weise, Torrey Mitchell and Brian Flynn played a good last season. Not to forget that the Habs have brought in Zack Kassian via trade and young prospects like Michael Bournival, Christian Thomas and others are also pushing for a spot.
It will be a tough battle for roster spots in camp but Martin Lapointe, Montreal's director of player development, said that Andrighetto knocks on the door and that the Swiss winger made progress in the past years. "Maybe because of his edge, he was too hard on himself sometimes," said Lapointe. "He'd get carried away during games. Now he can focus better and park distractions when things are not going well better than he did a few years ago."
https://twitter.com/QF25Matt/status/609084468826136576
Andrighetto is ready to impress in a few weeks when camp starts. It will be a tough competition for a roster spot but he showed that he is ready to take the next step and that he improved his game on the ice and is more mature off the ice.