With the Pittsburgh Penguins all too happy to allow Derrick Pouliot to stew in the minors until he "finds his game", is his playing on borrowed time?
It Might Be Time
Now that Derrick Pouliot has been recalled from the AHL, it might be time for him to put it all together. It might be time for him to finally take that leap. Then again, he hasn't done it yet and it seems that the Penguins aren't about to make any kind of real effort to find playing time for him. With the injury to Kris Letang keeping him out of the lineup presumably until after the new year, the writing may be on the wall for Pouliot to get some ice-time.
It's time for Jim Rutherford to prepare his bargaining chips so that he can find a trade partner more easily later on in the season. Using Pouliot's new found time in the lineup, Rutherford has the unique opportunity to showcase an asset while casting the appearance that he's actually trying to develop Pouliot.
Pouliot Must Play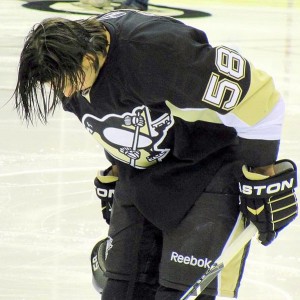 Over the summer I was practically begging Jim Rutherford and Mike Sullivan to finally cave and play Derrick Pouliot — even if it were only as part of a seldom used defensive rotation. Obviously, that didn't happen. And if it were going to happen, it would have by now. For whatever reason, Pouliot just doesn't seem to be in the Pens' plans moving forward.
So if he's not in the plans, why MUST he play? As I mentioned, he's likely showcasing himself for a role elsewhere. And while there's no way he can guarantee playing time (here or elsewhere), he can do his best to maintain a high level of play which would force a coach's hand. He needs to be in the lineup, at least until Letang returns.
Further Matters
Complicating things a bit further is the loss of Trevor Daley to an upper body injury during their last game, a 1-0 loss to the Los Angeles Kings. With two defensemen now potentially missing, Pouliot may actually be counted on a bit more if Daley's injury turns out to be serious.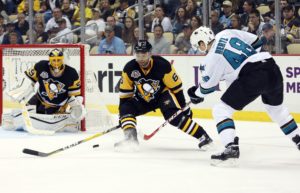 The unfortunate truth to the entire situation is this: despite his pedigree, Derrick Pouliot simply hasn't panned out.
The disappointment is especially evident when compared to his fellow first-round draft pick, Olli Maatta, who was taken later first round of the very same draft in which Pouliot was selected. Whether it was Pouliot's attitude earlier in his career that soured management, or whether he simply hasn't put it all together, I imagine that his stay with the Pittsburgh Penguins will be a brief one.