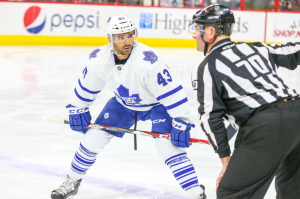 When teams fall short of expectations, as was the case this season with the Sharks and Maple Leafs, the offseason can often feature a summer blockbuster. Both of these teams could be looking to shake things up considering the years they had. Toronto fell flat on their faces after a decent showing in 2013-14. They fired head coach Randy Carlyle midway through the season. All year long the Leafs were known as one of the worst possession teams in the league. San Jose meanwhile decided they needed to "rebuild" even after finishing with 111 points the previous season. GM Doug Wilson's expectations may have been lowered but for many players and followers of Team Teal, missing the playoffs was a major disappointment ending a 10 year playoff streak.
The Sharks are looking to rebuild on the fly, and have defense and goaltending as their areas of need. Meanwhile Toronto would be wise to load up on draft picks in this deep 2015 draft. Therefore, I'll propose the following blockbuster.
To Toronto: Logan Couture, Brendan Dillon, 1st (9th Overall)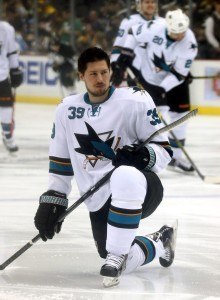 After five really strong seasons to start his career, many might be wondering why the Sharks would trade Logan Couture. The Ontario native would have possibly opened up his career with five straight 30 goal seasons if not for the lockout, a broken hand, and struggling linemates. Still, through his first five seasons, if you project his 21 goals in the lockout shortened season over 82 games, Couture has averaged 29.6 goals each year. That is simply fantastic goal production. Couture could very well be a player the Sharks look to keep and build around but after the season the 26-year-old called the Sharks' dressing room culture "not great" which could be perceived as a shot at upper management. Couture was a big backer of Todd McLellan and Joe Thornton, so the next big fish with a major say in culture is the GM. Therefore, considering Couture could bring San Jose a hefty return, maybe San Jose looks to move him. Toronto would be getting a consistent goal scoring center in their top six.
Defenseman Brenden Dillon has plenty of potential as a physical shut down guy but he struggled to find consistency after a midseason trade to San Jose. The 24-year-old is a restricted free agent this summer and could be moved in a deal. The Sharks defense needs an upgrade in the top-4 and Dillon moving on would open up a slot for perhaps a Leafs defenseman to come over.
The Sharks aren't looking to trade draft picks for rentals or older players but moving their ninth overall pick would be the primary piece to dangle in this hypothetical deal with Toronto. Plus the players they would be getting back in this deal are all younger players. For the Leafs' perspective, two top-10 picks in this upcoming draft would be hard to pass up.
To San Jose: Nazem Kadri, Jonathan Bernier, Jake Gardiner
Known around the league as the Leafs' best two-way forward, Nazem Kadri hasn't quite matched Couture's production but would be a top-six type center to take over that spot. In this sense, the Leafs get the better end of the swap of centers. This past year Kadri had the infamous episode of sleeping in and showing up late to practice but by most reports the youngster handled the situation well. He handled it as a professional should, and took the team punishment without question. As for his on ice play, 18 goals and 39 points this year sounds pretty dismal compared to Couture's 27 goals and 67 points. However, Kadri scored just as many goals in the 48 game lockout season (18) as he did this past season in 73 games. The potential is there to be a 25 goal, 60 plus point player. Again, in this case of the centers, the Leafs are getting the better player but San Jose will be giving up slightly more at this position to get more elsewhere in the deal.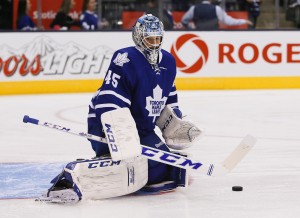 With James Reimer under contract for another year, it makes sense for Toronto to be open to moving RFA goaltender Jonathan Bernier. The soon to be 27-year-old is coming off a .912 save percentage in 55 games but sparkled with a .923 mark in 2013-14. The Sharks need an upgrade in goal after years of average goaltending from Antti Niemi. Perhaps Bernier can be the guy to sparkle between the pipes in a return to the postseason. Giving up their ninth overall selection in the draft might be a bit of a hefty price but if Bernier turns out to be a stud No. 1 for a number of years, price seems about right.
Finally though, the last piece of this trade is where the Sharks would gain back a bit of the value they gave up in moving Couture and their first round pick. Leafs' defenseman Jake Gardiner is an underrated puck moving left-hander that could slide right in and play with Justin Braun, allowing Brent Burns to play with Marc-Edouard Vlasic. The 24 going on 25-year-old Gardiner is the type of left-handed offensive threat who would better complement the defensive minded right-handed Braun than any current Sharks' defenseman. Gardiner is coming off a season of just 24 points but scored 10 goals and 31 points the previous season and would be an ideal quarterback for the second unit power-play. In fact, the Sharks could simply play Gardiner and Braun together in all situations, including that second unit attack.
Cap/Salary exchange: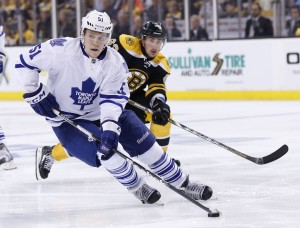 The only two players in this deal signed to contracts for next year are Couture and Gardiner. Couture is locked up for four more years at a cap hit of $6 million while Gardiner is signed for the same term at a little over $4 million. Dillon is bound to get around a two-year deal worth around $3 million per season. So that is roughly around $9 million that the Leafs would effectively be acquiring. It is difficult to say where Kadri will land in terms of cap hit considering 39 points isn't great but the potential is there. A prove it type two year deal with a $4.5 cap hit perhaps, likewise a similar prove it type contract for Bernier. If the Kadri and Bernier contracts are equal, that is $9 million plus Gardiner would make $13 million total going to San Jose. The Sharks have the cap flexibility to add contracts this offseason so money shouldn't be an issue in this hypothetical deal.
Would love to hear from Sharks fans, Leafs fans, and neutral fans in the comments section. How would you rate this trade if it were to actually go down?
Andrew has been credentialed to cover the Sharks since 2010 and the 49ers since 2012. He graduated with his BA in Broadcast Electronic Communication Arts in 2013 from San Francisco State University.