With the 2023 Stanley Cup Playoffs officially underway, we here at The Hockey Writers take a deep dive into this past season for the Arizona Coyotes. Year two of the team's rebuild came and went, filled with many highs and lows. Nevertheless, the optimism surrounding the organization's future remains higher than ever before.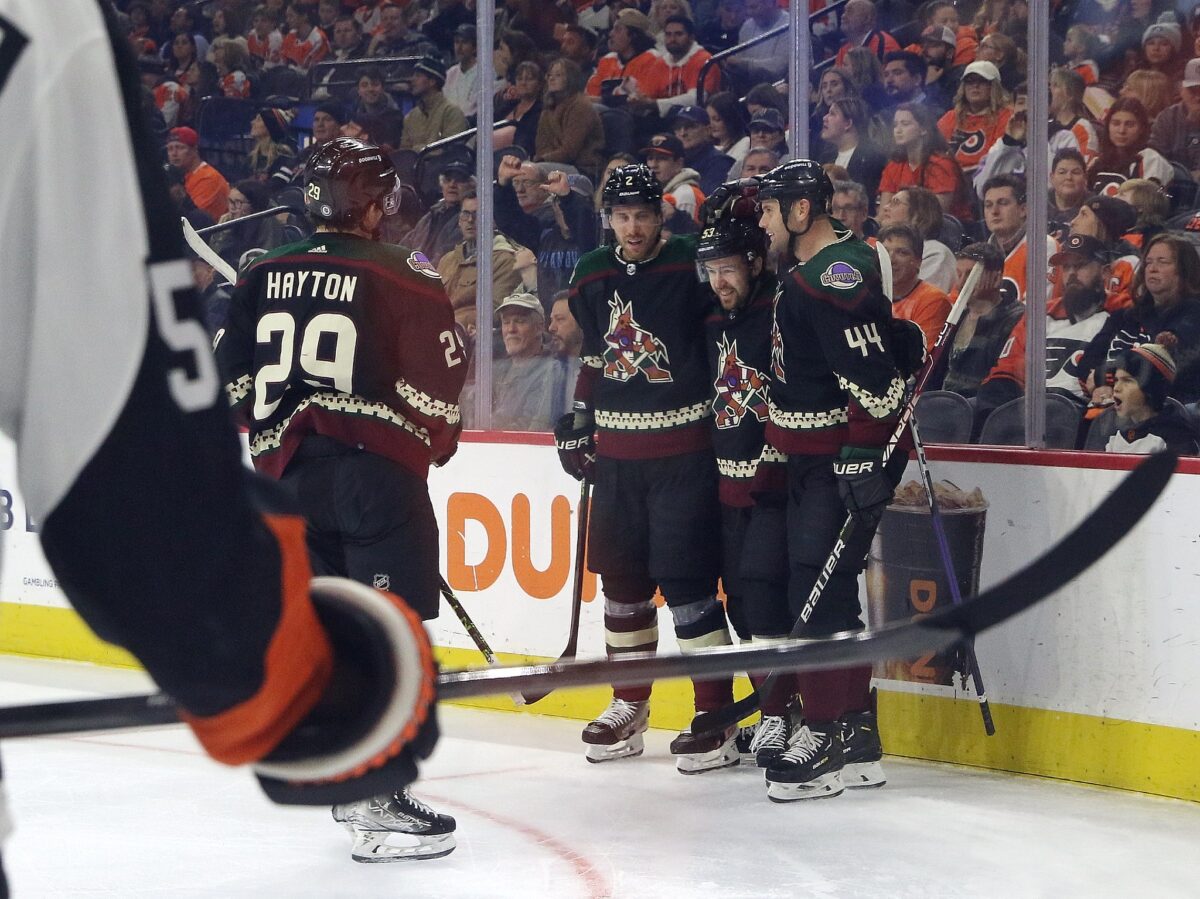 From Mullet Magic to Clayton Keller's franchise-tying record season, Matias Maccelli's Calder-worthy campaign, and an impending arena and entertainment district vote coming in a few weeks, this past year was packed with multiple memorable moments and plenty of questions that will be addressed this offseason.
Clayton Keller Ties a Franchise Record
Coming off a brutal lower-body injury late last season, Coyotes forward Clayton Keller had a long road ahead of him if he expected to get back to his old form. Originally slated to miss the first month or so of the 2022-23 season while rehabbing, no one expected to see his name on the opening night lineup against the Pittsburgh Penguins. What fans would be treated to from there on out was something far greater. 
Related: Arizona Coyotes 2022-23 Season Preview
---
Latest News & Highlights
---
Keller had a franchise-tying 86-point season, something that hadn't been seen since the 1996-97 season, the team's inaugural year by Keith Tkachuk. It was also a new career high in both goals and assists, along with his third career All-Star nomination. Keller was something else for the Coyotes this past year. While many wondered how he'd respond to the first major injury in his professional career, the young forward and projected next team captain had other plans.
Maccelli's Spectacular Rookie Season
Entering the season, the hottest rookie emerging out of the desert wasn't Matias Maccelli, but rather, Dylan Guenther. But as the season unfolded, it was the former that ultimately turned heads around the league, cementing himself as one of the top rookies in the league. Projected to be a Calder Trophy nominee, and deservedly so, Maccelli made his name known in other areas besides the scoring department.
With 49 points in 69 games on 11 goals and 38 assists, the Finnish rookie ended the year second in points behind Seattle Kraken rookie Matty Beniers, despite playing 16 fewer games. Among the list of accomplishments, Maccelli ranked fairly well among other rookies — first in assists, first in points per game with 0.77, second in even-strength points, fourth in power-play points, six multi-assist games (tied for second), and second in 11 multi-point games.
Lawson Crouse & Barrett Hayton Take Huge Steps
As good as Keller and Maccelli were, the Coyotes also received a huge momentum boost from forwards Barrett Hayton and Lawson Crouse, who both set new career highs this season. Crouse set new highs in goals (24), assists (21), and points (45), while his teammate Hayton, who registered one goal through the team's first 33 games, set new career highs in goals (19), assists (24), and points (43).
Juuso Välimäki Discovering Potential In Arizona
At one point, the Coyotes' defense looked to be led into the future by young star Jakob Chychrun. That has since changed, with the team moving both him and Shayne Gostisbehere at the trade deadline. This inevitably has left a big hole in the Coyotes' defense core for the foreseeable future.
It's been no secret that the team's defensive pipeline is fairly shallow, with their top defenseman prospect, Maveric Lamoureux, still a few years away from making the jump to the NHL level. With 22-year-old defenseman J.J. Moser being tasked as one of the top guys on the team's blue line, the Coyotes, fortunately, found themselves some much-needed insurance in Juuso Välimäki, who the team picked up off waivers from the Calgary Flames.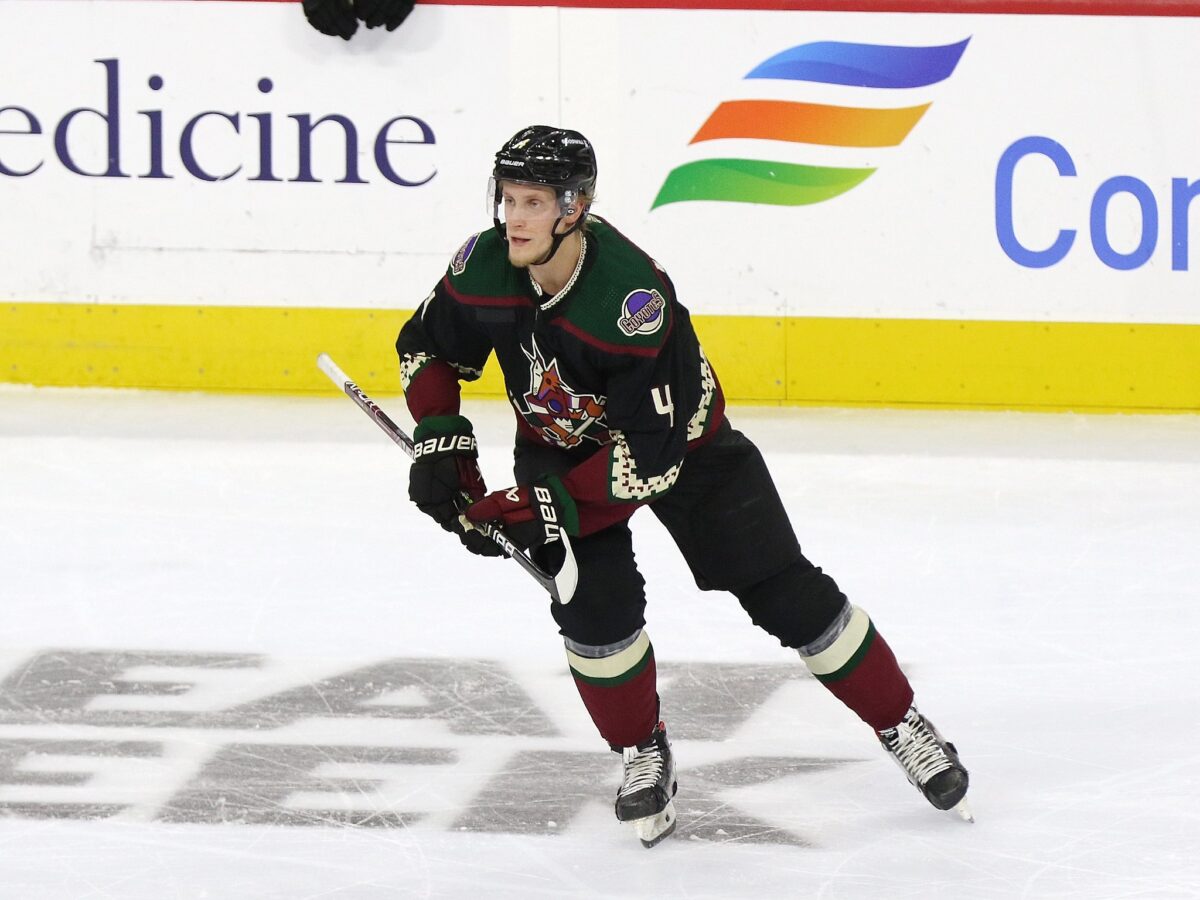 Originally a 16th overall selection in the 2017 NHL Draft, Välimäki didn't fully pan out the way Calgary had hoped, bouncing around between the NHL and the American Hockey League (AHL) before getting picked up off waivers by the Coyotes. Upon his arrival in The Valley, with a new lease on life, the Finnish defenseman recorded 34 points in 78 games, asserting himself as one of the team's top young defensemen. He's helped to bolster the pipeline for the next few years while making the most of his new role in Arizona as the organization adds more talent.
Goaltending Decision Approaches This Offseason
Another area to keep tabs on this offseason will be in the goaltending department. With three goalies currently on the roster in Karel Vejmelka, Connor Ingram, and Ivan Provestov, general manager Bill Armstrong has decisions to make on whether or not to re-sign either Ingram or Provestov or trade Vejmelka this summer. Nevertheless, this will be an area to keep an eye on as the Coyotes look to find a franchise goalie for the future.
Mullet Magic and Impending Arena/Entertainment District Vote
While the Coyotes finished the season 27th overall with a record of 28-40-14, one may not guess that when you look at their numbers on home ice. In their first season at their temporary home, Mullet Arena, which they share with Arizona State University, the Coyotes went 21-15-5, dubbing the term "Mullet Magic," where the team pulled off many memorable comeback wins and some surprising upsets, including beating the Boston Bruins for the first time in 19 games. Despite the criticism, the Coyotes used the small venue to their advantage.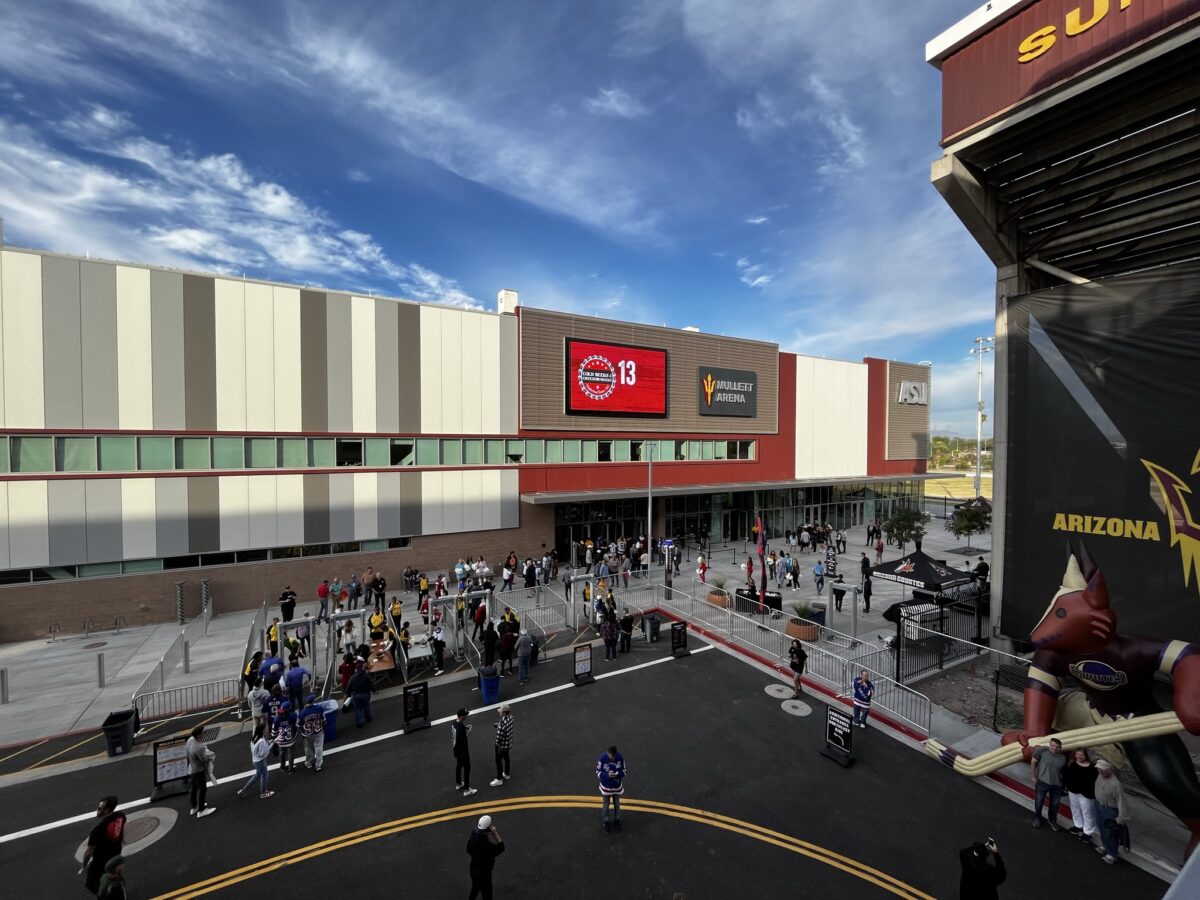 As they await a crucial vote in the next few weeks on their privately funded arena and entertainment district in Tempe, which would create 6,900 new jobs and revenue, the Coyotes will continue to use "Mullet Magic" in their favor for at least the next two seasons. Despite the size of their temporary venue, the ownership and organization's commitment to not only The Valley but also Arizona State University remains their top priority. After a rocky relationship with Glendale over the past few seasons, which put the future of the Coyotes in Arizona at stake, the organization has turned the chapter and looks to continue to build a strong bond with the state and their new home of Tempe.
Final Thoughts on Coyotes 2022-23 Season
As Bill Armstrong and company get the ball rolling this offseason, it's worth revisiting the good times and bad times from this past season. For the fans, always remember the state of this franchise now is better than it ever has been. The future of this franchise is brighter than ever before. A big thank you as well to everyone who has followed along with my coverage this season, and plenty of offseason content is on the way. As always, go Yotes, and if you're an Arizona resident, remember to vote YES on Props 301, 302, and 303 to transform a landfill into a landmark.
---
---