While the NHL offseason has started in Arizona, its status as a hockey destination continues to grow strong. This year saw Arizona State University play its first campaign as part of a varsity ice hockey program, as it transitions from club hockey to the NCAA. This past season also saw the Coyotes take some big steps forward with the emergence of players like Anthony Duclair, Max Domi and Louis Domingue. The Coyotes are not finished improving Arizona's hockey reputation with more young talent waiting to take the ice in the desert.
Dvorak vs. Strome
Four teams are currently left in the OHL playoffs and the West is down to a battle between two of Arizona's top prospects. Christian Dvorak and the London Knights are going against Dylan Strome and the Erie Otters for the chance to play for the J. Ross Robertson Cup. Strome leads the Otters with 18 points during the postseason (10 goals and eight assists), while Dvorak's 18 points (six goals and 12 assists) put him third on the Knights in playoff scoring.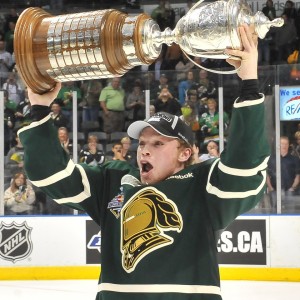 Both prospects put together remarkable seasons in the OHL this year. Dvorak finished first in the league with 52 goals, one of four OHL players to break the 50-goal barrier this year. He also finished second overall in scoring with 121 points, just six points behind Kevin Labanc. Meanwhile, Strome was the top scorer for Erie this season with 111 points, which was also good for fourth in the league. Strome and Dvorak will face off for the right to advance in the OHL playoffs now, and then they both will compete against fellow prospects for a roster spot with the Coyotes in five months.
Falcons Flying South
Arizona's prospects are not only coming closer to the team in terms of development. They will also be closer to the Coyotes in distance as Arizona's AHL affiliate seems to be heading to Tucson. The Coyotes announced Tuesday that plans were in place to purchase the Springfield Falcons and bring the team to the Tucson Convention Center (TCC) starting next season.
Hockey fans in Tucson are familiar with going to games at TCC as the University of Arizona's club ice hockey team plays their home games there. With this move, the Coyotes will get to enjoy the benefit of having their minor league team just a couple of hours away from home.
This will also boost Arizona's overall hockey profile, as the state will now have hockey on three major levels with the Coyotes (NHL), Falcons (AHL) and Arizona State University (NCAA).
Charles Woodall-Pike is a journalist who writes about the Arizona Coyotes for The Hockey Writers.