Important issues continue to face the Arizona Coyotes, but the most critical is lack of scoring.
Since the commencement of training camp, coach Dave Tippett was forthwith about the Coyotes' ability to score by committee. While the team is desperately lacking a sniper, the scoring, or lack of, remains high on the priority list.
Nearing the half-way point of the NHL season, the Coyotes remain one of the weakest scoring teams. Only the Oilers, the Hurricanes, the Devils and Sabres have fewer goals. That's after the Coyotes' 2-1, shootout victory over the Anaheim Ducks  before 13,656 in Gila River Arena Saturday.
No Arizona player has double-digit goal production, and following the Ducks game Saturday, Mikkel Boedker continues to be the team leader with nine in Arizona's 35 games this season. With the Coyotes riding a marginal two-game winning streak after Saturday's win, some are pointing to an offensive wake-up call.
One notable is Sam Gagner, whom Tippett moved from center to the right wing and aligned with Martin Hanzal at center and Martin Erat on the left wing. With a point assisting on Zbynek Michalek's first goal of the season at 10:29 of the opening period Saturday, Gagner now has seven points in his last five games, his biggest offensive production in this set of games this season.
"(Gagner) is feeling more comfortable on the wing," said Tippett after the Anaheim win. "We can see improvement there and we're moving in the right direction."
If Gagner is receiving praise for elevating his game, this linemates are drawing equal acclaim. When Erat assisted on Michalek's goal as well, he recorded his third point in the last two games.
"The Hanzal-Erat line is making things happen," said captain Shane Doan, who scored the winning goal in the shootout as his stick broke. "The puck is bouncing their ways now but, as a team, we still have a long way to go. Right now, we rely on our goaltender too much that we need to find a way to score more and help him out."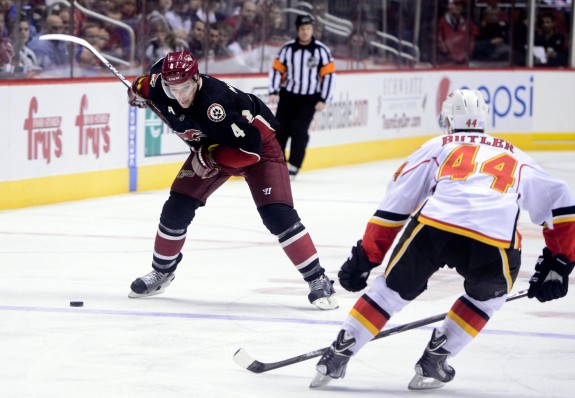 Over the past few weeks, Tippett has reunited former linemates in the hope and chance more offense can be generated. Playing on a line together for parts of the past two seasons, Tippett has put Antoine Vermette back at center between Boedker on the left wing and Doan on the right side. Tippett has also received benefits for placing Hanzal between Gagner on the right side and Erat on left wing.
scoring drought
Scoring has been particularly difficult at home. With the 2-1 win Saturday, the Coyotes have scored 35 at home and allowed 35 goals. Only the Oilers and Devils have scored fewer goals on home ice. Still, the confidence of a two-game winning winning streak and beating the team with the best record in the league remains a legitimate boost.
The win was also two straight victories at home for Arizona but both came as 2-1, overtime victories. Before Saturday's win, the Coyotes defeated Edmonton, 2-1 in OT on Dec. 16. Despite the wins, the Coyotes have scored just 10 goals in their last six home games.
Perhaps one way to generate more offensive is to give greater liberty to defensemen. With Keith Yandle, Oliver Ekman-Larsson and Michael Stone banging away from the point, the Coyotes should be in a position to create more scoring opportunities from rebounds kicked in the slot. Against the Ducks, Stone recorded a career-best seven shots on goal.
"We have some great players on the blue line and their offensive skills are there," said Michalek, who scored his 37th goal in his 678 NHL game Saturday. "As a team, we also have five guys playing offensive together and five guys playing defense. That's a  good feeling."
Another reason for a small beep on the Coyotes' life-support system could be their schedule. At one point earlier this season, they dropped nine straight at home and lost a potential 18 points in the standings. Going forward, they have six of their next seven at home and an opportunity to reverse this trend.
well Doan
Against the Ducks,  Doan appeared in his 1,350th career NHL game. That moved the Arizona captain into 45th place all-time for games played and the 38-year-old moved ahead of Kirk Muller.
Doan remains second among active players in career games played and trails only Jaromir Jagr, who has played in 1,508 NHL games.
Follow Mark Brown on twitter, @journalist193
Mark Brown is a former sports editor for daily newspapers in the Philadelphia and Cincinnati markets. He was named Best Sports Columnist, honorable mention 2004 by the Associated Press Society of Ohio. He is a contributor to major daily newspapers, including the Chicago Sun Times, Philadelphia Inquirer, Honolulu Star-Bulletin, Milwaukee Journal, Arizona Republic, Nashville Tennessean and the Associated Press. He was a Featured Columnist for bleacherreport.com and covered the Arizona Coyotes.