Andreas Englund Watch: Budding Prospect Punishes His Opponents
The IIHF World Junior Championship (WJC) is turning into a celebration of elite Ottawa Senators prospects.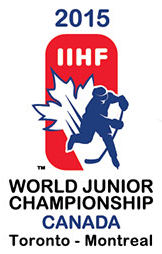 In all, 91 drafted prospects will suit up in this tournament. Each NHL club has at least one prospect skating in the tournament.
The Winnipeg Jets lead the NHL with 6 prospects playing in the WJC. Calgary, Colorado, Florida, and Pittsburgh each have only one drafted prospect playing for their country.
In terms of quantity, Ottawa is not exceptional.
The Sens have three representatives at the WJC including Curtis Lazar (Canada), Nick Paul (Canada), and bruising blue liner Andreas Englund (Sweden).
The organization is keeping close tabs on all three:
#Sens WJC Watch: Andreas Englund's game gets underway at 1 p.m. today (SWE vs DEN) while Lazar and Paul start at 8 p.m. (CAN vs GER).

— Ottawa Senators (@Senators) December 27, 2014
  While much has been written about Lazar (here and here) and Paul (here), defenseman Andreas Englund has received much less fanfare.
Andreas Englund: Should Sens Fans Be Excited?
In the off-season, Chris Lund at OttawaSenators.com interviewed Andreas Englund. The young defenseman noted that he plays a simple, defense first game:
Just as Lund points out, Andreas Englund prides himself on tough, defensive-minded play.
In his article for the Ottawa Citizen, Ken Warren echoed this assessment. Warren writes that, despite being countrymen, Englund and Senators captain Erik Karlsson are "polar opposites."
With only six points in 49 games over the past two years in Sweden, Englund is clearly not focused on offensive production.
While responsible, first-pass specialists don't tend to get crowds on their feet, the prospect of a reliable and tough defenseman to pair with Karlsson as a defensive conscious should excite fans.  
Andreas Englund: A Little Chris Phillips With a Hint of Anton Volchenkov
In an interview with HockeyProspect.com, Assistant General Manager Pierre Dorion outlined the Senators expectations for the tough, young blueliner. Dorion said,
We're very happy with Andreas' development so far…He's competing hard, he's keeping his game simple, he's playing the way we want him to play as far as being a defensive shutdown guy. Andreas will never be the guy that puts up the most skills but we're hoping that he can be a top-four match-up type of guy for us in the future…For him, his ability to go retrieve the puck, chip along the wall if he faces pressure, not turning over, or making the simple outlet pass if he faces pressure [or] doesn't face pressure. It's definitely an asset in his game that we really like. We want it to get better and it should get better as he matures and plays more with the men.
SportsForecaster.com offers an even more exciting view of Andreas Englund.
Their scouting report notes that Englund, "Owns good hockey sense and plenty of shutdown capability from the back-end. [Andreas Englund] keeps his game fairly simple and limits mistakes in his own zone. [He] can provide plenty of physical play, too."
The consistent and reliable style is reminiscent of Chris Phillips. The physical nature of Englund's game mirrors Anton Volchenkov's rugged style.
If the Ottawa Senators wind up with a big-bodied defenseman that plays like Phillips or Volchenkov, fans have reason for some excitement.
What do you think, Ottawa Senators fans? Does Andreas Englund excite you as a future rock on defense? Or does he sound like a low-ceiling bruiser who is destined for a career in the AHL?
Sean Tierney writes articles about the Sens, working to include analytics whenever possible. He has also written about the Leafs, Habs, Sens, Raptors, and Blue Jays for Fansided and Bleacher Report. He enjoys long walks on the beach and candle lit dinners and definitely isn't the tallest guy in the men's rec basketball league.