With the 2022-23 offseason officially underway for the Arizona Coyotes and others, general manager Bill Armstrong begins the process of renegotiating contracts and preparing his franchise for the 2023 NHL Draft. Players such as Christian Fischer and others enter this offseason with uncertainty as the team begins to make moves to assemble next year's squad. With young faces ready to take the leap to the next level, the Coyotes are hoping their core can set the stage for the next era of hockey in the Valley of the Sun.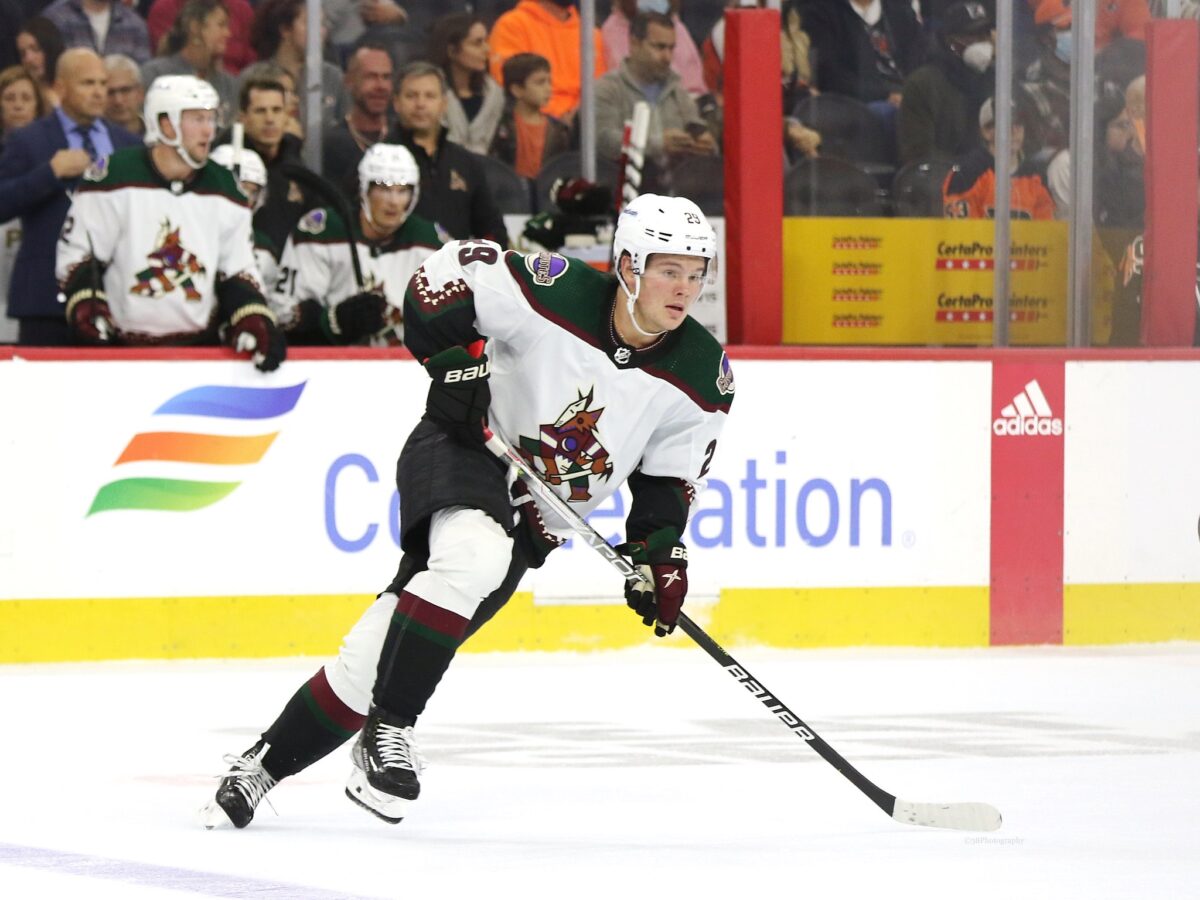 Forward Barrett Hayton enters this summer with a chance to grow on his game with the hopes of turning into one of the franchise's next biggest stars. After playing his first full season with the Coyotes, in which he recorded 43 points in 82 games on 19 goals and 24 assists, the organization is hoping the Canadian forward has finally shaken the metaphorical monkey off his back.
Trying To Move On From "Bust" Label
Just two seasons ago, there was a strong feeling circulating around the league that the Coyotes did not see Hayton as part of the team's future. Since originally being drafted fifth overall in the 2018 NHL Draft, which many scouts believed to be too early, the young center didn't seem to be panning out. He spent his first three years as a professional bouncing around between the NHL, the American Hockey League (AHL), and a brief stint in SM-Liiga with Ilves Tampere, where he played with fellow teammates Matias Maccelli and Juuso Välimäki.
Related: Coyotes 2022 Offseason Reviews: Barrett Hayton
---
Latest News & Highlights
---
With the lack of performance came the always dreaded "bust" label. Entering the 2021-22 season, he'd played only 34 games, registering three goals and four assists. His performance at the minor-league level warranted no better, recording seven goals and eight assists in 31 games. All hope and time seemed to be running out. At one time, a strong World Junior Championship showing as captain for Team Canada in 2019-20 lead many to wonder if there was still a ceiling for him as an elite-NHL centerman. The stats backing up his gold-medal performance following the tournament told another story.
A Breakout 2022-23 Season
The 2021-22 season came, and with it 10 goals and 14 assists for 24 points in 60 games, all career highs at the time. The organization maintained faith in the hopes of him becoming an NHL regular. He would be rewarded for his production spike with a two-year contract extension worth $3.55 million, carrying an average annual value (AAV) of $1.775 million. That offseason, he worked to put on weight and muscle, training harder than he ever had. A demotion to the Tucson Roadrunners was not an option, Hayton had to prove he could be an effective mainstay in the NHL.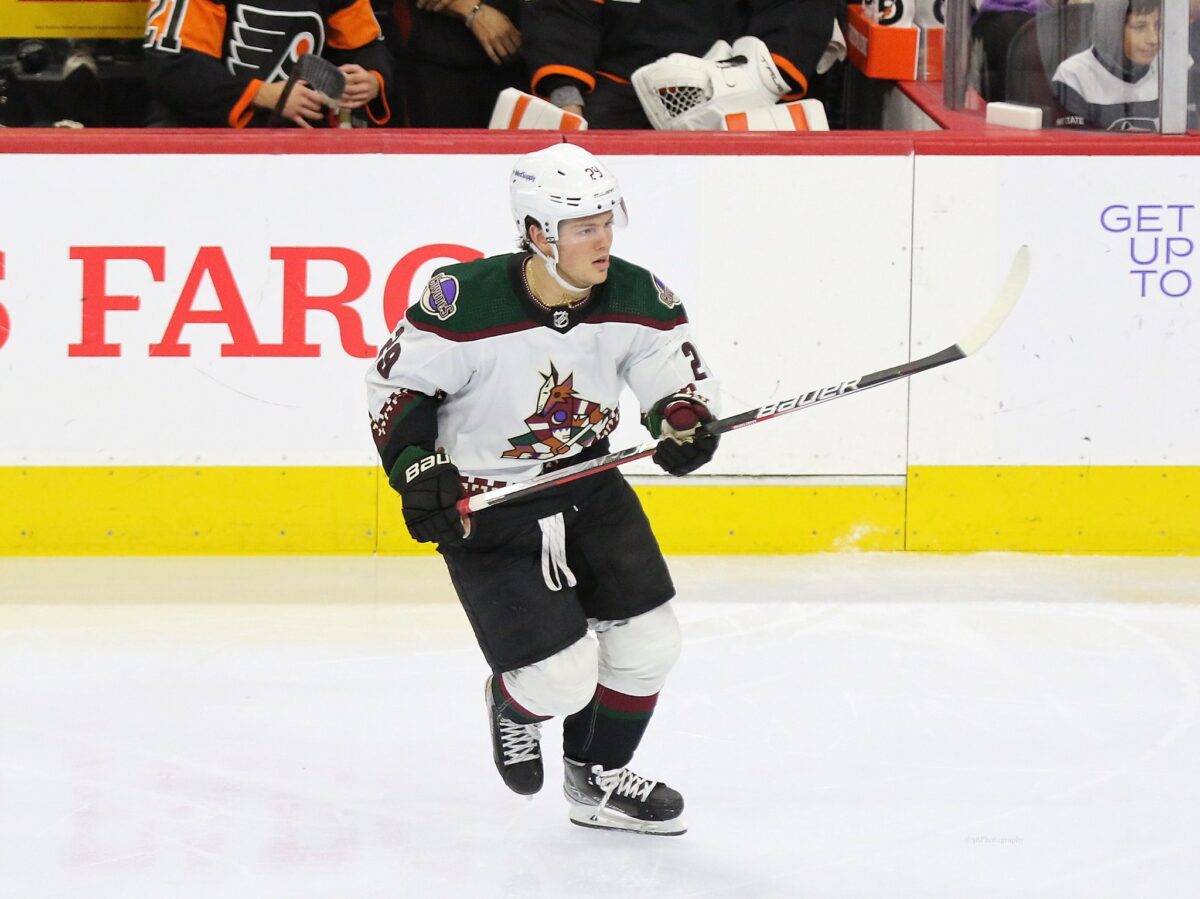 An incredibly promising end to the 2022-23 season started instead as a disaster. In the team's first 33 games of the year, Hayton recorded one goal. A demotion yet again to Tucson seemed like a realistic possibility. Then, like a spark of lightning, he caught fire after the All-Star Break. Playing most nights on the top line with Nick Schmaltz and Clayton Keller, he found his groove. He set new career highs in goals, assists, and points. His line scored 32 goals and had a shooting percentage of 12.5 percent. They were arguably the team's best line combination, and one of the deadliest trios in the league despite being a rebuilding team.
Hayton Needs To Build Off Last Season
If last season was any indication of how next year will go, then expect Hayton to only get better. The days of being labeled a "bust" seem to be all but behind him. Now a core player for the future, he transitions his focus to building off last season while helping the next core of rookies transition to the NHL level. The future is ever so bright, and the Coyotes have themselves what seems to be a bona fide center in Barrett Hayton.
---
---