By their own admission, the Arizona Coyotes said they did a number of things well Wednesday night. Despite progress, there was nothing to show for an improved performance except another bout with frustration.
After a 2-1 loss to Vancouver before 12,255 in Gila River Arena, the image of frustration swept through the Coyotes dressing room like an unwelcomed tornado. There was captain Shane Doan, sitting in front of his locker stall, skates still affixed to his feet, and the sense of helplessness enveloping his frame. Losing a hockey game may be one thing, but Doan's sense of despair looked like the Coyotes dropped into an abyss. Doan's persona represented another telling image of a season which could be swirling out of control.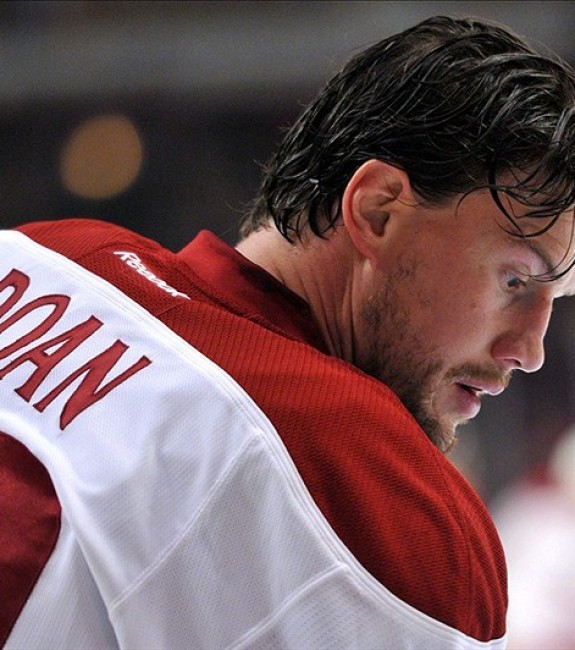 The loss was the fifth in a row for Arizona, and now makes the climb through the Pacific Division and qualification for a spot in the Stanley Cup playoffs more arduous.
"You want results, that's for sure," said coach Dave Tippett afterward. "When you lose, it means you didn't do enough to win. Our execution was average, and we're letting points slip away."
While the efforts to fore-check and kill penalties were positive, the bottom line is to gain on teams directly ahead. With Vancouver and now Calgary this Friday night and at San Jose on Saturday, the opportunity to pick up important standings points against Pacific Division opponents is clearly at hand. That reality characterized post-game remarks, and put recent event in a dire perspective.
"If we want to be a playoff team, we need to win these division games," said Martin Hanzal, who scored the Coyotes only goal, on the power play, less than 3-minutes into the second period. "When you're losing, it's harder to win. We have to be stronger on the power play. That's how you really score and win games."
Better, But Not Good Enough
If the Coyotes had issues with their recent penalty kill, that segment of their game showed improvement. Coming into the game, Arizona was 28th in the NHL in killing penalties and last in the league in that category. For the game, the Canucks went 0-4 with the man advantage, and Tippett used three successful pairs of penalty killers, Tobias Rieder-Hanzel, Jordan Martinook–Tyler Gaudet, and Doan with Brad Richardson.
The result in this segment of their overall game was encouraging. What continues to plague this team is elusive standing points.
"You can sit there and feel sorry for yourself, and think you should have won," said Max Domi. "At the end of the day, and if you score only one goal, that isn't going to cut it."
For the Coyotes, victories within the regulation 60-minutes have been difficult. Since Jan. 9, they have only two regulation victories in 12 games. Now with the Flames and Sharks directly ahead, the vise seems to tighten.
"These are tough games and we can't make that mistake," said Tippett. We need to find ways to gain points."
"That mistake" was reference to an off-side by Hanzal which took a goal away from Kevin Connaution mid-way through the opening period. If that was not enough, the winning goal from Vancouver's Jannik Hansen deflected off the left thigh of Oliver Ekman-Larsson in front of his own net and flipped in behind net minder Louis Domingue late in the second period.
At this point, the Coyotes need a full, 60-minutes of mistake-free and mentally sharp hockey. Here at the top of the stretch run, they seem to be talking the talk, but not walking the walk.
Mark Brown is a former sports editor for daily newspapers in the Philadelphia and Cincinnati markets. He was named Best Sports Columnist, honorable mention 2004 by the Associated Press Society of Ohio. He is a contributor to major daily newspapers, including the Chicago Sun Times, Philadelphia Inquirer, Honolulu Star-Bulletin, Milwaukee Journal, Arizona Republic, Nashville Tennessean and the Associated Press. He was a Featured Columnist for bleacherreport.com and covered the Arizona Coyotes.