For a club which had nowhere to go but up, the first two months of the season have been encouraging. After all, here was a team which finished with the second worst record in the NHL last season.
Now, the vestiges of a forgettable season have been swept under the carpet. Here, coach Dave Tippett injected his team with a healthy dose of optimism and confidence.
Nearly two months into the season, the Arizona Coyotes have amassed a winning record. This production was accomplished with a majority of their games the road. Coming into Wednesday's home contest with Anaheim, the Coyotes were 10-9-1 for 21 points. That's good enough for third in the NHL's Pacific Division and five points behind division-leading San Jose and Los Angeles, each with 26 points. In their immediate future, the Coyotes have a three game home stand. Now, a beneficial quantity of enthusiasm can be detected.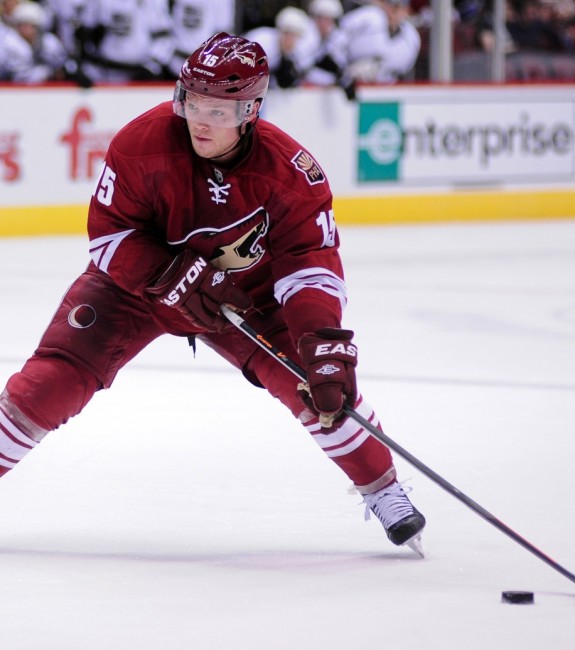 First up are those Ducks Wednesday night, a team that the Coyotes defeated twice already this season at the Honda Center in Anaheim. True, the Ducks have struggled early in the season. Given this reality, the Coyotes hope to add points in the standings, but this could be a trap game. Then again, there is a clear confidence knowing the Ducks have been vanquished twice this season
"In the two wins before, we played what we like to call solid road games," said Tippett after practice Tuesday. "We fore-checked well in those games and capitalized on our chances. We know the Ducks are a very good team and this will be a challenge for us."
After Anaheim, the Coyotes have another set of back-to-back games. This time, these contests are both at home. First, the Flames skate into the desert Friday night and they are followed by the Senators on Saturday night. Of their 20 games to date, the Coyotes have played seven at home and sport a 3-4 mark. Away from the desert, they are 7-5-1 and earned the majority of standing points on the road.
"It's been a while since we played a home game, but that doesn't make much difference," said forward Anthony Duclair. "We need to play our game and whether we're home or not. We beat the Ducks by getting pucks in deep and fore-checking."
Over the first 20 games, the Coyotes have shown improvement in a significant area. Last season, there were second from the last in scoring and coming into the Ducks game Wednesday night, they are 12th in the league in scoring.
Part of the recovery is due to the resurgence of center Martin Hanzal. Missing the second half of last season due to back surgery, Hanzal reported to camp in September with a clean bill of health and a chip on his shoulder. Out to prove critics wrong that his career was lost to injury, Hanzal stepped forward and leads the Coyotes in scoring with 18 points (4 goals, 14 assists) in 18 games played. Rookie Max Domi is second on the team in scoring (8 goals, 8 assists, 16 points) in 20 games, and continues to draws praise.
Impact of Domi
"We expected Max to come in and be a good player," Tippett said. "There is a dynamic element to his play and he has been a real good teammate."
Coming into Wednesday's game, Domi is one of six Arizona players in double figures in points and leads the club in goals scored.
At the same time, the defense has tightened. The Coyotes are 10th in the league in killing penalties but special teams needs improvement. Coming into Wednesday's game, Arizona stands 25th in power play efficiency and remains 24th in goals allowed.
While numbers can reveal certain dimensions of a team's success or demise, the Coyotes are clearly focused on an immediate future.
"Right now, it's all about games," Tippett said. "We need to make sure we're in a good place going into games."
With the next three at home, the Coyotes need to take advantage. After entertaining the Senators Saturday, they hit the road once again. This time, it's a five-game road trip to Nashville, Detroit, Buffalo, Carolina and St. Louis. The Coyotes return home Dec. 11 against Minnesota and then play eight of their next nine on home ice.
A Certain Value
Forbes Magazine has come out with its latest value of NHL franchises.
The Coyotes were valued by $220 million by Forbes, and that is 29th of the 30 teams. Only the Florida Panthers, at $190 million, were valued lower.
The New York Rangers, worth $1.2 billion by Forbes, supplanted the Toronto Maple Leafs as the most valued franchise currently in the NHL. The Leafs dropped to third and valued at $1.15 billion. Montreal was valued at number two ($1.18 billion). Rounding out the top five, the Blackhawks were valued at $925 at number four while the Bruins, at five, were valued at $750 million.
Mark Brown is a former sports editor for daily newspapers in the Philadelphia and Cincinnati markets. He was named Best Sports Columnist, honorable mention 2004 by the Associated Press Society of Ohio. He is a contributor to major daily newspapers, including the Chicago Sun Times, Philadelphia Inquirer, Honolulu Star-Bulletin, Milwaukee Journal, Arizona Republic, Nashville Tennessean and the Associated Press. He was a Featured Columnist for bleacherreport.com and covered the Arizona Coyotes.