It's no secret that Jim Rutherford and the Pittsburgh Penguins are looking to acquire a top-four defenseman via trade. And, per standard operating procedure, speculation of who they may deal for is spreading like wildfire around the web. I recently wrote that the market for Pittsburgh's defensive needs is shaping up nicely and recently, we've had new names reportedly hitting the market. Nothing is imminent at this point but as we near closer to December, the point in the season in which trades become a thing of reality, there are some important teams and names to keep an eye on.
From Pittsburgh's standpoint, you have to first understand that the Penguins aren't necessarily dealing from an area of strength. Teams that are looking for scoring wingers won't be enamored with what Rutherford can offer and teams looking for physicality won't find much in the Penguins' locker room. Basically, the Penguins have a veteran winger in Chris Kunitz that has a third-line ceiling, a streaky David Perron that is playing solid hockey but still hasn't proved that he can score consistently this season, Tenacious Patric Hornqvist who would be extremely tough to replace in the lineup and a mixture of young, unproven forwards.
Of course, as I've discussed in the past, Matt Murray's name will draw interest from around the league. And, while no one has discussed this possibility in great lengths just yet, Derrick Pouliot is likely someone the Penguins would be willing to move if the deal was right. They don't have the same view of him as they did prior to this season. Lets look at a few teams with defensemen possibly on the move.
Calgary Flames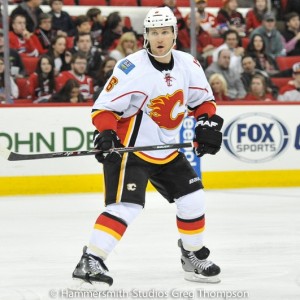 There's no surprise here, as talks of Dennis Wideman and Kris Russell being on the block have circulated for some time. The interesting new twist is that newly acquired Dougie Hamilton's name is being thrown around now. Those rumblings are mainly due to Travis Hamonic requesting a trade to the West, which I'll discuss shortly but it certainly throws a wrench into things if Rutherford was looking to Calgary as a potential trade partner. Some have even discussed T.J. Brodie as a possible trade chip, mainly due to Calgary's struggles and their willingness to blow up this group.
Wideman can help the Penguins but he comes with a fairly hefty cap hit for his production. He has consistently been around .5 points-per-game throughout his career, which is very good for a defenseman but he has trended down so far this season. Plus, he's 32-years old and still has another year remaining on his contract. There's no indication of whether or not the Penguins are interested in grabbing someone that's signed past this season but I assume it has to do with the price going the other way. I wouldn't bet on anything happening with Calgary but it's certainly something to keep an eye on as the dominos begin to fall. Rutherford may have to settle for less if he truly wants to add a defenseman.
Montreal Canadiens
The Canadiens have entered the sweepstakes out of nowhere, mainly due to multiple scouts visiting Pittsburgh recently. Also, to add to this speculation, the Penguins had a scout in attendance when the Canadiens faced the Islanders this past weekend and multiple people around the league are now talking about how active Marc Bergevin has been. This all could mean nothing. Or, it could mean there's at least ongoing discussions happening.
As for Montreal, two defensemen come to mind. First, Alexei Emelin could be someone who intrigues Rutherford due to his physical play and defensive-minded approach. Emelin would provide something that the Pens lack in a big way right now, which is size and physicality on the blue line. However, he has also struggled over the past few seasons. So, is there a fit? I'd prefer the Penguins look elsewhere but of course, there's the issue of bargain shopping when you're in their situation. If the return includes Chris Kunitz heading the other way, I'd likely pull the trigger.
One other name to consider here would be Jarred Tinordi. Tinordi is a tower of a defenseman that plays extremely physical but hasn't been able to put it together in Montreal. It makes you wonder if there's potential for swapping Tinordi and Beau Bennett. Or, would Pouliot's name come up in talks since both have found themselves in a similar situation with their respective club? Tinordi is a previous 22nd overall pick and has pedigree and while he doesn't address immediate needs, it's something that could benefit both organizations in the future.
St. Louis Blues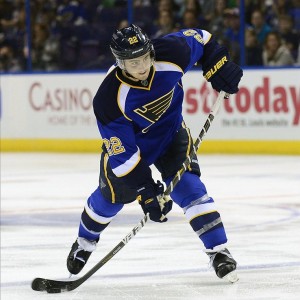 The Blues are reportedly willing to part ways with Kevin Shattenkirk if the right deal presents itself. Shattenkirk has one year left on his current deal and with the success of St. Louis' young defensemen, it's unlikely they'll re-sign him. They could use help up front after suffering a few key injuries, which is what fueled the fire for the Shattenkirk rumors to begin with. Can the Penguins afford him?
The return will be steep and will likely require Patric Hornqvist. The Blues view themselves as a contender and aren't looking for prospects or picks. I've heard rumblings of Kunitz going the other way but can't imagine a scenario where Doug Armstrong would be willing to take him. Of course, crazier things have happened.
Speaking of Armstrong, he was also in attendance at Consol Energy Center recently taking in a game. Is he scouting for a possible deal? He visited Columbus twice as well, another team known to be in the market for blue-liners. There could be something to those visits. Or, he could be scouting due to his role with Team Canada in the 2016 World Cup of Hockey. Either way, it's worth watching in case something develops.
Vancouver Canucks
There's a good working relationship between Rutherford and Canucks' GM Jim Benning. Both are very pleased with the recent swap of Brandon Sutter and Nick Bonino and Vancouver is another team that sent scouts to Pittsburgh over the past week. With Dan Hamuis being the most likely candidate for a deal between the two clubs, the question is whether or not he fits the Penguins.
Hamuis' best days are likely behind him. But, his playing style is a great match for what Pittsburgh wants on their blue line. He can provide a steady hand on a pairing with Kris Letang and is capable of playing big minutes while allowing the dynamic Letang to have some freedom. Also, considering Benning's track record, a guy like Kunitz would be intriguing for him based on his gritty style of play. It wouldn't be a straight up swap but I can see a package deal working here.
Hamuis is also somewhat low risk, as long as the return isn't too steep. He's an unrestricted free agent after this season so if it's a bad fit, he can walk this spring and Pittsburgh could potentially be free and clear of a somewhat expensive Kunitz that doesn't fit this lineup any longer. Of all scenarios out there right now, this is the one that makes the most sense to me.
Winnipeg Jets and Colorado Avalanche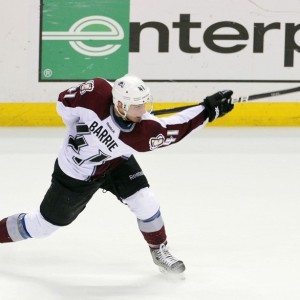 Both of these are highly unlikely but worth mentioning. I discussed Dustin Byfuglien previously and it's important to note that nothing will occur in Winnipeg until the Hamonic deal is dead in the water. With the Jets being his preferred destination, I'd expect talks to heat up between Garth Snow and Kevin Cheveldayoff. If things don't work out, however, Rutherford could potentially slide in with a deal that includes David Perron and that just might pry Big Buff from Winnipeg.
The Avalanche are reportedly willing to part with youngster Tyson Barrie, which is extremely surprising to most in the hockey world. If there's even a glimmer of hope for Rutherford and the Penguins here, they need to jump on it. However, I don't see how that would be the case. Will Rutherford be willing to offer up an NHL-caliber winger and Derrick Pouliot? That might get a deal done here and I'd honestly consider it if I were GM.
On a lesser note, guys like Mark Fayne and Nikita Nikitin could be available in Edmonton as well. Nikitin is intriguing due to his talent level but poor play as of late and Fayne, while not necessarily a top-four option, is a solid defensive-minded blue-liner that could help in Pittsburgh.
It's interesting that just a few weeks ago, one NHL GM was quoted in saying that everyone wants a top-four defenseman but there aren't enough to go around. At this point, with the names floating around the rumor mills, it looks as if there could be plenty of options as we head into December. Will all of these guys get moved? Of course not. Will the Penguins struggle to acquire a true impact defenseman without giving up Hornqvist or a solid prospect like Pouliot? Yes. And, the biggest question for me is whether or not Rutherford is willing to go all-in on a true blockbuster. History tells us that he will be if the opportunity presents itself.
Pittsburgh Penguins writer for TheHockeyWriters.Com and PittsburghHockeyNow.Com. Youth hockey coach, and student of the game.