Most teams have now arrived at the quarter-mark of the NHL season and it has been a thrilling opening act. Some good surprises in Dallas and New Jersey along with some unexpected bad results in Anaheim and Columbus. Since we have arrived at this sort-of milestone during the season, it is time to take a look at the front-runners for the end-of-the-season awards. These can drastically change by the end of the season, but the quarter-mark is usually a good indicator of what will transpire the rest of the season. Let's get into it.
Hart Trophy (MVP) Contenders – Patrick Kane, Jamie Benn, and Henrik Lundqvist
It is pretty incredible what all three of the above players are doing right now. As of Wednesday morning, Kane and Benn are tied atop the league in scoring while Lundqvist leads basically every important goalie category there is. The most impressive part is all three of them are pacing the NHL after some form of adversity. We all know about Kane's offseason issues and what he dealt with off the ice. Benn had double hip surgery and wasn't sure if he would be at full speed at the start of the season. Lundqvist is coming off an injury that took away a good chunk of games from him last year. They have all been almost equally dominant so far.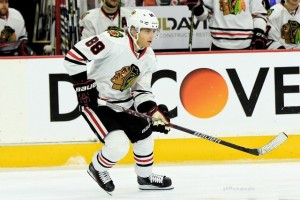 Kane has 32 points in 21 games with 11 of those points coming on the power play. He has developed instant chemistry with rookie Artemi Panarin, as both players are on pace to be in the discussion for some hardware at the end of the season. Kane is as mesmerizing as ever with the puck at this point in the season and it doesn't appear he is going to slow down anytime soon. If the Blackhawks score, chances are Kane was involved somehow.
Benn also has 32 points with an extra game under his belt with 22. Although he has gone somewhat unnoticed in a few games, he makes up for those by utterly taking over in others. It has been noted throughout the league that with Benn there appears to be some sort of switch that he can turn on as if to say, "I'm going to score and there is no way anybody is going to stop me." That switch seems to work more often than not. Only Kane and teammate Tyler Seguin have more even-strength points than Benn, who is mixing in some quality power play goals as well this season.
Lundqvist is on another level in terms of goaltending now and is a big reason the Rangers are on top of the East. Nobody who has played near the minutes that he has is even close to his .946 save percentage. Only Braden Holtby is within shouting distance of Lundqvist's 1.74 goals against average. He is doing all of this despite the Rangers having the second-lowest even-strength Corsi in the entire NHL. What he has done so far this season is very close to what we saw with Carey Price and the Canadiens last season.
Winner – Patrick Kane
Nobody has been better so far. The dominating play after the off-ice distractions has been pretty incredible to watch. Kane and Benn might be even on the score sheet but Kane has fewer offensive weapons on his side. Kane is more valuable to the Blackhawks and their playoff fight at this time.
Norris Trophy (Best Defenseman) Contenders – Erik Karlsson, John Klingberg, and Drew Doughty
First, can we stop having the "there should be a separate trophy for offensive defensemen because they suck at defense" debate? It is time to accept that, in this NHL, having a strong transition game and the ability to create offense is part of what makes a good defenseman. The ability to quickly move the puck out of your own zone is a critical asset to have. All three of the above players possess a strong skating game that help them defend well and drive possession.
Erik Karlsson is doing some serious work in Ottawa right now. He is behind only Klingberg in defensive scoring and is averaging almost 27 minutes of ice time per game, good for fourth among defensemen in the NHL. "But he's not used on the PK how could he be a good defenseman?" Stop it. If they put him on the penalty kill they would be overworking him to the point where they would have to dial back his even-strength and power play minutes. He is far more valuable at those strengths than he is on the PK. His offensive-zone-start-% at even strength is 52.67 and he has more defensive zone starts than anyone on the Senators. He is the only player on the Senators with a positive Corsi-for-% at even strength. His speed and puck abilities allow him to be one of the best defensemen in the NHL and a truly incredible talent to watch.
While sharing some offensive similarities with Karlsson, Klingberg goes about his business a little differently in his own zone. He has great speed, but while defending the use of his stick is what sets him apart from similar players. He has a very long reach and uses it to his advantage in his own zone. Only four defensemen in the NHL have more takeaways than Klingberg so far this season. His ability to quarterback the power play is a big reason the Stars have the second best power play in the NHL. He is one of the better possession defenseman in the league and his ability with the puck is the reason for it. He is so patient and often is able to wait until his opponents make the first move to create an opportunity for Klingberg. If you receive a pass from Klingberg, you are probably in a prime position to score.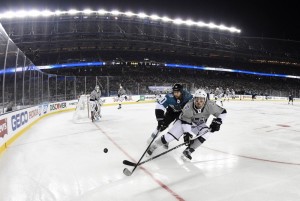 While Doughty isn't putting up the amount of points that Klingberg and Karlsson are, he is doing just about everything else for the Los Angeles Kings. He is a perfect all-around defenseman in this league. He can move the puck with the best of them, he can join in the offense and he can shut down the opposition. To the surprise of no one, he is once again one of the top possession defensemen in the league with an absurd 57.94 even strength Corsi %. He seems to get snubbed for this award quite frequently but he should be in the conversation this season.
Winner – Erik Karlsson 
The mix of points, defensive play and possession play makes Karlsson the winner so far this season. Much like the Kane versus Benn argument, Klingberg has a lot more talent to work with in generating his offense. Karlsson does everything that Ottawa needs and more.
Vezina Trophy (Best Goaltender) Contenders – Henrik Lundqvist, Jake Allen, and Martin Jones
Well, I could have predicted one of those names. Lundqvist is setting the pace early but Allen and Jones have been incredible so far as well. Allen might be facing more pressure than any other goalie this season, as Brian Elliott has played poorly and there are mammoth expectations for the St. Louis Blues to perform well this season. As for Jones, it seems as though every other start for him is a shutout so far in his career and he is trying to do a similar thing for the Sharks as Allen is for the Blues.
I mentioned Lundqvist above in the Hart Trophy race so naturally he will appear in the Vezina debate as well. His even-strength save percentage is a ridiculous .964. Petr Mrazek is second in that race with a .952 save percentage at even strength. Only Roberto Luongo and Craig Anderson have faced more even-strength shots than Lundqvist so far this season. He has given up just one goal at even strength from a "low-danger" area of the ice. He is the reason that the Rangers are where they are now.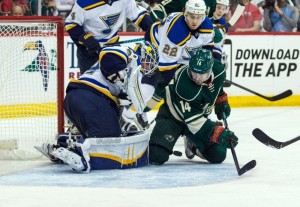 What Allen has done so far (along with what Elliott has done) is confirm Hitchcock's choice to put him in the postseason last year. He is tied with a few others for the shutout lead with three and has posted a 1.98 goals against average through 16 games. While he doesn't face quite the same amount of shots as Lundqvist (the Blues are one of the best possession teams in the league), he is doing what needs to be done for his team. As we saw last year with teams like Los Angeles and Dallas, bad goaltending can erase a great offense and good possession team. Allen doesn't give up many bad goals and is forcing his way into the Vezina conversation early this year.
Jones is having an incredible start to not only this season, but his NHL career. He has ten shutouts in just 51 games played in his career. Three of them have come in 17 games this season as it appears he is handling the move from backup to starter quite well. He has backstopped the Sharks to 11 of their 13 wins this season and his GAA and SV% are among some of the best in the entire NHL. Much like the Blues, the Sharks are expecting a lot out of their young netminder.
Winner – Henrik Lundqvist
Like Price last year, if you are even in the Hart conversation as a goaltender, chances are you are going to win the Vezina. He is currently in a league of his own, as the man they call The King is setting the pace for goaltenders in the NHL.
Here is a link to my picks for the Calder, Selke and Jack Adams, thank you for reading.