If you happened to miss part one highlighting the Hart, Norris, and Vezina contenders you can find that here. Now it is on to the Selke, Calder and Jack Adams contenders through a quarter of the season. All three of these categories hold a multitude of fantastic players and coaches and these races are going to be fun to watch as the season goes on.
Selke Trophy (Defensive Forward) Contenders – Patrice Bergeron, Mark Stone, and Max Pacioretty
Not just one winger, but two?! Yes, two. Bergeron is obviously no surprise as he continues his defensive dominance while putting up really good offensive numbers and even Pacioretty might not surprise you. Stone is likely a surprise to most of you but he has earned the recognition. There are many other players who will be in the mix for this by the end of the year. Anze Kopitar, Mikko Koivu, Ryan O'Reilly, and Marian Hossa are all fantastic defensive forwards and will have something to say about this award before the season ends.
You can say Bergeron is in here based off reputation alone but the statistics really show why he is a contender for the Selke every season. Marcus Kruger is the only forward in the NHL with more defensive zone starts at even strength than Bergeron so far this season. Even with all the defensive zone starts he has the second-highest Corsi differential on the Boston Bruins. On top of that, he is second on the team with 21 points in 22 games. He gets a fair amount of points on the power play but Bergeron is one of the best even-strength players in the past few years. His 15 takeaways at even strength are the best in Boston as he continues to just own the puck on a nightly basis. Bergeron will be all around the Selke discussion once again this season.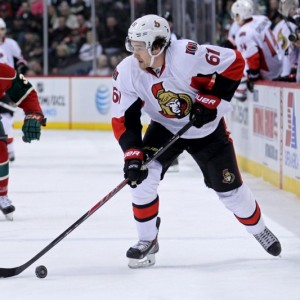 Mark Stone might be a surprise to many of you but I'm betting this isn't a surprise if you are reading this in Ottawa. After being a Calder finalist last season, Stone is looking to be in the conversation for some new hardware this year. He is pretty evenly distributed as far as his zone starts go and he certainly isn't get sheltered in the offensive zone. His Corsi-for-% at even strength is 52.25, 9.15 relative to the rest of his team. He is easily the Senators best possession forward so far this season. He's currently the best forward in the entire NHL at forcing turnovers as his 28 even-strength takeaways are the best in the league. Stone might not get much national attention for the Selke this year but if he continues to play the way he is, he will find himself in the conversation some day. He is one of my picks as of now.
Rarely are wingers part of the Selke debate as centers just naturally have more defensive responsibilities on the ice but what Pacioretty has done so far this season cannot be ignored. He has the highest Corsi differential among forwards on the possession-minded Canadiens and no forward on the team has more scoring chances at even-strength than he does. He is also tied with Tomas Plekanec for the team lead in points. While doing all that offensively, he is one of the more trusted defensive forwards for Michel Therrien. No forward has more defensive zone starts than Pacioretty does at even strength. His name will come up for the Selke as the season continues to progress.
Winner – Patrice Bergeron
Sorry everyone outside of Boston, I know it's boring, he is just too good at this. He is perpetually started in the defensive end and almost every shift ends with him in the offensive zone. He is just too good to pass up for this award right now.
Calder Trophy (Best Rookie) Contenders – Artemi Panarin, Max Domi, and Dylan Larkin
Connor McDavid was on his way to this award before he got injured and don't be surprised if he gets back into the conversation when he comes back. For now though, the three above are just tearing it up and are big reasons all three of their respective teams are in playoff position as of Saturday morning. Panarin has found instant chemistry with Patrick Kane, Domi and another rookie Anthony Duclair have the Coyotes playing surprisingly well and Larkin has fit in nicely and is playing solid two-way hockey in Detroit.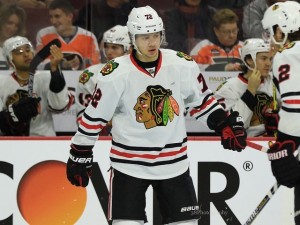 The Blackhawks traded away Patrick Sharp and Brandon Saad and it appeared the salary cap would finally catch up with them. Apparently that is simply not allowed in today's NHL so along comes Panarin, the Russian Patrick Kane. He is dominating the possession game with a 56.85 CF%. He leads all rookies with 23 points in 23 games. A lot of his damage is done at even strength with only five of his 23 points coming on the power play. He is prone to some giveaways but that is going to happen when you have that kind of raw skill and have the puck on your stick as much as he has this season. The one knock on him at this point is he is getting sheltered in the offensive zone quite a bit. 73.12% of his zone starts are in the offensive zone at even strength. He's not going to win any Selke trophies but he is a dynamic offensive talent at such a young age.
The Coyotes are getting exactly what they expected from Domi early on this season. He's second behind Panarin in rookie scoring and the Coyotes wouldn't be where they are now without him performing at such a high level. He is absurdly entertaining to watch, especially when he is on the ice with fellow Yotes rookie Anthony Duclair. His possession game hasn't been that strong but at the same time, Arizona hasn't been a good Corsi team as a whole. Domi is second among NHL rookies in even-strength goal scoring and has been a big bright spot so far for Arizona. He will continue to get a lot of ice time as the Coyotes are rebuilding and should have plenty of opportunities to add to his point total as the season goes on.
Larkin currently sits third in rookie scoring and is what the Red Wings needed entering this season. Each year people are predicting the demise of the Red Wings and each year they have somebody filling a void and just keeping the train moving towards the playoffs. He has been one of the better possession players on the Red Wings with a 52.21 Corsi-for % at even strength. Nobody else on Detroit even comes close to his even strength play when you weigh in the possession numbers with the offense. His 17 even-strength points are the best on his team and second-best among NHL rookies. If he starts adding some consistent power play scoring to go along with his even strength dominance, he could take over as the front-runner for the Calder by season's end.
Winner – Artemi Panarin
Hard to be as impressive as the "Bread Man" has as a rookie this season. Is some of his production thanks to Patrick Kane? Sure. But watch him play for a few games and you will be amazed at what he can do with the puck at such a young age. It will be hard to keep up this pace but if he does, the Calder will be his.
Jack Adams (Best Coach) Contenders – Michel Therrien, Lindy Ruff, and Barry Trotz
I'm a believer of giving this award to the coach that has his team performing at the absolute highest level and has the statistics to back it up and these three stand alone so far this season. Michel Therrien has his defensive-minded Canadiens playing some great offense while Lindy Ruff and Barry Trotz have their high-flying offenses playing some quality defense this season. Honorable mentions to coaches such as Dave Tippett and Dave Cameron who have their teams outperforming the expectations heading into the season.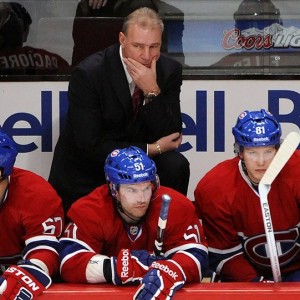 Even with injuries to key players like Carey Price and Brendan Gallagher, the Canadiens are still performing as the best team in the NHL. They are a top-five team in the league in the following categories; goals-against-per-game, goals-for-per-game, power-play-%, penalty-kill-% and even-strength-save-%. The entire lineup is in on the action with 11 players on Montreal having scored at least ten points this season. Mike Condon is filling in admirably for Price and Max Pacioretty has started the season looking for a Selke. They will certainly be a President's Trophy contender, even without Price for a good stretch of time.
It was brought up a lot last season when the Stars high-octane offense failed to reach the postseason. "If this team gets league-average goaltending they are in the playoffs". So far that appears to be true. The Stars are 15th in the NHL in goals-against-per-game but once again lead the league in scoring. The result? Ruff's team is the best in the West with 38 points on the season. In three of their five losses they have imploded to give up 19 goals, inflating their total goals against. The way they have performed defensively is much more indicative of a top-ten defensive team. They have an excellent power play and are simply using their speed to win a lot of hockey games. Dallas has been one of the better possession teams in the NHL and a big reason for that is Ruff has his incredible offense hustling back to play quality defense.
The Washington Capitals are on an incredible run right now and Barry Trotz looks like he will have this team competing for a division title and a lot more. Much like Montreal, Washington is a top-five team in many meaningful categories so far. And much like Dallas, the biggest change over the past few seasons has been getting the Capitals' shining offense to play excellent two-way hockey. Goaltending has certainly played a big role in the team's defensive success but their entire system has worked to keep pucks out of their own net. I see the Capitals finally breaking the barrier on their way to a Stanley Cup this season, especially if they continue playing the way they have been.
Winner – Michel Therrien
It has to go to the coach of the best team in the NHL at this moment, especially when you factor in the injuries to key players. Fortunately Lindy Ruff and Barry Trotz haven't had to deal with too much of that.
Jordan has been covering the Stars for The Hockey Writers since February 2015. He is originally from Iowa City, Iowa. You can follow Jordan on twitter @jordan_dix