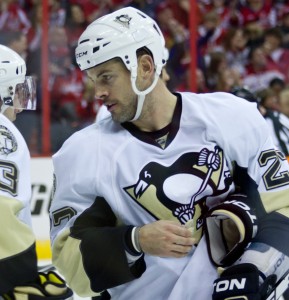 The Pittsburgh Penguins made their first substantial move of the offseason on Thursday by signing Craig Adams to a two-year contract extension. Including a $300k signing bonus, the new deal will pay Adams an average of $675k per season.
Adams scored just four goals last season, but his importance to the team goes well beyond the scoresheet.
With a key role player like him locked up, attention has shifted to the futures of higher-scoring forwards like Max Talbot, Pascal Dupuis, and Tyler Kennedy.
While all three players have expressed an interest in returning to Pittsburgh next season, GM Ray Shero and his staff aren't in a position to offer them substantial money at this point.
To understand why, let's take a look at the Penguins offseason gameplan:
(1) Post-season meetings: Less than 48 hours after the Penguins lost Game 7 of their first round playoff series to Tampa Bay, Shero was sitting down with his coaches for preliminary meetings.
Pittsburgh's AHL affiliate in Wilkes-Barre was knocked out of the Calder Cup playoffs on May 7 and minor-league GM Jason Botterill sat down with players and staff and conducted a similar post-season evaluation.
Identifying what went wrong is the first step towards ensuring future success and Shero makes it a point to assess these issues before moving ahead with offseason planning for the organization.
The goal coming out of the meetings last season was simple: Move from Top 20 to Top 10 in the NHL in goals against, even if the offense suffers a bit as a result.
As late as the middle of February, the Penguins were on pace to set the post-lockout record for goals against in a season.  Although a rash of injuries hurt the team down the stretch, they still finished tied for 6th in the league.  Mission accomplished.
This year was a little more difficult for Shero to assess.  With Sidney Crosby, Evgeni Malkin, and Jordan Staal appearing together for only two games, it's tough to tell how good the 2010-11 group really was.  If a 12-game winning streak without Staal and Malkin in November was any indication, the Penguins should be a Cup favorite if they can stay healthy next season.  Does Shero really need to make drastic changes this summer?
(2) Amateur scouting meetings: Evaluating free agents is only one part of the equation this time of year.  Preparations also need to be made for the NHL Draft on June 24-25.  Shero and Botterill oversee amateur scouting, but they feel the heavy lifting is best left to the amateur scouting directors who are involved in the process full-time.
During the week of May 16, Shero and Botterill met with the amateur scouting staff and pooled a season's worth of information together.  The Penguins constructed a list of draft-eligible players and debated the merits of every Prospect A vs. Prospect B.  [We'll have more on this process in our draft preview]
(3) Shero speaks with player agents: Next on the agenda was planning for free agency.  Much was made about conversations Shero was (and wasn't) having with certain agents at the end of May.  Realistically, he reached out to representatives of every restricted and unrestricted free agent to simply get a sense for expectations.
Some agents go public with these conversations and others stay quiet.  When reports first leaked that negotiations had started with Mike Rupp and Pascal Dupuis, most assumed that meant they were Shero's top priorities.  But keep in mind, the agent of both players, Allan Walsh, is very vocal and tends to use social media and reporters to manipulate client negotiations.  It's always important to consider the source.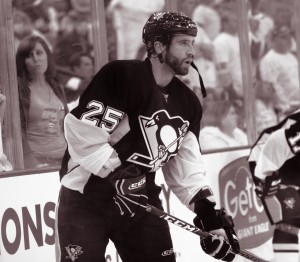 (4) Pro scouting meetings: After speaking with his free agents and getting a sense for where both sides stood in negotiations, Shero sat down with his pro scouts last week (June 6).  With takeaways from the post-season meetings and agent conversations in mind, the Penguins front office and pro scouts debated the merits of each of their remaining free agents as well as options outside of the organization.
For example, if five players on the open market possess a skillset similar to Max Talbot, the Penguins can head into free agency on July 1 knowing they have options if Talbot isn't willing to lower his demands.
If the pro scouting staff can't find comparable players and the team feels losing a Max Talbot would leave a big hole in their lineup, it might make sense to reconsider what they're willing to spend on him.
(5) Touch base with agents again: If conversations at the pro scouting meetings change the terms Shero and his staff are willing to offer to certain free agents, he contacts the agents again.  On Thursday, the Penguins signed Adams to a two-year extension and showed that he's seen as an important part of the roster.
When surveying the free agent landscape for a veteran forward who can fight, win faceoffs, handle big minutes on the penalty kill, play responsible defensively, and has a Stanley Cup ring; the resulting list of candidates was a short one.  Maybe John Madden?  [Although the 38-year old forward says he probably plans to re-sign in Minnesota or retire]
(6) Wait for the salary cap: It wouldn't be a surprise to see cheaper forwards such as Mike Rupp or Dustin Jeffrey signed in the coming days.  As far as players like Talbot, Dupuis and Kennedy, it's hard to envision anything getting done soon unless they're willing to take substantial discounts.
Despite all the planning the Penguins have done to this point, next year's salary cap number remains a crucial unknown.  NHL Deputy Commissioner Bill Daly says next year's cap will be between $60.5m and $63.5m (up from $59.4m last season).  The final number can't be determined until the Stanley Cup Final is complete and the league's accountants have a chance to add up revenues from the entire season.
At that point, the NHL Players Association has the option of bumping next year's cap number up an additional five-percent to account for expected revenue growth.  Botterill serves as the Penguins' salary cap expert and said despite popular belief, there's no telling how the NHLPA will act.
"The [players association] has always taken the five-percent escalator, but the [players association] has undergone a lot of different changes so there's always that concern for us."
The biggest change Botterill is referring to is the installment of Donald Fehr as NHLPA executive director.  With one year remaining in the current CBA, every NHLPA decision with be made with an eye towards the next round of labor negotiations. [You can read more about Fehr and NHLPA's cap escalator dilemma here]
Assuming Eric Tangradi makes the team out of training camp, the Penguins have just over $4.1m in cap space remaining under the lower estimate of $60.5m.  If the NHLPA takes the escalator and the cap rises to $63.5m, Shero would suddenly have $7.1m to work with.  The latter figure would mean the Penguins could easily retain two of the Talbot/Dupuis/Kennedy contingent.  Otherwise, the Penguins would probably need to identify cheaper options from within or out on the open market.
"We don't want to be hamstrung," Botterill said heading into the offseason. "We never want to be in a position where we have to trade a player to fit under the cap. We understand that we may have to tweak some things, but we don't want to come into July 1st and realize we're handcuffed and can't do anything."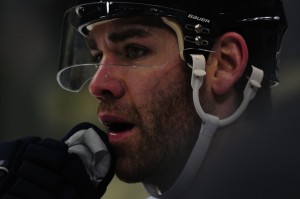 Last year the official salary cap was released June 23, two days before the draft.  In the meantime Shero, Botterill and the front office staff will be piecing together dozens of free agency scenarios.
"Last year heading into July 1 it was amazing all the different scenarios we had," Botterill said. "A plan if we pursue one defenseman, another if we go after two, another if we go after a high-priced winger."
With so many unknowns at this time of year, Shero insists on turning over every rock before the July 1 chaos begins.
"Ray always wants to be prepared," Botterill said.  "Preparation from the coaching staff on what the needs are. Preparation from our scouts making sure they know everyone out there.
Perhaps he's channeling the words of legendary basketball coach John Wooden: "Failure to prepare is preparing to fail."
[Read more on the Penguins free agency decision-making process – and specifically Craig Adams – at Penguins Blueprint: Commitment to the Core]
__________________________________________
Follow @MikeColligan on Twitter or contact via email at MJColligan@gmail.com